PAC NW BAKER CHALLENGE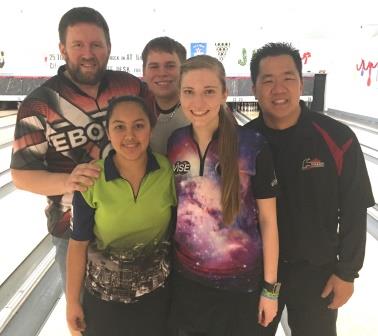 champs Craig Tuholski, Evan Smith, Chris Tuholski, Kelsey Abrahamsen, & Kevin Hong
A veteran quintet of decorated bowlers teamed up to win the Pac NW JBT Baker Team Challenge, held at Burien's Hiline Lanes.
The Oregon superstar team that called themselves "Scared Hitless" dominated qualifying, but unfortunately their name foretold their bowling in the matchplay portion, as they fell in round two after a first round bye. The only team in the top eight to get bonus pins for addition under-170 bowlers, "We need one" made it all the way to the semifinals, before bowing out, along with Pac NW Director Evan Olson's "Toms & Jerry". That left "Christmas Custard" and "To Have and Two Holes", two teams loaded with past experience in JBT Baker finals, to battle it out for top honors this time.
Anchor Chris Tuholski's power is almost impossible to stop when he's on a roll, and all his teammates did their part as well, leading to the title in a hard fought finale. Joining Chris was his father Craig, JBT scratch girls Bowler of the Year Kelsey Abrahamsen, defending TPC champ Evan Smith, and past GSUSBC Bowler of the Year Kevin Hong.
Big thanks to the team at Hiline for hosting one of the most fun yet competitive events of the year. Want in on all this fun for all ages and all averages? Just come on down to the next JBT event!
Pac NW Baker- final results and scholarship winners
12/4/2016
rank
bowlers
prize
total
1
Kelsey Abrahamsen
$166
$500
Chris Tuholski
$166
Craig Tuholski
Evan Smith
$166
Kevin Hong
2
Tanner Spacey
$300
Tommie McNeal
$100
Jacob Frazier
$100
Kyle Jonson
$100
Robert Kelley
3
Andy Herrmann
$60
$180
Evan Olson
Jerry Jennings
$60
Don Bautch
Payton Edwards
$60
4
Tyler De Lorm
$60
$180
Jason De Lorm
Michael Strothman
$60
Todd Strothman
Ruth Magana
$60
5
Ryan Nikolas
Russ Nikolas
John West
Jake Mullen
Shannon Bliquez
6
AJ Schock
Derek Haight
Bailey Peters
Mike Armstrong
Paul Haight
7
Reagan Lorey
Jaimee Lorey
Maddi Bash
Brian DeLuisa-Anderson
Darren Stanley
8
Sara Harris
Emily Goodnight
Jeff Jonker
JordanJonker
$5
Ryan Harris
9
Cortez Schenck
Mike Calderon
Brandi Calderon
Nick Devlin
Brendan Hopkins
10
Lohrghan Ziegler
Aidghan Ziegler
Isaac Richardson
Michael Creel
Dean Buchanan
11
Hannah Saunders
Austin Vik-Rae
DJ Morrin
Mike McDowell
Jayla High
12
Simon Dyck
Carl Nicholas
Olivia Kolppa
Brittany Bland
Harley Sweigart
13
Tyler Boe
Nick Bruketta
Scott Schimming
Cindy Mattingly
Michayla Garden
$5
14
Tyler Hogstrom
$5
Maddi Durr
Brian Monnette
Jodey Rees
Erik Holbein
15
Kyle Adams
Paul Rosales
Joyce Aolama
Octavio Rosales
Jonathan Lorey
16
Alana Brown
Andi Valdez-Hicks
Kris Tomer
Sherry McDowell
Shawn Brown
17
Sam Cox
Collins Davis
Peter Davis
Sally Ault
WendyJo LaTurner
18
Bobby Nadell
Colt Jance
Vincent Oberto
Bradley Baltazar
Gary Carter
19
Hunter Bower
Megan Bower
Kathy White
Aiden White
Lailani Wallin