TEXAS STATION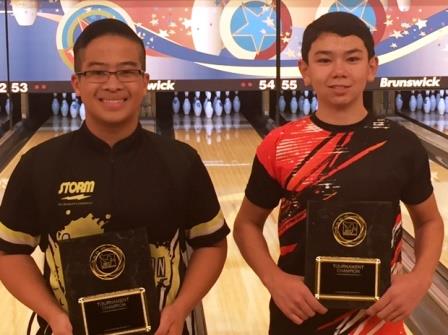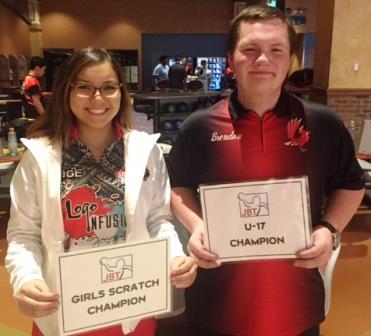 champs Cerell Cardines & Matthew Huckabay; U17 and Girls winners Brendan Lindsey & Leah Glazer
Cerell Cardines and Matt Huckabay claimed JBT titles in exciting Mojave Conference action at Texas Station.
Cortez Schenck opened up the scratch division stepladder finals with a 238-216 win over Sergio Torres, who earlier had the high game of the day with a 297 effort. Harley Sweigart then stopped Schenck 248-172, to move on to the title match.
Top seed Cerell Cardines' success this season hasn't been limited to the U-17 division, which he's dominated, as this was his second time leading the main scratch division as well. In a battle of two of the hottest bowlers on Tour, Cardines came out on top 215-204, good for the 3rd title of his JBT career.
Devyn Patalina began a run up the handicap division stepladder with a 234-201 win over Kyle Rendon. Patalina then got past Nolan Am-Khong 229-193 to advance to the title match.
Top seed Matthew Huckabay put on a brilliant performance to grab the top seed, and kept up the pace in the title game, beating a fine effort from Patalina 240-218, earning Matthew the first title of his JBT career.
The only blemish on Cardines' day was being stopped in the title match of the U17 division, where Brendan Lindsey came out on top 216-199 for the win. Leah Glazer and Christine Cibura competed in a terrific girls scratch title game, with Leah escaping 182-181 for the title.
Thanks as always to Jerry, Tyler, Marshall, and the team at Texas for their usual flawless hosting job. Want in on all the excitement for all ages and averages? Just check out our schedule and come on down!
Texas Station- final results and scholarship winners
11/12/2016
Scratch Division
rank
bowler
prize
1
Cerell Cardines
$250
2
Harley Sweigart
$125
3
Cortez Schenck
$160
4
Sergio Torres
$50
5
Leah Glazer
$30
6
Brendan Lindsey
7
Kyle Gilbert
8
Cristian Roque
9
Nick Devlin
10
TJ Rock
11
Tim Hill
$5
12
Jerod Walker
13
Skyler McGowan
14
Zack Long
15
Dominic Olivares
Handicap Division
1
Matthew Huckabay
$200
2
Devyn Patalina
$100
3
Nolan Am-Khong
$60
4
Kyle Rendon
$82
5
Elijah Melchor
$30
6
David Jepsen
$20
7
Christine Cibura
8
Jopfel Gafate
9
Larence Buhain
10
Phillip Sauve
$14
11
Alex Cibura
12
Leanna Orlando
13
Krystal Amico
$14
14
Chris Hill
$28
15
Silas Phillips
16
Jasen Aguon
$14
17
Justin Burkhardt
18
Clifford Robbins
19
Evrin Peacha
20
Dylan Dormuth
$14
21
William Robbins
22
David Galvan
23
April McDonnell
$14
24
Tyler Hedges
25
Samantha Conti
26
Kyle Wilson
$5
27
Beatrix Cacao
28
Michaela Buhain
29
Deo Benard
30
Kendall Bollea
$5
31
Jacob Marquis
32
Justin Dormuth
33
Mark Sauve
34
Sam Espiritu
35
Alayna Purdy
Qualifying Leaders
Scratch
Handicap
1
Cardines +161
Huckabay +191
2
Torres +109
N Am-Khong +99
3
Schenck +92
P Sauve +91
High Games
Scratch
Handicap
1
Torres 297
Patalina 288
2
Cardines 269
N Am-Khong 269
3
Sweigart 259
Huckabay 263
4
Roque 254
N Am-Khong 257
5
Cardines 247
Phillips 264
U-17 Scratch side event
1
Cardines +161
2
Lindsey +72*
3
Roque +34
4
Huckabay +16
5
Rock +12
Girls scratch side event
1
Glazer +44
2
Cibura -63
3
Orlando -92
4
McDonnell -110
5
Buhain -128
Round Leaders
Scratch
Handicap
1
Roque
Orlando
2
Cardines
Huckabay
3
Cardines
Orlando
4
Cardines
Huckabay
5
Cardines
Huckabay
6
Cardines
Huckabay
7
Cardines
Huckabay
8
Cardines
Huckabay
TOTAL AWARDED THIS EVENT: $1,224