TOURNAMENT OF ALL-TIME CHAMPIONS &
TOURNAMENT OF FUTURE CHAMPS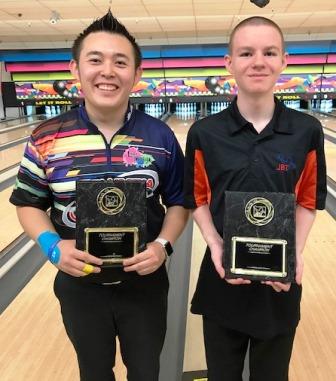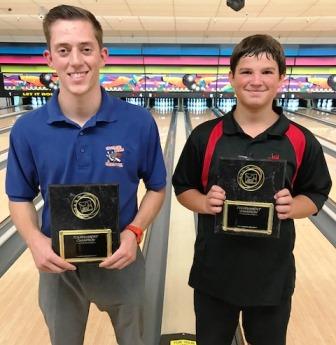 T of C champs Dallas Leong & Mark Sauve; Non-champs no more Brandon Rouse & Keith Ylvisaker
One of our favorite events each season didn't disappoint, as two veterans added titles to their collections, while two other JBT regulars got their first taste of JBT victory, at the JBT Tournament of All Time Champs and simultaneous Tournament of Future Champs, held at Let It Roll Bowl in Phoenix.
Keith Fung began the all- U21 scratch champions stepladder finals with a 232-222 win over Kyle Duster. In another terrific match, Russ Oviatt then beat Fung 225-223 to advance to the title match. Top seed Dallas Leong, with a resume stacked with JBT majors, earned the top seed, and defended it with a tenth frame strike to beat Oviatt 216-212 for the 17th title of his terrific JBT career.
Mark Sauve began the handicap champs ladder with a 250-185 win over New Mexico's Matt Ross. Sauve then snuck by Alyssa Tucker 198-184 to move on to the title game. Top seed William Robbins has had a brilliant season, and made a brilliant shot in the title match tenth frame, needing a double to win, but a ringing-10 stopped him, and Sauve claimed his second JBT title (and second major) with the 223-206 result.
Chris Tucker was awesome in the scratch non-champs ladder, beating Josh Mabry 224-152 and Catelyn Croutch 246-169 to get to the title game. Top seed Brandon Rouse needed to strike to win, and got the break of his career with a brooklyn, becoming a JBT champ with the win over Tucker.
Keith Ylvisaker also bowled like a multi-time champion in the handicap non-champ event, beating Jadeyn Mabry 281-193, and Kyle Perry 250-195. Top seed Gavin Holter was fantastic all day, but Ylvisaker could not be stopped, as he blasted past Gavin for the title and became a non-champ no more.
Thanks as always to Let It Roll for hosting us!
Tournament of Champions- final results and scholarship winners
6/5/2016
Scratch Division
rank
bowler
prize
1
Dallas Leong
$315
2
Russ Oviatt
$150
3
Keith Fung
$140
4
Kyle Duster
$100
5
Cortez Schenck
$134
6
Ben Canfield
$50
7
Donovan Koff
8
Eric Hatchett
9
Aaron Yamamoto
10
Kyle Reed
11
Ryan Gose
12
Rachael Berg
$30
13
Derek Acuff
14
Paul Colyer
15
Correen Lieber
16
Josh Demick
17
Robbie Patterson
18
Nick Devlin
$29
19
Chris Weyrauch
20
Chris Ortega
21
Theo Douthit
22
Nathan Nguyen
23
Sergio Torres
24
Carson Opela
25
Cameron Smith
26
Shelby Dempsey
27
Rachel Weyrauch
28
Mike Donnelly
29
Jeremy Smith
30
Joey Burke
31
Harley Sweigart
32
Kyle King
33
Dante Rohe
$5
34
Cierra Chamot
35
Christian Apolonio
Handicap Division
1
Mark Sauve
$300
2
William Robbins
$150
3
Alyssa Tucker
$75
4
Matt Ross
$50
5
Darren Fletcher
$40
6
Corbin Reid-Hirsch
7
Ryan Perry
8
Avery Domaguin
$15
9
Brooke Collins
10
Phillip Sauve
11
Kallista Fritts
12
Bella Flowers
$29
13
Victoria Potter
14
CJ Todeschi
15
Samm Cosby
16
Elijah Melchor
17
Bex Boyko
18
Tanner Ferguson
19
Erik Hagen
20
Caleb Rothstein
21
Secilia Kalvelage
$15
22
Tyler Hedges
$30
23
Reagan Russ
24
Destiny Johnson
25
Connor Steelmon-Hill
26
Dawson Reese
$113
27
Andrew Thomas
28
Justin Worthington
29
Alex Seng
30
Jordan Nassberg
Tournament of Non-Champions- final results and scholarship winners
6/14/2017
Scratch Division
rank
bowler
prize
1
Brandon Rouse
$200
2
Chris Tucker
$100
3
Catelyn Croutch
$50
4
Josh Mabry
$25
5
Austin Muldoon
$15
6
John Newton
7
Josh Fearing
8
Jacob Merki
9
Clint Strawmyer
Handicap Division
1
Keith Ylvisaker
$200
2
Gavin Holter
$100
3
Kyle Perry
$50
4
Jadeyn Mabry
$25
5
Katy Mace
6
Brandon Bolton
7
Kendall Bollea
$8
8
Sarah Halligan
9
Clifford Robbins
10
Baylee Snow
11
Jack Haines
12
Jacob Soulierre
Total Awarded This Event: $2,633