TRIANGLE BOWL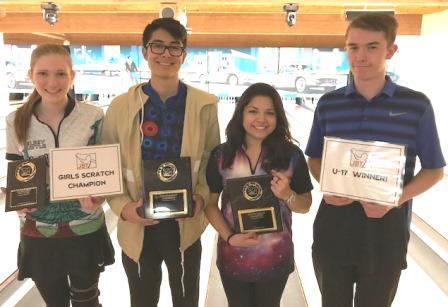 champs Cortez Schenck & Hilari Zuniga with Girls and U17 winners Kelsey Abrahamsen & Jake Mullen
Cortez Schenck successfully invaded the northwest, while Hilari Zuniga won her first title, in an exciting conclusion to the JBT Pac Northwest Conference's regular season at Triangle Bowl in Longview.
Kelsey Abrahamsen, trying to stay within shouting distance in the Bowler of the Year race, began the stepladder finals with a 238-165 win over Chris Tuholski. She then beat fellow veteran Tyler Boe in an exciting 241-225 game. Jake Mullen then stopped Abrahamsen 239-194 to advance to the title game.
Top seed Schenck makes occasional trips to the northwest to showcase his talents there, and crushed the pattern en route to the #1 spot. Mullen has been throwing the ball great in his quest to finally win a scratch title, but Cortez was just too tough in this game, winning the match 234-205, good for the 90th title of his unparalleled JBT career.
Alejandro Moser-Hernandez began a climb up the handicap stepladder with a 189-163 win over Vincent Oberto. Alejandro then stopped points leader Tyler Coates 211-198. Newcomer Hilary Zuniga then beat Moser-Hernandez 219-208 to move on to the title game.
Top seed Bradley Baltazar continued his excellent bowling this season by earning the #1 spot, but had a lot of pins to make up against Zuniga, who hadn't ever bowled competitively before meeting Boe, her boyfriend. As often happens, despite the handicap disparity the match got close at the end, and Hilary had just enough for a 205-197 win and her first career JBT title.
Abrahamsen regrouped to win the day's Girls Scratch title with a 205-172 win over Brooke Collins. Mullen also was assuaged with a U-17 win, 217-148 over Baltazar.
Thanks as always to everyone at Triangle for their great hosting job. The field is now set for the Pac NW Invitational, with $1,000 top scholarships up for grabs to the talented field.
Triangle Bowl- final results and scholarship winners
6/10/2017
Scratch Division
rank
bowler
prize
1
Cortez Schenck
$314
2
Jake Mullen
$170
3
Kelsey Abrahamsen
$75
4
Tyler Boe
$75
5
Chris Tuholaki
$30
6
Michael Creel
7
Ryan DeFazio
8
Jerry Jennings
$58
9
Andy Herrmann
10
Tyler Hogstrom
11
Tommie McNeal
12
Aidghan Ziegler
13
Candice Goldfinch
$15
14
Nick Devlin
15
AJ Schock
16
Brian DeLuisa-Anderson
17
Elisa Couch
18
Collin Young
19
Tyler DeNune
Handicap Division
1
Hilary Zuniga
$289
2
Bradley Baltazar
$100
3
Alejandro Moser-Hernandez
$50
4
Vincent Oberto
$30
5
Tyler Coates
$20
6
Colt Jance
7
Brooke Collins
8
Jacob Frazier
$44
9
Madison Bash
10
Bailey Peters
11
Elizabeth Tuholski
12
Hunter Setera
13
Brendan Hopkins
14
Evan Smith
15
Hannah Abney
16
Bryan Zeutenhorst
17
Amber Sparks
$5
18
Paul Rosales
19
Olivia Kolppa
20
Alyx Racimo
21
Cosmo Castellano
22
Hannah Russell
23
Tyler DeLorm
24
Jonathan Lorey
25
Lohrghan Ziegler
26
Lailani Wallin
27
Derek Haight
28
Hunter Bower
29
Andrew Martin
30
Payton Edwards
Qualifying Leaders
Scratch
Handicap
1
Schenck +98
Baltazar +122
2
Mullen +27
Zuniga +94
3
Jennings +5
Oberto +87
High Games
Scratch
Handicap
1
Schenck 276
Coates 296
2
Schenck 269
Coates 263
3
Mullen 253
Baltazar 260
4
Schenck 249
Baltazar 260
5
Tuholski 246
Moser-Hernandez 257
Girls scratch side event
1
Abrahamsen -38*
2
Collins -107
3
Peters -121
4
Goldfinch -132
5
Schock -139
U-17 scratch side event
1
Baltazar +62
2
Mullen +27*
3
Jennings +5
4
Coates -24
5
Frazier -73
Round Leaders
Scratch
Handicap
1
Schenck
Hopkins
2
Schenck
Oberto
3
Schenck
Baltazar
4
Schenck
Oberto
5
Schenck
Baltazar
6
Schenck
Coates
7
Schenck
Coates / Baltazar
8
Schenck
Baltazar
TOTAL AWARDED THIS EVENT: $1,280