WHITEWOOD LANES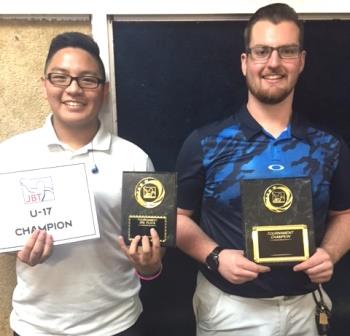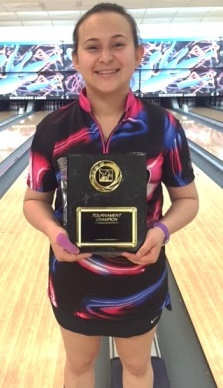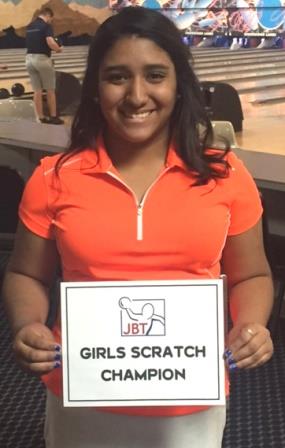 champs Harley Sweigart & Montana Cdebaca with U17 and Girls winners Nathan Nguyen & Aileen Linares
Two red-hot bowlers maintained their winning ways, capturing JBT titles in exciting Texas-New Mexico Conference action at Lubbock's Whitewood Lanes.
After a five-game qualifying round, bowlers competed in 'pick your survivor', where the low score is eliminated game by game, and the higher seeds choose who they want on their pair. Ten scratch survivors were carved down to four, and in those matches top surviving seed Sweigart defeated Nathan Nguyen 214-192, while Christian Apolonio strung the strikes in a 267-183 win over Stefan Wood in the other semifinal to set up an all-southpaw finale.
Sweigart has been doing a lot of damage in NM-TX this season, and he made the long trip more than worth it with a 234-206 win over Apolonio for his 20th career JBT title, becoming only the 12th bowler in JBT history to accomplish that impressive milestone- congrats Harley!
Sixteen handicap survivors were whittled down to three, and in the resulting penultimate match, Montana Cdebaca and Avery Domaguin had the two highest games, leaving rookie Georgia Shields in third place in an excellent performance. Domaguin was looking to make it an unlikely sweep for San Diego bowlers way out in Lubbock (Harley is an ASU student, and Avery was headed home from Houston), but the talented ten year-old could not do anything about Montana, who won last month at Pojoaque. She fired a 234 scratch game for a 278-216 final score, cruising to her third career JBT title.
Nathan Nguyen didn't need to call '91' in the U17 side event, as he defeated U17 leader Daniel Hall 212-203 to win the event. The Girls Scratch event was captured by Aileen Linares, who defeated Bernadette Davis 187-164 for the win.
Big thanks to everyone at Whitewood for a great job hosting us. Want in on all the fun for all ages and averages? JUst check out our schedule and come on down, that's all you have to do!
Whitewood Lanes- final results and scholarship winners
3/25/2017
Scratch Division
rank
bowler
prize
1
Harley Sweigart
$312
2
Christian Apolonio
$125
3
Nathan Nguyen
$75
4
Stefan Wood
$50
5
Bradley Edwards
$59
6
Carson Opela
7
Kellen Lavery
8
Noah Martinez
9
Daniel Hall
$15
10
Brad Harvey
11
Zach Wojciechowski
12
Aileen Linares
13
Will Davis
14
Vanessa Romero
15
Zach Harvey
16
Jonah Seawright
17
Matteo Bergonzi
18
Josh Demick
19
Chris Ortega
20
Chris Furdek
21
Nicholas Burgess
Handicap Division
1
Montana Cdebaca
$207
2
Avery Domaguin
$129
3
Georgia Shields
$90
4
Jacob Marquis
$65
5
Alyssa McCleery
$40
6
Kambree Rogers
$30
7
Lara Wood
$20
8
Zoe Woodruff
$5
9
Josie Herson
10
Matt Ross
11
Toby Cdebaca
$34
12
Trevor Dodson
13
Taylor Ziegler
14
Bernadette Davis
$7
15
Jordi Gonzalez
16
Ashton Holladay
17
Jay Heffer
18
Tressa Robinson
19
Mikaela Flores
20
Yarelis Alvarez
21
Cassie Robinson
22
Kaelie Stroud
23
Desiree Knott
$15
24
Donius Jeffries II
25
Reagan Russ
26
John Green
27
Gerilynn Delegarito
28
Taylor Herson
29
Eric Gauna
30
Devin Hodges
31
Bailey Dodson
$50
32
Rebekah Hastings
33
Alex Thompson
34
Audrey Campbell
35
Josh Trevino
36
Angela Romero
37
Conner Barnes
High Games
Scratch
Handicap
1
Edwards 279
J Marquis 307
2
Edwards 278
T Cdebaca 297
3
S Wood 277
T Dodson 286
4
Apolonio 267
Z Woodruff 281
5
Sweigart 267
M Cdebaca 278
Girls Scratch side event
1
Linares +10*
2
B Davis -17
3
McCllery -26
4
V Romero -31
5
M Cdebaca -80
U-17 scratch side event
1
Hall +141
2
Nguyen +73*
3
Marquis +62
4
T Cdebaca +27
5
W Davis +4
Round Leaders
Scratch
Handicap
1
Lavery
J Marquis
2
Lavery
T Ziegler
3
Lavery
J Marquis
4
Edwards
Domaguin
5
Edwards
Domaguin
TOTAL AWARDED THIS EVENT: $1,278
Georgia Shields, Montana Cdebaca, Avery Domaguin