WHITEWOOD LANES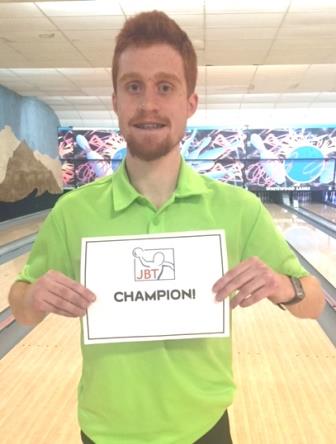 champ Kellen Lavery
Kellen Lavery joined the JBT champions club by beating a strong field in a brutal forma, in exciting Saturday night action at Whitewood Lanes in Lubbock.
After 5 games of matchplay on the flat PBA Bear pattern, the top 8 competed in the popular but grueling Battle Bag format, where when you lose a game, your opponent takes a ball out of play, until you're out of equipment and thus eliminated. The first round was best 3-of-5, and it was bad news for Vanessa Romero, who wowed n qualifying to take the lead, but was upset by Levi Fintel in 5 tough games. In other matches, Lavery swept Carson Opela , William Yoder stopped Harley Sweigart 3-1, and in a terrific comeback, Donius Jeffries, the only handicap division regular to make the cut, came back from 2 games down (and thus with only one ball) to oust Chris Ortega.
In best 2-of-3 semis, Lavery swept Fintel and Yoder stopped Jeffries' fine run to set up the single game final. Both bowlers competed very well on the hyper-demanding Bear pattern, but a late-frame Greek Church from Yoder proved to be fatal. Kellen won the match 193-191, for a well-deserved first title of his JBT career.
Big thanks to Bill and Monica Wood and the team at Whitewood for allowing us the lanes and linage on a busy Saturday night to make this event happen. Want in on the unique formats and fun that only JBT provides? Just check out our schedule and come on down!
Whitewood Lanes- final results and scholarship winners
3/25/2017
Scratch Division
rank
bowler
prize
1
Kellen Lavery
$250
2
William Yoder
$125
3
Donius Jeffries II
$75
4
Levi Fintel
$50
5
Vanessa Romero
$30
6
Carson Opela
7
Harley Sweigart
8
Chris Ortega
9
Zach Wojciechowski
10
Daniel Hall
11
Stefan Wood
12
Josh Demick
13
Zach Harvey
14
Bradley Edwards
15
Montana Cdebaca
16
Kat Rush
17
Desiree Knott
18
Brad Harvey
19
Jonah Seawright
20
Will Davis
21
Matteo Bergonzi
22
Toby Cdebaca
23
Nick Burgess
24
Lara Wood
25
John Ellis
High Games
Scratch
1
Lavery 272
2
Yoder 256
3
Yoder 246
4
Yoder 236
5
Sweigart 235
Round Leaders
Scratch
1
Yoder
2
Yoder
3
Yoder
4
Sweigart
5
V Romero
TOTAL AWARDED THIS EVENT: $530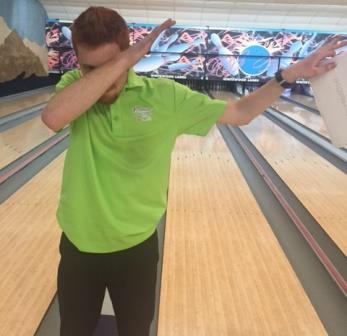 um....