WINNETKA BOWL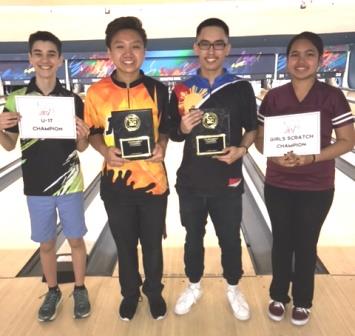 champs Kevin Banaag and Trevyr Geronimo with U17 and Girls winners Solomon Salama & Kaylee Am-Khong
Two first time winners highlighted terrific JBT Southern California Conference action at Winnetka Bowl.
In the day's pick your survivor format, higher seeds got to choose who they played. In the scratch semis, Kevin Banaag stopped Kennison Andrews 213-179, while Dustin Yauney rolled by Anthony Cando 211-199, setting up a title match between two bowlers looking for their first scratch title. Both finalists performed well, but it was Banaag that came up with the strings, beating Yauney 258-201 for his first career JBT title.
Eighteen handicap semifinalists were whittled down to four, and in those semifinal matches Trevyr Geronimo got by Lindsay Greim 199-192, and in a matchup between red-hot bowlers, Avery Domaguin beat Cameron Criss 204-169. Domaguin has been on a Tour-wide roll since the new year, but has had a few tough losses that have prevented the titles from piling up. It was the same story again, as Geronimo came up with the 225-202 win in the title match for his first career JBT victory.
Side events, conversely, were captured by no strangers to winning, as Solomon Salama won teh U17 event, and Kaylee Am-Khong beat Renee Gentry for the Girls Scratch win.
Big thanks as always goes to Winnetka for hosting, and MSC, Priority Girl, and Ebonite for super contributions to the day's prize funds. Want in on all this? Just come on out to the next JBT event!
Winnetka- final results and scholarship winners
4/9/2017
Scratch Division
rank
bowler
prize
1
Kevin Banaag
$430
2
Dustin Yauney
$200
3
Kennison Andrews
$191
4
Anthony Cando
$125
5
Solomon Salama
$150
6
Kyle Andrews
7
Harley Sweigart
$26
8
Brandon Wanders
9
Anthony Schanen
10
Kyle Gilbert
11
Clint Strawmyer
12
Michael Ma
13
Tim Hill
14
Louis Luna
15
Brittany Kolatzny
$13
16
Ryan Lee
17
Matt Alford
18
Zack Long
Handicap Division
1
Trevyr Geronimo
$500
2
Avery Domaguin
$250
3
Cameron Criss
$200
4
Lindsay Griem
$165
5
Clifford Baltazar
$125
6
Austin Sugarman
$100
7
Jared Schiada
$105
8
Renee Gentry
$75
9
Adrian Yamanoha
10
Ben Dinenberg
11
Tim Kessler
12
Secilia Kalvelage
$15
13
Jaclyn Azvedo
14
Jericho Olegario
15
Ardani Rodas
16
Rieley Ulanday
$15
17
Kaylee Am-Khong
$50
18
James McGough
19
Lawrence Buhain
20
Nolan Al-Khong
21
Chris Hill
22
Louis DePero
23
Clifford Robbins
24
Hilari Hampton
$43
25
Jeff Rodda
26
Zian Sasaki
27
Caleb Rothstein
$115
28
Gage Baker
29
Michaela Buhain
30
William Robbins
31
Blake Jozwiakowski
32
Zach Greim
$5
33
Tanner Ferguson
34
Ranelle Ulanday
35
Jacey Opiana
36
Connor Steelmon-Hill
$41
37
Allison Azvedo
38
Brandon Criss
39
Yael Salama
40
Alex Chew
41
Elias Luna
42
Alex Miller
High Games
Scratch
Handicap
1
Salama 190
C Baltazar 287
2
Kyle Andrews 278
Yamanoha 260
3
Salama 267
C Criss 258
4
Sweigart 265
A Rodas 252
5
Banaag 258
Domaguin 252
High Female
1
K Am-Khong -59 *
2
Gentry -75
3
Kalvelage -145
4
Kolatzny -30
5
J Azvedo -160
Qualifying Leaders
Scratch
Handicap
1
Salama +172
C Baltazar +103
2
Ken Andrews +63
A Yamanoha +76
3
Sweigart +55
Domaguin +69
U-17
1
Salama +172*
2
Banaag -24
3
C Baltazar -52
4
Yamanoha -55
5
McGough -74
Round Leaders
Scratch
Handicap
1
Sweigart
Sugarman
2
Sweigart
Domaguin
3
Salama
C Baltazar
4
Salama
C Baltazar
5
Salama
C Baltazar
Total Awarded This Event: $2,959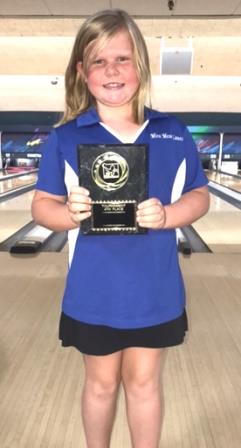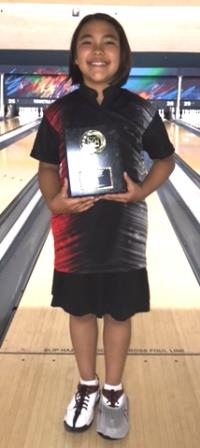 future (and current) stars Lindsay Greim & Avery Domaguin, 4th and 2nd place finishers