ACME BOWL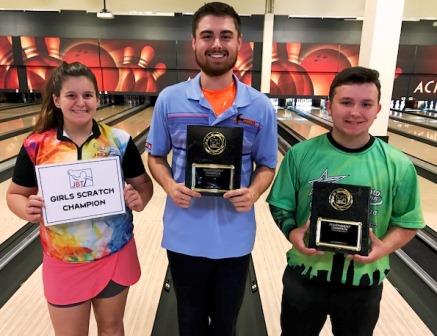 champs Ryan Nikolas & Silas LeBlanc with Girls champ Sara Harris
Ryan Nikolas remained perfect on the new season, while Silas LeBlanc tasted victory for the first time, in exciting JBT Pacific Northwest Conference action at Acme Bowl in Tukwila.
Michael Creel opened the scratch division finals in style, blasting 11 strikes for a 278-212 win over Jerry Jennings. Creel, who also had a 279 in match play, kept the strikes rolling with a 221-192 win over Jake Mullen in round two. Previous day's champ Ryan Nikolas probably figured he'd need a big number to win the next match, and that's exactly what he came up with, outscoring Creel 269-229 to reach the title match.
Top seed Makana Wong is also off to a hot start this season, finishing second in the non-champs event and following it up by earning his first top seed ever here. He performed brilliantly with a 242, but unfortunately for him the match was over mid-game, as Nikolas fired seven of the first eight strikes en route to a 268-242 win, good for the 17th title of his JBT career.
Scores were solid in the handicap stepladder as well, which began with 2016 TPC champ Evan Smith beating Sara Harris 256-216. 2017 Sportsmanship Award winner Olivia Kolppa then squeezed by Smith 226-222. LeBlanc then turned the tables on Kolppa 247-216 to advance to his first title game.
Top seed Jonathan Lorey loves Acme, having won his first title here last year, and cruising to the top seed this year. He remained in control until a bizarre second half which saw him leave the 5-7-10 and then make the 4-9. However, LeBlanc recovered from two early gutter balls to strike out from the ninth, forcing Lorey to fill 20 pins to win. After 9-/, he had to strike on the fill to tie, and when two pins remained, LeBlanc claimed a thrilling first career JBT title.
Smith and Harris met again in the Priority Girl's Scratch title match, this time with Harris coming out on top 185-183 for the $50 bonus and keepsake bracelet. The U17 crown went to Bradley Baltazar, who beat top seed Tyler Coates 192-175 for that win.
Thanks as always to the team at Acme for hosting our Tour. Want in on the fun for all ages and averages? Just check out our schedule and come on down!
Acme Bowl- final results and scholarship winners
8/27/2017
Scratch Division
rank
bowler
prize
1
Ryan Nikolas
$250
2
Makana Wong
$135
3
Michael Creel
$75
4
Jake Mullen
$50
5
Jerry Jennings
$30
6
Bradley Baltazar
7
John Malone
8
Kyle Adams
9
Simon Dyck
10
Tyler Coates
11
Brian DeLuisa-Anderson
12
Hunter Bower
$5
13
Aidghan Ziegler
14
Jacob Frazier
$5
15
Kyle Jonson
16
Reagan Lorey
17
Isaac Rishardson
18
Daniel Johnson
19
Celeste Johnson
20
Andi Valdez-Hicks
21
Alana Brown
Handicap Division
1
Silas LeBlanc
$200
2
Jonathan Lorey
$100
3
Olivia Kolppa
$50
4
Evan Smith
$55
5
Sara Harris
$70
6
Mikayla Bumpus
7
Tyler Denune
8
Tyler DeLorm
9
Vincent Oberto
10
Peyton Edwards
11
Aiden Wong
12
Alejandro Moser-Hernandez
13
Michael Strothman
14
Lailani Wallin
15
Colt Jance
16
Andrew Martin
17
Ruth Magana
High Games
Scratch
Handicap
1
Creel 279
J Lorey 279
2
Creel 278
J Lorey 273
3
Nikolas 269
Harris 264
4
Nikolas 268
E Smith 256
5
Nikolas, Mullen 268
Smith, LeBlanc 254
Girls Scratch side event
1
E Smith -41
2
S Harris -57*
3
Kolppa -92
4
Lorey -107
5
Hicks -218
U-17 scratch side event
1
Coates +24
2
Baltazar +2*
3
LeBlanc -51
4
DeLuisa-Anderson -63
5
Bower -73
Round Leaders
Scratch
Handicap
1
Wong
Smith
2
Mullen
Smith
3
Mullen
Smith
4
Mullen
Smith
5
Wong
Smith
6
Wong
Lorey
7
Wong
Lorey
8
Wong
Lorey
TOTAL AWARDED THIS EVENT: $1,025