ANTELOPE LANES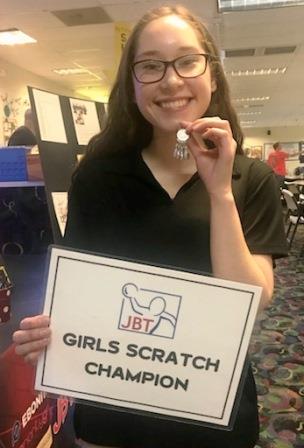 champs Christian Apolonio & Dawson Reese with Lucas Rabb, Cesar Padilla, Clifford Robbins, Stefanny Toala
Christian Apolonio and Dawson Reese earned JBT titles in an exciting day of JBT Arizona Conference action at Prescott Valley's Antelope Lanes.
Kyle Reed began the scratch division stepladder finals with a 204-202 squeaker over an absolutely thrilled Harley Sweigart. Solomon Salama then helped Harley get on the road (he was Kyle's ride) with a 221-192 win over Reed. The pocket was easy to hit on the finals pair, but carry was an issue for everyone, and that made for a low scoring but thrilling semifinal match, with Salama finding a way to get the tenth frame double he needed against Christian Apolonio, but then only eight on the fill ball for a 205-204 win for a stunned Christian, who advanced to the title match.
Apolonio took full advantage of the second chance against top seed Lucas Rabb, who had been brilliant all day. He will win his first scratch title soon, but this final was all Christian, as he blasted one of the best games of the day in a 255-208 win, good for the second title of his JBT career.
Dawson Reese began a climb up the handicap stepladder with a 224-183 win over first time finalist Raymond Gaiser. Reese then struck in the tenth frame for a clutch 177-173 win over Clifford Robbins. In another thriller, Dawson edged by Kevin Lu 209-207 to reach the title match.
Top seed Cesar Padilla was looking to avenge a runner-up finish from the day before, and was brilliant again today, but still could not find good fortune in the title game. He fired the back four strikes but it was too late as Reese rolled to a 233-218 win, and the fourth title of his JBT career.
Robbins' loss to Reese was about the only thing that went wrong for him on the day. He opened the event by thrilling the Antelope crowd with a perfect 300, his first ever. Then he capped off the day with a win over Dawson for the day's U-17 subdivision title. Priority Girls Scratch was won by Stefanny Toala, who continued her Arizona domination with a 187-158 win over Jennifer Peterson.
Big thanks to the team at Antelope for hosting our Tour. Want in on the fun? Just come on out to the next JBT event, it's that simple!
Antelope Lanes- final results and scholarship winners
2/25/2018
Scratch Division
rank
bowler
prize
1
Christian Apolinio
$250
2
Lucas Rabb
$125
3
Solomon Salama
$75
4
Kyle Reed
$65
5
Harley Sweigart
$58
6
Ryan Perry
7
Justin Song
$28
8
Christian Caron
9
Josh Mabry
10
Matthew Garrett
11
Cristian Roque
12
Kyle Gilbert
$15
13
Josh Fearing
$14
14
John Newton
15
Phillip Sauve
16
Stefanny Toala
$50
17
Rashaad Jordan
18
Dante Rohe
$5
19
Brandon Rouse
20
Zach Rapp
21
James Wilson
22
Aileen Linares
23
Kyle Thoma
Handicap Division
1
Dawson Reese
$243
2
Cesar Padilla
$100
3
Kevin Lu
$104
4
Clifford Robbins
$50
5
Raymond Gaiser
$40
6
William Robbins
$35
7
Kendall Bollea
8
Ryan Zent
$29
9
Jennifer Peterson
10
Luis Garcia
11
Payton Workman
12
Kyle Lawrence
13
Gavin Holter
14
Jadeyn Mabry
15
Kyle Perry
16
Katy Mace
17
Austin Dorsey
18
Yael Salama
19
Justin Worthington
$10
20
Andrew Thomas
21
Abby Franklin
22
CJ Todeschi
23
Tarik McMaster
24
Destiny Johnson
25
Kaitlyn Hammer
26
Keith Ylvisaker
27
Mark Sauve
28
Kevin Van Gordon
29
Josh Williams
30
Michael McQuisten
Qualifying Leaders
Scratch
Handicap
1
Rabb +86
Lu +147
2
Mabry +47
C Robbins +137
3
Sweigart +41
Gaiser +110
High Games
Scratch
Handicap
1
Rabb 266
C Robbins 318
2
Sweigart 257
Gaiser 272
3
Sweigart 257
Zent 256
4
Rabb 257
Padilla 253
5
Sweigart, Perry 256
Lu 248
Girls Scratch side event
1
Toala -111*
2
Peterson -125
3
Franklin -135
4
Linares -196
5
Johnson -215
U-17 scratch side event
1
C Robbins +47*
2
Reese +38
3
Salama +29
4
Padilla +22
5
Lu +8
Round Leaders
Scratch
Handicap
1
Sweigart
C Robbins
2
Sweigart
Padilla
3
Sweigart
Padilla
4
Sweigart
Padilla
5
Rabb
Padilla
6
Sweigart
Padilla
7
Rabb
Padilla
8
Rabb
Padilla
TOTAL AWARDED THIS EVENT: $1,296