AZTEC LANES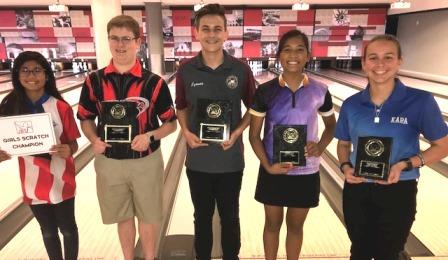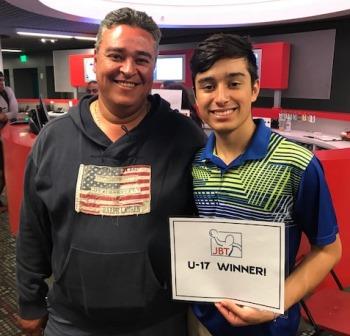 champs Zack Long & Cyruss Tehrani; Katelyn Abigania, Maikayla Villa, Kara Templin; Israel Ramirez
A veteran and a rookie both came up with convincing wins in exciting JBT Southern California Conference action at San Diego state University's beautiful Aztec Lanes.
Zack Long climbed the 4-bowler stepladder finals for his 5th career JBT title. He began wit a 207-170 win over Ryan Lee, then followed with a defeat of Matt Chesnut to move on to the title match.
Top seed Kyle Gilbert had been fantastic all day, but Long found a terrific look in the stepladder, and ran off the front six in the title game. He slowed down in the second half but had the margin he needed for a 218-203 win and the championship.
Kara Templin began the handicap division stepladder with a win over Joshua Abigania. Cyruss Tehrani, who ironically takes lessons from Kara, then stepped in, and the student outlasted the teacher in a great game from both 274-159.
Maikaila Villa had the best performance of her JBT career, dominating the large field. However, Tehrani was on a tear that was not going to stop, and he was able to cruise to victory in the final game for his first JBT title.
Joshua's sister Katelyn Abigania also impressed, averaging over 200 in qualifying to be reach both the U17 and the Priority Girls scratch title games. She went 1-1 in those finales, beating Renee Gentry 167-147, but falling to Israel Ramirez, the 'Prince of Aztec' (both his career wins have come here) 206-130.
Huge thanks to JBT alumni Jamie Spector and the team at Atzec for their usual great hosting job. Want in on all this fun for all ages and averages? Just check out our schedule and come on down!
Aztec Lanes- final results and scholarship winners
3/31/2018
Scratch Division
rank
bowler
prize
1
Zack Long
$255
2
Kyle Gilbert
$161
3
Matt Chesnut
$75
4
Garrett Lee
$50
5
Kyle Reed
$45
6
Matthew Carpenter
$17
7
Israel Ramirez
8
Cerell Cardines
9
Renee Gentry
$37
10
Anthony Schanen
11
Nolan Am-Khong
12
Costa Gastouniotis
13
Ricky Pollom
14
Carlos Perez
15
Harley Sweigart
$5
16
Kaylee Am-Khong
17
Solomon Salama
18
CJ Schaffer
19
Phillip Sauve
Handicap Division
1
Cyruss Tehrani
$250
2
Maikayla Villa
$140
3
Kara Templin
$100
4
Joshua Abigania
$90
5
Justin Phillips Jr
$60
6
Brandon Lim
$108
7
Cameron Criss
$40
8
Jazmine Wilson
$104
9
Katelyn Abigania
$50
10
Lindsay Greim
$45
11
Jared Schiada
12
Clifford Robbins
13
Silas Phillips
14
Kyle Perry
15
Braeden Phillips
16
Amanda Hanson
17
Jake Foster
18
Caleb Rothstein
$15
19
Mark Sauve
20
Allison Azvedo
21
Dante Villa
22
Tanner Ferguson
$59
23
Jaclyn Azvedo
24
Riley Christy
25
Simon Ortega
26
Nathan Chambers
27
James McGough
28
William Robbins
29
Preston Carrasco
30
Dawson Reese
31
Yael Salama
32
Ethan Chambers
33
Elias O'Halloren
34
Zian Sasaki
35
Jacob McGough
36
Zach Greim
37
Aislinn Lubag
38
Secilia Kalvelage
39
Yairi Lubag
40
Katie Kipler
41
Patrick Sablan
42
Victoria Potter
43
Connor Steelmon-Hill
44
Brian Erickson
45
Abdullah Aleuzi
High Games
Scratch
Handicap
1
Ramirez 269
J Phillips 294
2
Gilbert 258
Tehrani 274
3
Chesnut 256
A Azvedo 265
4
Gilbert 248
M Villa 263
5
Cardines 246
Reese 261
High Female
1
K Abigania +31*
2
Gentry -22
3
M Villa -49
4
A Azvedo -67
5
Hanson -108
Qualifying Leaders
Scratch
Handicap
1
Gilbert +126
M Villa +211
2
Ramirez +61
J Phillips +140
3
Long +57
K Abigania +136
U-17
1
I Ramirez +61*
2
K Abigania +31
3
G Lee +10
4
C Robbins +1
5
J Abigania -24
Round Leaders
Scratch
Handicap
1
Long
M Villa
2
Gilbert
M Villa
3
M Carpenter
M Villa
4
Gilbert
M Villa
5
Gilbert
M Villa
6
Gilbert
M Villa
7
Gilbert
M Villa
8
Gilbert
M Villa
Total Awarded This Event: $1,641