BOWLIUM LANES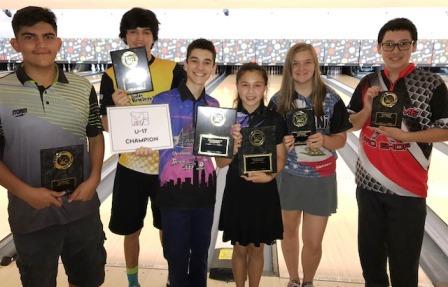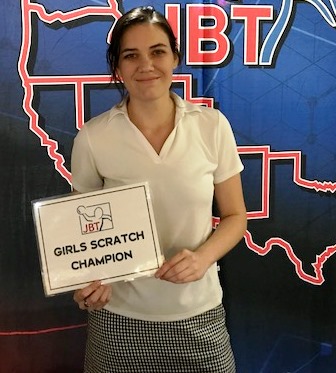 champs Solomon Salama and Kaitlynn Yukihiro with Ardani Rodas, Richard Paul III, Emily Cheesman, and Shane Hoard; Girls winner Renee Gentry
Solomon Salama and Kaitlynn Yukihiro claimed JBT titles in an exciting wrap-up to the tripleheader weekend at Bowlium Lanes in Montclair.
Kevin Banaag began the scratch division stepladder finals with a 212-202 win over Ryan Lee which featured both bowlers doubling in the tenth. Banaag then had an easier time with talented first-time finalist Kameron Johnson 218-148. Richard Paul III then stopped Banaag 197-186 to reach the title match.
Top seed Salama was tied for the lead after qualifying, then fired 742 in the semis to run away with the event. The anticipated battle of Team USA members in the final didn't materialize though, as Richard uncharacteristically struggled, and Solomon took advantage for a 222-160 win and the title.
Shane Howard opened the handicap division stepladder finals with a 217-188 win over early round leader Jared Schiada. Emily Cheesman then beat Howard 213-172. Yukihiro then fired a big game to stop Cheesman 253-204 to reach the title match.
Top seed Ardani Rodas had already had a terrific weekend, making the final five in both doubles and team, and still had enough left in the tank to lead this event. He couldn't find the same look in the final though, and Yukihiro calmly threw another excellent game in a 226-197 win, good for her first career JBT title.
The Priority Girls scratch subdivision went to Renee Gentry, with a win over Kaylee Am-Khong. Salama completed the daily double with a U17 win over Michael Loera.
Once again, huge thanks to Al and the team at Bowlium for a great job hosting a jam packed weekend. Wnat in on all the excitement? Just check out our schedule and come on down!
Bowlium-final results and optional scholarship winners
11/26/2017
Scratch Division
rank
bowler
prize
1
Solomon Salama
$250
2
Richard Paul III
$125
3
Kevin Banaag
$75
4
Kameron Johnson
$50
5
Ryan Lee
$40
6
Michael Loera
$30
7
David Schneider
8
Gael Egana
9
Kyle Reed
$44
10
Anthony Schanen
11
Louis Luna
$29
12
Leoj Chin
$20
13
Israel Ramirez
14
Alberto Bernal
15
Kyler Orosco
16
Nolan Am-Khong
17
Harley Sweigart
18
Costa Gastouniotis
$5
19
Marquan Rivers
20
Ricky Pollom
21
Jacob Camacho
22
Garrett Lee
23
Renee Gentry
$50
24
Zack Long
25
Tevyr Geronimo
26
Kaylee Am-Khong
$25
27
Carlos Perez
28
Austin Sugarman
29
Trevor Thompson
30
Mondesi Saavedra
31
Kyle Gilbert
$30
Handicap Division
1
Kaitlynn Yukihiro
$225
2
Ardani Rodas
$125
3
Emily Cheesman
$115
4
Shane Howard
$90
5
Jared Schiada
$50
6
Lawrence Buhain
$70
7
Aislinn Lubag
$45
8
Zachary Ginzalez
$20
9
Hillari Hampton
$73
10
James McGough
$15
11
Elias Luna
12
Manuel Gonzalez
13
Lathan Chin
$15
14
Clifford Robbins
15
Zian Sasaki
16
Michaela Buhain
$30
17
Peter Ruiz
18
Yairi Lubag
$30
19
Lindsay Greim
$29
20
Halie Morgan
21
Caleb Rothstein
22
Allison Azvedo
23
Elias O'Hollaren
24
Zach Greim
25
Secilia Kalvelage
26
Jaclyn Azvedo
27
Jacey Opiana
28
Sandra Chacon
29
William Robbins
30
Yael Salama
31
James Estey
32
Silas Phillips
33
Dawson Reese
34
Patrick Sablan
35
Avery Domaguin
$50
36
Dillon O'Neil
37
Adrian Yamanoha
38
Mariel Quincena
39
Tanner Ferguson
40
Akayla Orosco
41
Sebastian Huffman
42
Cameron Criss
43
Gerald Griffin
Scratch
Handicap
1
Salama 289
Schiada 291
2
R Lee 289
Rodas 271
3
Johnson 279
Howard 269
4
Loera 279
Schiada 267
5
Egana 279
McGough 263
High Female
1
Gentry -85*
2
AM-Khong -94
3
Kalvelage -98
4
A Azvedo -148
5
Buhain -161
Qualifying Leaders
Scratch
Handicap
1
Loera +106
Schiada +144
2
Salama +106
Yukihiro +143
3
Johnson +70
Rodas +109
U-17
1
Loera +106
2
Salama +106*
3
Johnson +70
4
Egana +57
5
Paul +42
Round Leaders
Scratch
Handicap
1
Orosco
Howard
2
Egana
Cheesman
3
R Lee
Yukihiro
4
Loera
Schiada
5
Loera
Schiada
6
Salama
Rodas
7
Salama
Yukihiro
8
Salama
Rodas
Total Awarded This Event: $1,740