JBT ALL-BAKER 5-PERSON TEAM CHALLENGE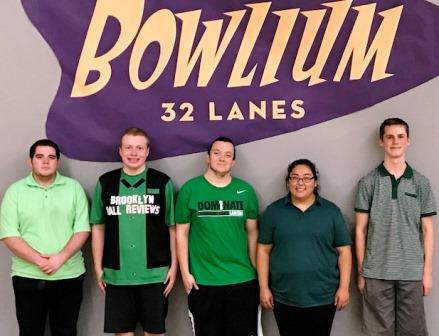 champs Marc Villalobos, William Robbins, Clint Strawmyer, Secilia Kalvelage, Costa Gastouniotis
Five bowlers won their first JBT titles in a scratch event, winning the So Cal 5-person Baker Team Challenge, hosted by Bowlium Lanes in Montclair.
The team in various shades of green made the other teams green with envy, as they qualified #7 for the exciting matchplay rounds, then won three rounds, including some teams with stacked JBT scratch division rosters, to reach the final match.
Baker bowling is all about teamwork and momentum, and they certainly had all of that in the midnight finals, as after a long day of bowling (most had already bowled the Doubles event during the day, and still had singles in the morning), they swept the finals 2-0 to win the event. For scratch regulars Marc Villalobos and Costa Gastouniotis it was their first wins, adult bowler Clint Strawmyer finally won the title that eluded him while still a junior, handicap regular Secilia Kalvelage got a scratch win (teams did receive bonus pins for extra bowlers under a 170 average besides the one required), and William Robbins just keeps on winning, making it two titles in less than seven hours!
Huge thanks to Bowlium for providing the lanes on a Saturday night to make this event possible, as well as all the adults for taking tie to bowl with today's amazing kids. Want in on the fun? Just come on out to the next JBT event!
So Cal Baker- final results and scholarship winners
11/26/2017
rank
bowlers
prize
total
1
Marc Villalobos
$125
$500
William Robbins
$125
Secilia Kalvelage
$125
Costa Gastouniotis
$125
Clint Strawmyer
2
Kirk Chui
$63
$250
Trevor Thompson
$63
Caleb Rothstein
$63
Ricky Pollom
$63
Nick Condon
3
Trevyr Geronimo
$30
$150
Jasey Opiana
$30
Ardani Rodas
$30
Kylie Shishima
$30
Clifford Baltazar
$30
4
Brian Reed
$150
Kyle Reed
$50
Marguerite Evans
Zack Long
$50
Harley Sweigart
$50
5
Kyle Gilbert
$25
$100
Kaylee AmKhong
$25
Avery Domaguin
$25
Sebastian Huffman
$25
Buddy Lucas
6
Daniel Hong
Emily Schrider
Richard Delgado
Michael Marmolejo
Allex Zieg
7
Darron Peters
Jacob Camacho
Mondesi Saavedra
Emily Cheesman
Cheryl Robinson
8
Zack Jellsey
Zack Jellsey
Stacie Jellsey
Zack Murray
Art Guzman
9
Jen Peterson
Freddy Ramirez
Simon Ortega
Justin Phillips Jr
Justin Phillips Sr
10
Richard Paul III
Frank Howard
Shane Howard
Ryan Lee
Brandon Wanders
11
Israel Ramireez
Gael Egana
Alberto Bernal
Carlos Perez
Manuel Gonzalez
12
Tyler Handa
John Handa
James McGough
Maheleah Potter
Samantha Potter
13
Kyle Nino
CJ Schaffer
Braeden Phillips
David Schaffer
Tony Nino
14
Halie Morgan
Sahara Morgan
Amanda Buettner
Carie Morgan
Dan Baxter
15
Zach Greim
Zian Sasaki
Jordan Bronson
Hailey Shepherd
Jody Sheperd
16
Jim Ferguson
Tanner Ferguson
Connor Steelmon-Hill
Garrett Lee
Mike Lee
17
David Erickson
Brian Erickson
Zack Gonzalez
Clifford Robbins
William Robbins
18
Marquan Rivers
Aidan Contreras
Donavan Bennett
Lidia Hernandez
Jonathan Huezo
19
Tim Hill
Austin Sugarman
Renee Gentry
Jesse Garcia
Katherine Hill