SO CAL DOUBLES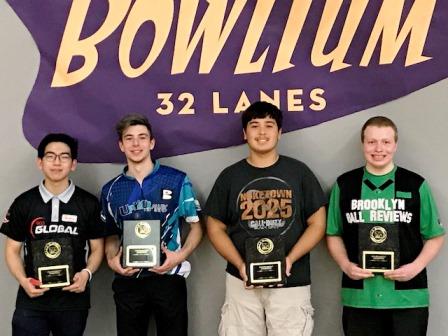 champs Ryan Lee and Anthony Schanen & James McGough & William Robbins
Two strong teams put on great stepladder performances to win the So Cal Doubles Classic, hosted by Bowlium Lanes in Montclair.
The father-son team of Brian and Kyle Reed opened the scratch finals with a 228-190 win over Jacob Camacho and Darron Peters. The Reeds turned it up in round two with a big 268-193 win over Kevin and Robert Banaag. Solomon Salama and Harley Sweigart, the left duo ranked 1-2 in points and the team to beat on paper, then fell victim to too many 9-counts and more great shots from the Reeds, as Kyle and Brian won 237-216 to reach the title game.
Top seeds Ryan Lee and Anthony Schanen had already had a great day, dominating the tournament from the beginning and highlighted by a 300 game from Schanen, good for the $300 MSC perfect game jackpot! They had a narrow lead through most of the title match as well, until a missed 10-pin by Lee in the tenth gave the Reeds a chance to come out of nowhere and win, but it required three strikes in the tenth from Brian on a lane he looked lost on just to tie. Reed threw two brilliant shots, but couldn't get the third hit in the tenth, and Ryan and Anthony escaped with a 208-206 win and the titles.
The Winnetka-based team of Daniel Giegoldt and Ardani Rodas began round one of the handicap finals with a narrow 203-201 win over Amanda and Ed Hanson. Ardani and Giegodlt then got past Erik Hagen and Caleb Rothstein 201-146, followed by a 173-129 victory over newcomers Kyle and Anthony Nino, to reach the title game.
William Robbins has been on a tear through all JBT conferences (look out PNW), and he made a shrewd choice of partner in James McGough, a veteran Californian, who bowls very similar to William so they could really get a good read off each other. Throwing hard and staying out of trouble, they led from the start, and when the strikes started coming they became unstoppable, beating Daniel and Ardani 257-196 for the titles.
Big thanks to the team at Bowlium for their usual terrific hosting job. Want in on all this excitement? Just check out our next JBT event and come on down!
So Cal Doubles- final results and optional scholarship winners
11/25/2017
Scratch Division
rank
bowler

prize

bowler
prize
total
1
Anthony Schanen
$530
Ryan Lee
$200
$730
2
Kyle Reed
$300
Brian Reed
$300
3
Solomon Salama
$130
Harley Sweigart
$115
$245
4
Kevin Banaag
$100
Robert Banaag
$100
5
Jacob Camacho
$80
Darron Peters
$80
6
Sebastian Huffman
Buddy Lucas
7
Gael Egana
Israel Ramirez
8
Trevyr Geronimo
Gary Payne
9
Allex Zieg
Michael Marmolejo
10
Marquan Rivers
Augie Labrado Jr
11
Dean Reyes
$43
Edward Estrada
$43
12
Richard Paul III
Jacey Opiana
13
Nolan Am-Khong
Matt Rico
14
Renee Gentry
Ashley Wilcox
15
Marc Villalobos
Mondesi Saavedra
16
Kyle Gilbert
Kaylee Am-Khong
17
Zack Long
Andre Eubanks
18
Carlos Perez
Jordan Bronson
19
Tim Hill
Jesse Garcia
20
Kirk Chui
Nick Condon
21
Trevor Thompson
Leoj Chin
22
Austin Sugarman
James Knapp
23
CJ Schaffer
David Schaffer
Handicap Division
1
William Robbins
$200
James McGough
$200
$400
2
Daniel Giegoldt
Ardani Rodas
$300
$300
3
Kyle Nino
$200
Anthony Nino
$200
4
Erik Hagen
$75
Caleb Rothstein
$75
$150
5
Amanda Hanson
$145
Ed Hanson
$145
6
Freddy Ramirez
$80
Angie Phillips
$80
7
Emily Schrider
$60
Mike Mellick
$60
8
Clifford Robbins
Clifford Baltazar
9
Braeden Phillips
Simon Ortega
10
Zachary Gonzalez
Silas Phillips
11
Costa Gastouniotis
Secilia Kalvelage
12
Justin Phillips Jr
Justin Phillips Sr
13
Lawrence Buhain
$30
Michaela Buhain
$15
$45
14
Brian Erickson
David Erickson
15
Zian Sasaki
$30
Hailey Sheperd
$30
16
Shane Howard
Frank Howard
17
Brandon Criss
$15
Cameron Criss
$90
$105
18
Zach Greim
Lindsay Greim
19
Daniel Hong
Richard Delgado
20
Tanner Ferguson
Jim Ferguson
21
Sahara Morgan
Tomas Karlsson
22
Jim Hill
Connor Steelmon-Hill
23
Halie Morgan
Minh Nguyen
24
Margie Hittinger
Sandra Chacon
25
Avery Domaguin
Debbie Ayers
26
Amanda Buettner
Carie Morgan
27
Emily Cheesman
Cheryl Robinson
28
Maheleah Potter
Samantha Potter
29
Yairi Lubag
Ammie Lubag
30
Aislinn Lubag
Ron Lubag
31
Tyler Handa
Josh Gartrell
32
Garrett Lee
Susan Ferguson
33
Lathan Chin
Andy Clark
34
James Estey
Gerald Griffin
35
Victoria Potter
Jarret Salazar
High Games
Scratch
Handicap
1
Schanen 300
Ortega 287
2
Camacho 278
H Morgan 282
3
Sweigart 267
W Robbins 278
4
Marmolejo 266
Rothstein 274
5
Rivers 259
Rodas 273
Round Leaders
Scratch
Handicap
1
Schanen/Lee
Hagen/Rothstein
2
Schanen/Lee
Hagen/Rothstein
3
Schanen/Lee
Phillips/Ortega
4
Schanen/Lee
Nino/Nino
5
Salama/Sweigart
Nino/Nino
6
Salama/Sweigart
Hanson/Hanson
7
Schanen/Lee
Robbins/McGough
TOTAL AWARDED THIS EVENT: $2,653