CANYON LANES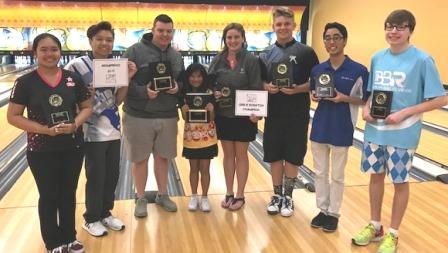 champs Josh Mabry and Aislinn Lubag with Kaylee Am-Khong, Kevin Banaag, Jennifer Peterson, Justin Redfield, Brandon Lim, & Clifford Robbins
Josh Mabry and Aislinn Lubag survived a demanding test to capture JBT titles in exciting Southern California Conference action at Morongo Casino's beautiful Canyon Lanes.
Ryan Lee began the scratch division stepladder finals with a 189-165 win over Zach Rapp. Lee then won a thriller against Zack Long 210-207. Mabry then defeated Lee 200-181, relegating Lee to another third place finish and sending Mabry on to the title game.
One of the lowest cut scores in some time (-160) and the lowest leading qualifying score in recent memory (Long at -49) put an absolute premium on filling frames, and nobody did it better than Kaylee Am-Khong, who found herself as the top seed in scratch for the first time. Both players struggled in the title game, but in the end it was Mabry, a Tucson bowler who seems to do most of his damage in California events, beating Kaylee 188-155 for a long awaited first title of his JBT career.
Aislinn Lubag, at just 8 years old, put on a match game clinic in the handicap stepladder, beginning with a 191-176 win over semi-cranky Clifford Robbins in round one. Lubag then got a huge break in a 178-176 win over Jennifer Peterson when Jennifer opened in the tenth. Lubag then beat Brandon Lim to advance to the title game.
Justin Redfield had been good in qualifying, and then outstanding in the second round to gain the top seed. However, his look deteriorated in the final, and Lubag's six spares in the title game were plenty for a 203-159 win, as she danced off with her second career JBT title.
Peterson got some revenge with a win over Am-Khong 199-176 to earn the day's Priority Girls scratch title. Kevin Banaag won his second U17 event in three attempts with a win over Robbins in that subdivision.
Big thanks to Norris and his team at Canyon for hosting our Tour again, and to Chris Andrews at MSC for another significant prize fund contribution- combined with our other great sponsors, So Cal bowlers play for some pretty big numbers! Want in on this fun for all ages and all averages? Just check out our schedule and come on down!
Canyon- final results and scholarship winners
2/3/2018
Scratch Division
rank
bowler
prize
1
Joshua Mabry
$300
2
Kaylee Am-Khong
$200
3
Ryan Lee
$100
4
Zack Long
$93
5
Zach Rapp
$30
6
Kameron Johnson
7
Harley Sweigart
8
Garrett Lee
$5
9
Gael Egana
10
Israel Ramirez
11
Marc Villalobos
12
Kevin Banaag
13
Renee Gentry
$28
14
Solomon Salama
15
Kyle Gilbert
$45
16
Marquan Rivers
17
Michael Loera
18
Matt Chesnut
19
Kylie Shishima
$14
20
Louis Luna
21
Kyle Reed
22
Austin Sugarman
23
Anthony Schanen
24
Matt Green
25
Nolan Am-Khong
26
Shane Howard
27
Tim Hill
28
Trevyr Geronimo
29
Josh Fearing
Handicap Division
1
Aislinn Lubag
$323
2
Justin Redfield
$125
3
Brandon Lim
$75
4
Jennifer Peterson
$50
5
Clifford Robbins
$40
6
Patrick Sablan
$30
7
Yairi Lubag
$74
8
James McGough
9
Preston Carrasco
10
Katie Kipler
11
Kendall Bollea
12
Adrian Yamanoha
13
Erik Hagen
14
Dawson Reese
$19
15
Yael Salama
16
Emily Cheesman
$14
17
Avery Domaguin
$25
18
Elias O'Hollaren
19
Cameron Criss
20
Reymar Santos
21
Lawrence Buhain
22
Secilia Kalvelage
23
Leah Zweig
24
Michaela Buhain
25
Nathan Chambers
26
William Robbins
27
Caleb Rothstein
28
Brian Erickson
29
Dewine Moore Jr
30
Zach Greim
31
Kyle Perry
32
Manuel Gonzalez
33
Gage Baker
34
Elijah Gaviola
35
Lindsay Greim
High Games
Scratch
Handicap
1
Ramirez 239
Redfield 240
2
Banaag 237
Redfield 228
3
Mabry 225
O'Hollaren 228
4
Mabry 224
Redfield 228
5
G Lee 224
Peterson, C Robbins 224
High Female
1
Am-Khong -86
2
Peterson -123*
3
Gentry -161
4
Shishima -187
5
Kipler -262
Qualifying Leaders
Scratch
Handicap
1
Z Long -49
Peterson +13
2
Sweigart -54
C Robbins -13
3
K Am-Khong -86
Y Lubag -14
U-17
1
C Robbins-118
2
Banaag -120
3
K Johnson -122
4
G Lee -128
5
Egana -130
Round Leaders
Scratch
Handicap
1
Mabry
Peterson
2
Egana
Peterson
3
Sweigart
Peterson
4
Long
C Robbins
5
Long
Peterson
6
Long
Peterson
7
K Am-Khong
Peterson
8
K Am-Khong
Redfield
Total Awarded This Event: $1,630