10-PIN ALLEY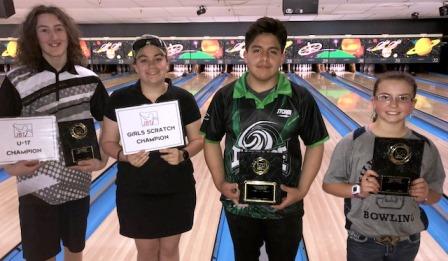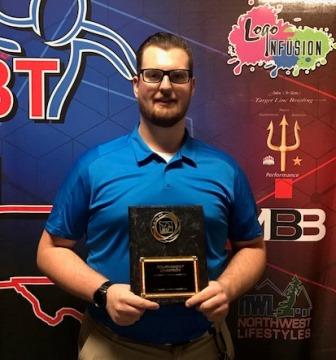 champs Luis Garcia & Harley Sweigart; Deo Benard, Taylor Herson, Areena Rogers
Harley Sweigart and Luis Garcia took home the titles in exciting JBT NM-TX Conference action at Las Cruces' Tenpin Alley.
Bowlers competed in double elimination matchplay after qualifying. The scratch field was small, and dominated by Harley Sweigart, but he may well have dominated any size field, as he was executing brilliantly all day. After easily grabbing the top seed, he rallied against Deo Benard, stringing the last seven to shut out Deo and earn the 33rd title of his outstanding JBT career, moving him past Jakob Butturff and all alone into sixth place on our all-time title list.
Handicap matchplay went much longer as a full field of 16 qualifiers went at it. Garcia, also the top qualifier, won the winners bracket, and relaxed as 13 seed Areena Rogers, who lost to Luis in round through, worked her way through the losers bracket, culminating with a semifinal win over Xzavier Rede, to get another shot at Garcia, who she'd have to beat twice to win the tournament.
Garcia's day-long roll continued in the title match, as he escaped from Rogers (daughter of 2002 JBT Tournament of Champions winner Shawn) to capture his second career JBT title, both coming in the last two months!
Benard finished his excellent day with a win over Donius Jeffries for the U17 subdivision win. Taylor Herson beat her good friend Jay Heffer for the Priority Girls Scratch win.
Thanks to JBT vets Ahkeen and Alyssa Williams and the rest of the team at Tenpin Alley for hosting our Tour! If you want in on all this fun, just check out our schedule and come on down!
10pin Alley- final results and scholarship winners
3/25/2018
Scratch Division
rank
bowler
prize
1
Harley Sweigart
$298
2
Deo Benard
$125
3
Benjamin Groves
$75
4
Donius Jeffries
$50
5
Zach Wojciechowski
$32
6
Rodrigo De La O
7
Jonah Seawright
8
Rashaad Jordan
9
Christopher Robles
10
Dean Jackson Jr
Handicap Division
1
Luis Garcia
$200
2
Areena Rogers
$100
3
Xzavier Rede
$163
3
Jay Heffer
$65
5
Coleton Rogers
$44
6
Angela Romero
$20
7
Kloey Kielich
$5
8
Christopher Bennett
$14
9
Eric Gauna
10
Michael Jamael
$14
11
Clifford Robbins
$44
12
Taylor Herson
$50
13
Kyle Perry
14
Jordan Womble
$5
15
Jayden Martinez
16
Dante Uribarri
17
William Robbins
18
Kara Thompson
19
Justin Weddige
20
Faith Pinter
21
Luke Gartner
22
Alex Thompson
23
Ben Hindes
24
Josie Herson
25
Mauricio Rede
26
Carlos Estrada
27
Elijah Harvey
28
Kallista Fritts
29
James Burke
30
Alek Rakov
31
Adriel Bernal
High Games
Scratch
Handicap
1
Sweigart 259
Perry 310
2
Groves 258
A Romero 304
3
Wojo 256
Jamael 288
4
Sweigart 239
C Rogers 286
5
Groves 236
Garcia 272
High Female
1
Heffer -121
2
Herson -123*
3
A Romero -142
4
K Thompson -176
5
Kielich -178
Qualifying Leaders
Scratch
Handicap
1
Sweigart +180
Garcia +200
2
Groves +110
C Rogers +198
3
Jeffries +46
Kielich +117
U-17
1
Jeffries +46
2
Benard +34
3
C Robbins -24
4
J Martinez -38
5
C Rogers -102
Round Leaders
Scratch
Handicap
1
Sweigart
Perry
2
Sweigart
Perry
3
Sweigart
Garcia
4
Sweigart
Garcia
5
Sweigart
Garcia
Total Awarded This Event: $1,304