DESERT SKY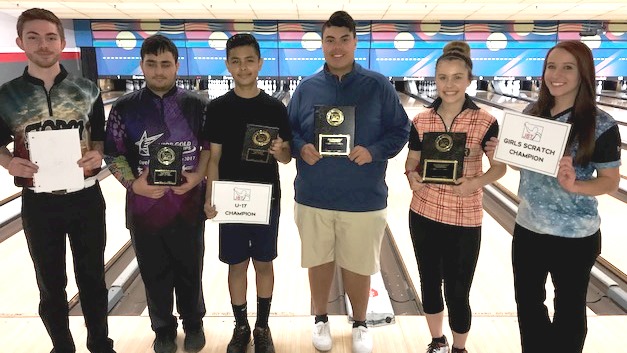 champs Keith Fung & Abby Franklin with Lucas Rabb, Jacob Gaddam, Cesar Padilla, and Brooke Collins
Keith Fung continued his excellent season, while Abby Franklin returned to her winning ways, in exciting Arizona Conference JBT action at Desert Sky Lanes.
Fung raced out to a large lead after qualifying, and beat Josh Fearing to get to the title game. Lucas Rabb made his first scratch title match after qualifying second and getting past California's Jacob Gaddam. The title match was close until Keith pulled away in teh late frames for a 245-210 win over Lucas, good for the eighth of his JBT career.
In handicap division semifinal matches, #5 Abby Franklin beat top seed Cesar Padilla 247-179, and #3 Kyle Perry ousted #2 Texan Taylor Stevens to set up the all-Arizona title match.
Perry has been oh so close to a title, while Abby hasn't won in two seasons. Something had to give, and in the end a determined Franklin came away with the win, the 6th title of her JBT career.
Brooke Collins beat Abby 177-162 to win the Priority Girls Scratch subdivision for the first time. Padilla's impressive JBT debut continued in the U17 subdivision, where he tied Gaddam at 200 in the title match, then won the rolloff 20-19 for the exciting win.
Thanks to the whole team at Desert Sky for a great job hosting our Tour. Want in on all the fun? JUst check out our schedule and come on down, that's all you have to do!
Desert Sky- final results and scholarship winners
11/19/2017
Scratch Division
rank
bowler
prize
1
Keith Fung
$300
2
Lucas Rabb
$125
3
Jacob Gaddam
$75
4
Josh Fearing
$40
5
Jerry Moreno
$20
6
James Wilson
$5
7
Brandon Rouse
8
Ryan Perry
9
Harley Sweigart
10
John Newton
11
Austin Muldoon
12
Brooke Collins
$50
13
Stefanny Toala
14
Cristian Roque
15
Phillip Sauve
Handicap Division
1
Abby Franklin
$225
2
Kyle Perry
$100
3
Cesar Padilla
$60
4
Taylor Stevens
$40
5
Kendall Bollea
$66
6
Kyle Lawrence
$20
7
Justin Worthington
8
William Robbins
9
Darren Fletcher
10
Ryan Zent
$15
11
AJ Imperial
12
Joshua Williams
$5
13
CJ Todeschi
14
Yairi Lubag
$15
15
Mark Sauve
$15
16
Aislinn Lubag
$36
17
Dawson Reese
18
Jadeyn Mabry
19
Alejandro Aragon
20
Payton Workman
21
Kyle Welty
22
Destiny Johnson
23
Lexi Cassman
24
Gavin Holter
$5
25
Brian Erickson
26
Amelia Mosley
27
Clifford Robbins
28
Juan Llamas
29
Alex Thompson
30
Andrew Thomas
31
Elijah Melchor
32
Kevin Lu
Round Leaders
Scratch
Handicap
1
Fung
K Perry
2
Fung
Padilla
3
Fung
Padilla
4
Fung
K Perry
5
Fung
Padilla
High Games
Scratch
Handicap
1
Fung 265
K Perry 285
2
Rabb 260
Padilla 270
3
Moreno 258
Padilla 270
4
Gaddam 253
Franklin 269
5
Fung 245
T Stevens 264
U-17
Girls Scratch
1
Padilla*
Franklin -54
2
Gaddam
Collins -120*
3
Franklin -54
Toala -140
4
Reese -78
Johnson -172
5
Williams -89
Bollea -185
Total Awarded This Event: $1,217