DEER VALLEY LANES (1500th event!)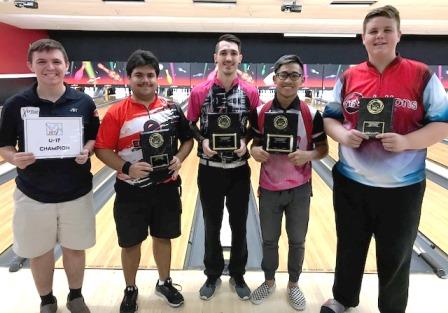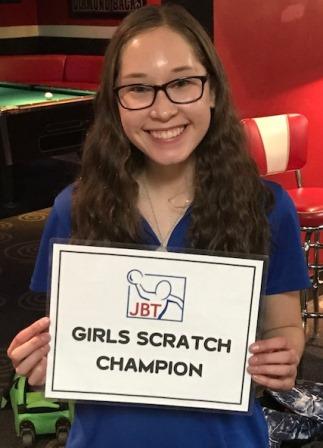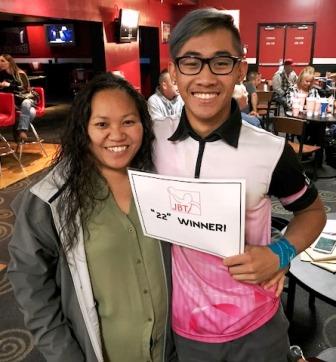 champs Derek Acuff & Alex Seng with Joshua Molloy, Kyle Reed, & Kevin Van Gordon; Stefanny Toala; 22 winner Seng
In a celebration of 1500 tournaments of JBT excitement, Derek Acuff reminded today's bowlers why he is one of our best ever, while Alex Seng might start to beg us to put out 'Bourbon Street', highlighting a terrific day of action at AMF Deer Valley.
Open to any bowler who ever competed in a JBT event, some of the best in the world came back to honor their roots, and one of the hottest on the planet, Jakob Butturff, began the scratch finals with a 245 game that edged Kyle Gilbert (237) and Harley Sweigart (226). Kyle King, owner of second all-time 63 JBT titles, then blasted 265 to oust 32-time JBT champ Butturff (224) and 9-time winner (and now one-handed) James Hawkins (235). Current JBT bowler Kyle Reed then won one for the kids, as his 224 beat King (186) and the most successful female JBT bowler ever, 10-time champ Bryanna Cote (203), to advance to the title match.
Acuff led after game one, regained the lead in matchplay, and showed no mercy in the title match, puring shot after shot with the textbook form that made him another one of our best all-time. The 235-183 win was good for his landmark 30th career JBT title, as he continues a great second JBT career since aging out!
It was all current JBT bowlers in the handicap stepladder, beginning with Josh Williams defeating AJ Imperial 227-218 in a well bowled match. Kevin VanGordon then poured on the strikes in a 238-179 win over Williams, followed by a 271-218 thrashing of Christian Caron, to advance to the title game.
Top seed Alex Seng owns two previous JBT titles, at two other centers but both on the 'Bourbon Street' pattern. He found it perfect for his game again, leading the event and cruising to a 259-208 win over Van Gordon and JBT title #3. The win may not even have been his biggest highlight of the day, where, working on 21, he slow-rolled into the 10-pin for the '22' jackpot and $500 bonus windfall, for a $700+ scholarship payday.
Big thanks to Deer Valley for a great job hosting us, as well as all the JBT alumni from 22 years of fun for coming back and bowling with today's stars all weekend. Want in on all this fun for all ages and averages/ Check out our schedule and come on down to the next JBT event, that's all you have to do!
JBT's 1500th Tournament- final results and scholarship winners
12/10/2017
Scratch Division
rank
bowler
prize
1
Derek Acuff
$200*
2
Kyle Reed
$325
3
Bryanna Cote
$150*
4
Kyle King
$100*
5
James Hawkins
$75*
6
Jakob Butturff
$60*
7
Kyle Gilbert
$150
8
Harley Sweigart
$100
9
Matt Herbert
$50*
10
Cameron Smith
11
Brian Coleman
12
Matt Jones (CA)
13
Russ Oviatt
14
Chris Varholdt
15
Brock Bivins
$75
16
Zach Rapp
$50
17
Keith Fung
$45
18
Phillip Sauve
19
Raymond Johnson
20
Joey Burke
21
Rachel Weyrauch
22
John Newton
23
Matt Zweig
24
Ben Canfield
25
Justin Vadnais
26
Randy Cote
27
Josh Mabry
28
Kyle Duster
29
Ronald Delatorre
30
Cortez Schenck
31
Joshua Molloy
32
Zach Huglin
33
Gabriel Huerta
34
Eric Rubin
35
Stefanny Toala
$50
36
Chris Weyrauch
37
Gary Lane
38
Mattehw Adragna
39
Paul Colyer
40
Anthony Benicki
41
Nick Devlin
42
Correen Lieber
43
Lucas Rabb
44
Sergio Torres
45
Mark Myers
46
Matt Cormack
47
Labriel Leach
48
Anthony Tripi
49
John Fletcher
50
Zach Herbert
51
Austin Muldoon
52
James Wilson
53
Cristian Roque
54
Marc Villalobos
55
Josh Fearing
56
Alex Pellegrino
Handicap Division
1
Alex Seng
$725
2
Kevin VanGordon
$125
3
Christian Caron
$75
4
Joshua Williams
$95
5
AJ Imperial
$40
6
William Robbins III
$30
7
Brian Erickson
8
Justin Worthington
$5
9
Abby Franklin
$25
10
CJ Todeschi
11
Eric Demo
$100*
12
Kyle Perry
13
Kru Santana
14
Alejandro Aragon
15
David Belli
16
Dawson Reese
17
William Robbins II
18
Eliajh Melchor
19
Kaitlyn Hammer
20
Shannon Ryan
21
Amelia Mosley
22
Mark Sauve
23
Jadeyn Mabry
24
Kyle Lawrence
$15
25
Gavin Holter
26
Juan Llamas
27
Janelle Skalicky
$10
28
Ryan Zent
$15
29
Clifford Robbins
30
Kendall Bollea
31
David Erickosn
32
Hayden Hull
33
Andrew Thomas
34
Jason Gootzeit
$15
35
Victoria Potter
36
Avery Domaguin
$15
37
Darren Fletcher
38
Derrick Bollea
39
Cesar Padilla Sr
40
Cesar Padilla Jr
41
Sebastian Huffman
42
Alisabeth ich
43
Bethany Baker
High Games
Scratch
Handicap
1
Duster 299
Imperial 272
2
Gilbert 287
Van Gordon 271
3
Fung 269
Franklin 268
4
Reed 267
W Robbins 265
5
Rapp 262
Erickson 263
Round Leaders
Scratch
Handicap
1
Acuff
Imperial
2
Gilbert
Imperial
3
Gilbert
Erickson
4
Acuff
Imperial
5
C Varholdt
Caron
6
Acuff
Seng
7
Acuff
Seng
8
Acuff
Seng
TOTAL AWARDED THIS EVENT: $2,723