AMF FIREBIRD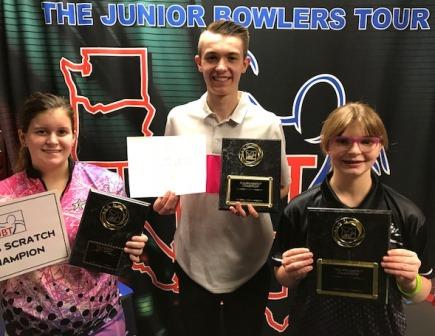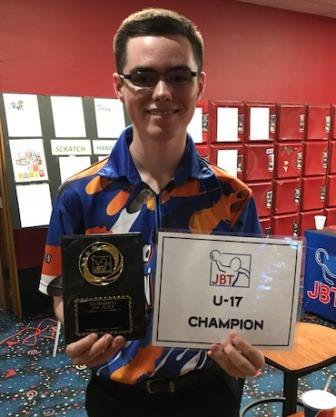 champs Jake Mullen & Anna Gatlin with Sara Harris & Brian DeLuisa Anderson
On a day that was as much a mental challenge as a physical one, Jake Mullen and Anna Gatlin came out with titles in exciting JBT Pacific Northwest Conference action at Salem's AMF Firebird Lanes.
After five qualifying games on an unexpectedly tough pattern, bowlers competed in 'pick your poison', where higher seeded players choose who they want to play against in their matches. All of this was compounded by a limit to only two bowling balls allowed all day, adding to the grindout nature of the event.
In the scratch division, top seed Jake Mullen was the only bowler to even approach a 200 average on the day, and in a title match that was indicative of the day's scoring pace, he beat quickly improving Hunter Bower 158-142 for the second scratch title of his JBT career.
In the handicap division, Anna Gatlin won a semifinal squeaker from Ben Heisler 209-205, while Sara Harris elevated over Derek Haight 227-190 to set up the all-female title match. Neither bowler could get that much going in the finale, but in the end Anna toughed out a 176-162 win and earned the first title of her JBT career.
Harris avenged that loss with a win over Reagan Lorey for the day's Priority Girls Scratch subdivision crown, while Brian DeLuisa-Anderson defeated Bower for the U17 event win.
Thanks as always to Erik and the team at Firebird for being great hosts. Over $2,200 in scholarships were awarded to all ages and averages over the weekend- want a piece of the fun and action? Just check out our schedule and come on down!.
Firebird Lanes- final results and scholarship winners
2/11/2018
Scratch Division
rank
bowler
prize
1
Jake Mullen
$262
2
Hunter Bower
$125
3
Donovan Grubaugh
$75
4
Brian DeLuisa-Anderson
$50
5
Ashton Yamasaki
$30
6
Tyler Coates
7
Isaac Richardson
8
Jacob Frazier
9
Reagan Lorey
$25
10
Nick Perini
11
Carlos Serrano
12
Aidghan Ziegler
13
Greg Miller
14
Liam McNamara
15
Bradley Baltazar
16
Payton Edwards
Handicap Division
1
Anna Gatlin
$200
2
Sara Harris
$192
3
Derek Haight
$93
4
Ben Heisler
$30
5
Alejandro Moser-Hernandez
$20
6
Bryan Zeutenhorst
$14
7
Jessica Holbrook
8
Joe Brooks
9
Isaac Mialkoff
10
Cosmo Castellano
11
Andrew Martin
12
Colt Jance
$15
13
Dawson Reese
$14
14
Michael Strothman
15
Ryan Smerud
16
Kailee Wilcox
17
AJ Hooper
18
Lailani Wallin
$5
19
Olivia Kolppa
20
Alex Perini
21
Jonathan Lorey
22
Jonny Hernandez
23
Silas LeBlanc
24
Kal Hassanein
25
Brittney Clowdus
26
Paul Rosales
27
Edwin Campos
High Games
Scratch
Handicap
1
Mullen 237
Heisler 258
2
Grubaugh 224
Haight 239
3
Mullen 219
Castellano 237
4
Mullen 213
Heisler 228
5
Coates 210
Harris 227
Priority Girls' Scratch
1
Harris -209*
2
Lorey -220
3
Holbrook -289
4
Kolppa -293
5
Gatlin -363
U-17 scratch side event
1
Bower -144
2
DeLuisa-Anderson -154*
3
Yamasaki -157
4
Coates -167
5
Frazier -187
Round Leaders
Scratch
Handicap
1
Grubaugh
Haight
2
Grubaugh
Haight
3
Mullen
Haight
4
Mullen
Haight
5
Mullen
Haight
TOTAL AWARDED THIS EVENT: $1,248