AMF FIREBIRD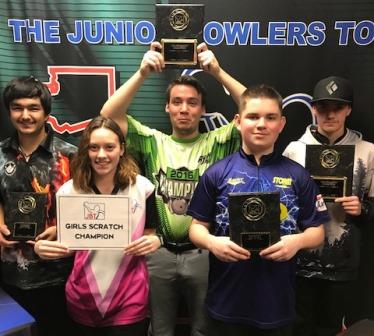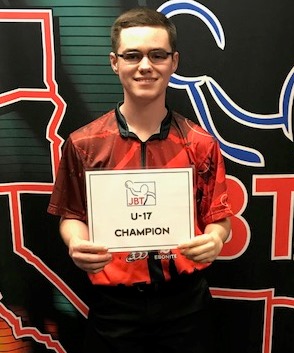 champs Greg Miller & Dawson Reese with Makana Wong, Jessica Holbrook, Andrew Martin, Brian DeLuisa-Anderson
Greg Miller won his first title, while Dawson Reese made a long trip worth it with is third, in exciting JBT Pacific Northwest Conference action at AMF Firebird Lanes in Salem.
Tyler Coates began the scratch division stepladder finals with a 2210189 win over Brian DeLuisa-Anderson. Jacob Mullen then fired a big game in a 254-203 win over Coates. Scores suddenly dropped off in the semifinals, with Miller winning 189-164 to advance to the title match.
Top seed Makana Wong dominated the tournament just like he's currently dominating the scratch division points race, but the lack of a title has become more and more of hole in his otherwise outstanding resume. The heartbreak would continue here, as in a close contest, Miller's tenth frame double sealed a 203-194 win, and Greg's first JBT title, coming in his last season of eligibility on Tour.
Colt Jance started the day out red hot, then had to squeeze into the handicap division stepladder, then won round one 212-205 over Alejandro Moser-Hernandez. Isaac Mailkoff then put a stop to Jance's run with a huge 293-216 win over Jance. Andrew Martin them cooled off Mailkoff 228-190 to advance to the title match.
Martin won his first JBT title in the team event in December, and wanted a singles crown to go with it. But Dawson Reese, traveling from So Cal to try and gain ground in the all-conference points race, had other ideas. He blasted a 276 to jump into the top seed, and was almost as good in the final, beating Martin 243-217 for the third title of his JBT career.
Jessica Holbrook claimed her first Priority Girls Scratch subdivision win with a nailbiting 187-179 win over Reagan Lorey. DeLuisa-Anderson avenged his stepladder loss with a 224-197 win over Reese to earn the day's U17 win.
Big thanks as always to the team at Firebird for a great job hosting our event. Want in on all the fun for all ages and averages? Just check out our schedule and come on down, that's all you have to do!
Firebird Lanes- final results and scholarship winners
2/10/2018
Scratch Division
rank
bowler
prize
1
Greg Miller
$262
2
Makana Wong
$161
3
Jacob Mullen
$92
4
Tyler Coates
$50
5
Brian DeLuisa-Anderson
$30
6
Isaac Richardson
7
Ashton Yamasaki
8
Liam McNamara
9
Donovan Grubaugh
10
Hunter Bower
$10
11
Bradley Baltazar
12
Ryan Nikolas
13
Aidghan Ziegler
14
Reagan Lorey
$25
15
Payton Edwards
16
Jacob Frazier
Handicap Division
1
Dawson Reese
$200
2
Andrew Martin
$100
3
Isaac Mailkoff
$50
4
Colt Jance
$35
5
Alejandro Moser-Hernandez
$78
6
AJ Hooper
7
Ben Heisler
$15
8
Cosmo Castellano
9
Kailee Wilcox
10
Jessica Holbrook
$50
11
Derek Haight
12
Bryan Zeutenhorst
$15
13
Lailani Wallin
14
Paul Rosales
15
Joe Brooks
16
Tyler Blank
17
Jonathan Lorey
18
Olivia Kolppa
19
Michael Strothman
20
Kristen Blank
21
Aubrey Harding
22
Dallas Wiltgen
23
Kal Hassanien
24
Silas LeBlanc
25
Brennan Bankerbring
High Games
Scratch
Handicap
1
Wong 278
Mailkoff 293
2
Wong 266
Reese 285
3
Mullen 264
Martin 262
4
Richardson 259
Jance 263
5
Richardson 258
Jance, Hooper 260
Hooper, Castellano 260
Girls scratch side event
1
Lorey -79
2
Holbrook -92*
3
Wilcox -140
4
Kolppa -143
5
Blank -154
U-17 scratch side event
1
DeLuisa-Anderson +79
2
Reese +77
3
Martin +28
4
Yamasaki +27
5
Coates +22
Round Leaders
Scratch
Handicap
1
A Ziegler
Jance
2
DeLuisa-Anderson
Jance
3
Wong
Jance
4
Wong
Castellano
5
Wong
Martin
6
Wong
Martin
7
Wong
Martin
8
Wong
Martin
TOTAL AWARDED THIS EVENT: $1,173