GLENFAIR LANES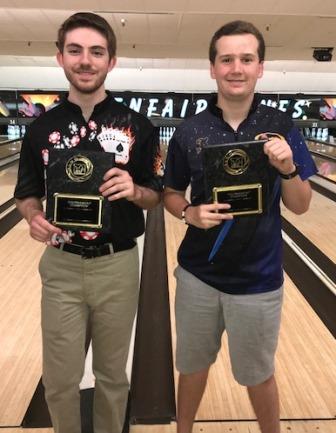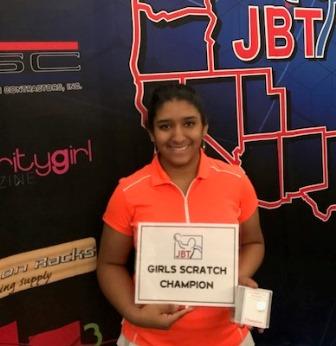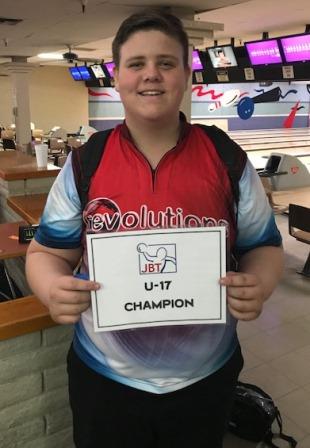 champs Lucas Rabb & Gavin Holter; Aileen Linares; Kevin Van Gordon
Lucas Rabb remained on a roll, while Gavin Holter broke through for his first win, in exciting JBT Arizona Conference action at Glenfair Lanes in Glendale.
Rabb faced off against Bryan Van Sickle for the scratch division title. Despite extraordinary talent, Bryan's struggles in title matches have been well documented. This time, he finally won a title game, with a big 268 (directly after a 280 semifinal score), but still didn't win, because the day's format was double elimination, giving the previously undefeated Rabb a second chance. Lucas took full advantage, as Van Sickle slowed down while the rapidly improving Rabb found the right look, winning 244-212 for the fourth title of his JBT career. His hot streak has him closing in on Keith Fung for the points lead with three events remaining.
Silas Phillips, on a roll all spring, kept his hot streak going with a semifinal win over Abby Franklin to advance against top seed Holter, whom he'd have to beat twice to win the title. Gavin has been working hard throughout the season, and it finally came together here, as he defeated Phillips in the first game to earn a much anticipated first career JBT title.
New Mexico's Aileen Linares defeated Franklin to capture the day's Priority Girls Scratch event, while Kevin Van Gordo ousted top seed Dawson Reese to win the U17 subdvision.
Thanks as always to Jason and his terrific team at Glenfair for a smooth hosting job. Want in on all the fun for all ages and averages? Just check out our schedule and come on down!
Glenfair Lanes- final results and scholarship winners
4/8/2018
Scratch Division
rank
bowler
prize
1
Lucas Rabb
$310
2
Bryan Van Sickle
$125
3
Shawn Seng Jr
$75
4
Harley Sweigart
$50
5
Gabriel Huerta
$30
6
Keith Fung
7
Marc Villalobos
8
Aileen Linares
$50
9
Josh Fearing
10
Mathew Adragna
11
Ryan Perry
12
Dante Rohe
13
Chris Tucker
14
Brock Bivins
15
Stefanny Toala
16
Zach Rapp
17
Austin Muldoon
18
Alex Seng
19
Phillip Sauve
20
Rashaad Jordan
21
James Wilson
Handicap Division
1
Gavin Holter
$330
2
Slias Phillips
$100
3
Abby Franklin
$115
4
Clifford Robbins
$80
5
Kevin Van Gordon
$40
6
Darren Fletcher
$30
7
Juan Llamas
$20
8
Alejandro Aragon
9
Dawson Reese
$8
10
Kyle Lawrence
$40
11
Mark Sauve
$29
12
Josh Williams
13
James Burke
$15
14
William Robbins
$8
15
Andrew Thomas
16
Elijah Melchor
17
AJ Imperial
18
Jadeyn Mabry
19
CJ Todeschi
20
Areena Rogers
21
Cesar Padila
22
Raymond Gaiser
23
Kyle Perry
24
Payton Workman
25
Amelia Mosley
26
Ryan Zent
27
Land Matthiews
28
Kevin Lu
29
Justin Worthington
30
Kendall Bollea
31
David Belli
32
Coleton Rogers
33
Baylee Snow
Qualifying Leaders
Scratch
Handicap
1
Rabb +117
S Phillips +149
2
Van Sickle +21
Franklin +131
3
Huerta -12
Reese +122
High Games
Scratch
Handicap
1
Van Sickle 280
J Burke 287
2
Rabb 279
J Llamas 274
3
Van Sickle 268
Holter 273
4
Rabb 267
A Aragon 269
5
Rabb 265
Imperial 269
Girls Scratch side event
1
Franklin +38
2
Linares -65*
3
Toala -119
4
Mosley -178
5
Mabry -278
U-17 scratch side event
1
Reese +87
2
Van Gordon +52*
3
Franklin +38
4
Holter +3
5
J Williams -13
Round Leaders
Scratch
Handicap
1
Rabb
J Llamas
2
Rabb
Burks
3
Rabb
Van Gordon
4
Rabb
Van Gordon
5
Rabb
Van Gordon
TOTAL AWARDED THIS EVENT: $1,455