GOLDEN PIN LANES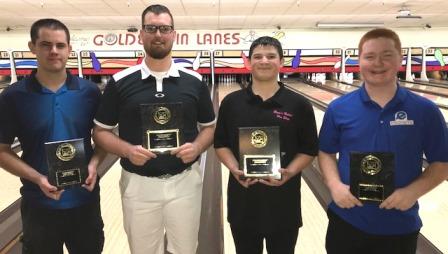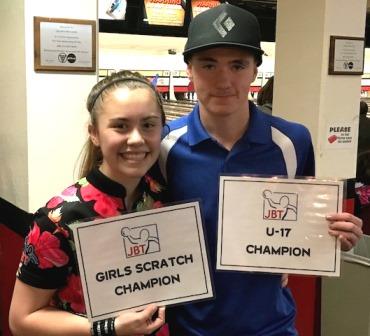 champs Harley Sweigart & Keith Ylvisaker with Bryan VanSickle & CJ Todeschi; Abby Franklin & Dawson Reese
Harley Sweigart and Keith Ylvisaker emerged from exciting title matches as champions of the JBT Arizona Conference event held at Tucson's Golden Pin Lanes.
Keith Fung opened the scratch division stepladder finals by blasting 11 strikes in a 278-186 win over Lucas Rabb. Matthew Garrett then doubled in the tenth to edge Fung 205-201. Sweigart then turned the tables on Garrett with a 230-224 win to advance to the title game.
Top seed Bryan Van Sickle had been dominant during the day, but the talented Tucsonan who finally won his first JBT title in the AZ Doubles in December wanted to fully erase the asterisk with a singles win. He did everything he could to do so, bowling a brilliant title game to finish at 258. However, Sweigart is having a career year, and matched him strike for strike, including a beautiful tenth frame where he crushed all three racks for a 269-258 win and the 31st title of his JBT career.
Keith Ylvisaker began a climb up the handicap division stepladder finals with a 233-175 win over Gavin Holter. Keith then poured on the strikes in a 292-231 stomping of William Robbins. He 'slowed down' to 244 in teh next match, but that was still plenty to get by Main Event champ Kristy Mace's 209 score to move on to the title game.
Top seed CJ Todeschi enjoyed his best JBT event in quite a while, and the two remained neck and neck in the final game. In the end, Todeschi needed a strike to win in the tenth. CJ didn't get the hit, and the rapidly improving Ylvisaker finished the ladder climb with a 248-237 win and the first full title of his JBT career.
Dawson Reese earned the day's U17 subdivision win with a 238-212 win over Brock Bivins, while Abby Franklin took down the Priority Girls Scratch title with a 214-177 win over Kristy Mace.
Thanks to the team at Golden Pin for another excellent hosting job. Want in on all this fun for all ages and averages? Just come on down to the next JBT event, it's that simple!
Golden Pin- final results and scholarship winners
1/20/2018
Scratch Division
rank
bowler
prize
1
Harley Sweigart
$262
2
Bryan Van Sickle
$161
3
Matthew Garrett
$75
4
Keith Fung
$62
5
Lucas Rabb
$30
6
Ryan Perry
7
Cristian Roque
8
Brock Bivins
9
Kyle Gilbert
10
Jacob Merki
11
John Newton
12
Phillip Sauve
13
Josh Fearing
14
Mathew Adragna
15
Jerod Walker
16
Marc Villalobos
17
Stefanny Toala
18
Zach Rapp
19
Joshua Mabry
20
Rashaad Jordan
Handicap Division
1
Keith Ylvisaker
$200
2
CJ Todeschi
$100
3
Kristy Mace
$75
4
William Robbins
$40
5
Gavin Holter
$63
6
Payton Workman
$5
7
Andrew Thomas
8
Dawson Reese
$15
9
Kyle Pwrry
10
Mark Sauve
11
Hayden Hull
12
Kyle Lawrence
13
Jacob Soulliere
14
Baylee Snow
15
Joshua Williams
$43
16
Darren Fletcher
17
Abby Franklin
$50
18
Silas Phillips
19
Ryan Zent
$15
20
Clifford Robbins
21
Jadeyn Mabry
22
Justin Worthington
23
Destiny Johnson
24
Kendall Bollea
$10
25
Katy Mace
Qualifying Leaders
Scratch
Handicap
1
R Perry +189
Workman +178*
2
Van Sickle +157
Ylvisaker +178
3
Rabb +147
Reese +153
Round Leaders
Scratch
Handicap
1
Newton
Hull
2
Newton
Reese
3
R Perry
Todeschi
4
R Perry
Reese
5
R Perry
Workman/Ylvisaker
6
Van Sickle
Workman
7
Van Sickle
Todeschi
8
Van Sickle
Todeschi
High Games
Scratch
Handicap
1
Fung 279
Ylvisaker 292
2
Van Sickle 279
Todeschi 275
3
Fung 278
A Thomas 266
4
Garrett 278
Hull 265
5
Sweigart 269
Workman, Katy Mace 261
U-17
Girls Scratch
1
Reese +103*
Kristy Mace -24
2
Bivins +86
Franklin -64*
3
Garrett +68
Toala -75
4
Ylvisaker +48
Johnson -157
5
Holter +48
Snow -158
Total Awarded This Event: $1,166