GOLDEN PIN LANES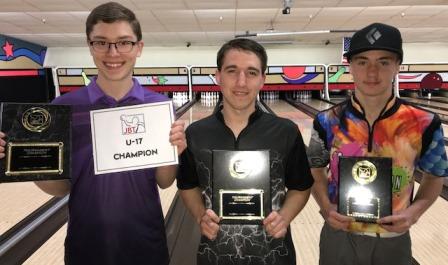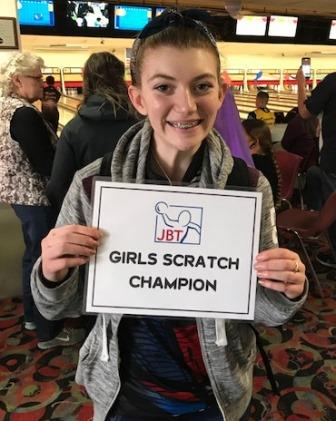 champs Matthew Garrett & Kyle Perry with Dawson Reese; Kristy Mace
Two talented bowlers earned their first JBT titles in dramatic JBT Arizona Conference action at the historic Golden Pin Lanes in Tucson.
The scratch division was dominated by Matthew Garrett, something he's never done in JBT events before. After easily gaining the #1 seed in qualifying, he enjoyed a bye then beat Josh Mabry in matchplay to reach the title game. He'd face off against fellow Tucsonan Bryan Van Sickle, who also had a bye, then got revenge against Harley Sweigart, who beat him for the previous day's title, to reach the final.
Van Sickle's well documented search for his first singles title might have appeared near its end on paper as Garrett may have been the most untested opponent he's faced, but Matthew's brilliant bowling continued in the finale. He filled the frames on a tricky pattern, and his tenth frame spare locked up a 202-188 win and a well-earned first career JBT title.
In the handicap division, drama abounded as Kyle Perry beat Silas Phillips 249-218 in one semifinal, while Dawson Reese stopped Keith Ylvisaker's attempt at a weekend sweep with a 223-208 win to set up a title match between two of the all-conference point leaders this season.
Like Van Sickle, Perry has been oh-so-painfully close to winning a JBT title, and the pressure to finally break through was clearly mounting, even more so in the late frames of this one. Both Kyle and Dawson were bowling great on a challenging pattern, but with a chance to lock it up, Perry left a 2-4-8 then inexplicably threw the spare attempt in the right gutter, utterly stunning him and giving Reese a chance to only mark to win. However Reese's tenth frame effort left a 4-6-7, and when the miracle spare didn't occur, a relieved and emotional Perry finally had his first career win by a topsy turvy 229-219 final score.
Kristy Mace has been red-hot since her out-of-nowhere Main Event win, and it continued here with a 215-191 win over Stefanny Toala for the day's Priority Girls Scratch title. Garrett's dream day concluded with a U17 win, as he blasted 258 to give Reese no chance in a tough spot for Dawson.
Thanks to the team at Golden Pin for another excellent hosting job. Want in on all this fun for all ages and averages? Just come on down to the next JBT event, it's that simple!
Golden Pin- final results and scholarship winners
1/21/2018
Scratch Division
rank
bowler
prize
1
Matthew Garrett
$250
2
Bryan Van Sickle
$125
3
Harley Sweigart
$75
4
Josh Mabry
$50
5
Marc Villalobos
$30
6
Lucas Rabb
7
Jacob Merki
$50
8
Stefanny Toala
$25
9
Matt Adragna
10
Ryan Perry
11
Josh Fearing
12
Zach Rapp
13
Brock Bivins
14
Cristian Roque
15
Keith Fung
16
John Newton
17
Rashaad Jordan
18
Kyle Gilbert
19
Phillip Sauve
Handicap Division
1
Kyle Perry
$200
2
Dawson Reese
$115
3
Silas Phillips
$79
4
Keith Ylvisaker
$30
5
William Robbins
$20
6
Mark Sauve
$14
7
Kristy Mace
$55
8
Kendall Bollea
$20
9
Destiny Johnson
10
Katy Mace
11
CJ Todeschi
12
Payton Workman
13
Baylee Snow
14
Abby Franklin
15
Josh Williams
16
Darren Fletcher
17
Ryan Zent
18
Hayden Hull
19
Clifford Robbins
20
Jadeyn Mabry
21
Andrew Thomas
22
Gavin Holter
23
Justin Worthington
Qualifying Leaders
Scratch
Handicap
1
Garrett +89
W Robbins +96
2
Van Sickle +35
M Sauve +62
3
Sweigart +30
S Phillips +26
Round Leaders
Scratch
Handicap
1
Garrett
Todeschi
2
Villalobos
W Robbins
3
Garrett
W Robbins
4
Garrett
W Robbins
5
Garrett
W Robbins
High Games
Scratch
Handicap
1
Van Sickle 268
K Perry 285
2
Van Sickle 267
W Robbins 254
3
Garrett 257
Zent 246
4
Garrett 256
Kristy Mace 245
5
Garrett 255
Reese 245
U-17
Girls Scratch
1
Garrett +89*
Toala -57
2
Reese -28
Kristy Mace -105*
3
Kristy Mace -105
Franklin -153
4
J Williams -114
Johnson -156
5
Ylvisaker -122
Snow -277
Total Awarded This Event: $1,138