HOLIDAY BOWL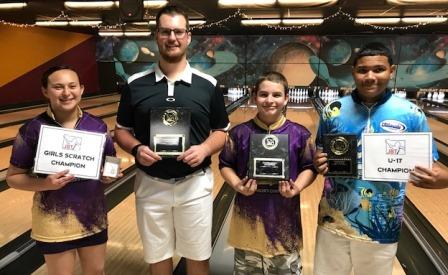 champs Harley Sweigart & John Green with Girls Scratch and U17 winners Montana Cdebaca & Donius Jeffries II
Harley Sweigart picked up right where he left off in New Mexico, while John Green doubled his title total, in exciting action to open the New Mexico-Texas Conference season at Holiday Bowl in Albuquerque.
Kellen Lavery began a climb up the scratch division stepladder finals with a 228-196 win over Donius Jeffries, making a successful transition from handicap. Lavery then got past Brad Harvey 200-167, and followed with a 239-204 win over Zach Wojciechowski to advance to the title match.
Sweigart just snuck into the cut, then shot 760 in matchplay to vault into the top spot. Lavery had been wonderful in the stepladder, but lost the look in the finale, and Harley took advantage to cruise 205-137 to the title, the 25th of his JBT career, tying him for 8th with Kris George on the all-time list.
Alek Rakov opened the handicap stepladder with a 209-191 win over Audrey Campbell. Jay Heffer then snuck by Rakov 187-180. Heffer then stopped Clifford Robbins to advance to the final match.
Top seed Green took over the lead in the second round, and ran the first seven strikes in the final to not give Heffer a chance. The 291-213 final score was good for the second title of his JBT career.
Montana Cdebaca beat Bernadette Davis 205-194 for the day's Girls Scratch subdivision win, earning a charm bracelet and a bonus $50 from Priority Girl Magazine. The U17 win went to Jeffries, defeating Robbins 189-141.
Thanks as always to the team at Holiday for a great job hosting us. Want in on the fun? Just come on down!
Holiday Bowl- final results and scholarship winners
9/9/2017
Scratch Division
rank
bowler
prize
1
Harley Sweigart
$250
2
Kellen Lavery
$125
3
Zach Wojciechowski
$105
4
Brad Harvey
$50
5
Donius Jeffries
$40
6
Chris Ortega
7
Blayne Hurst
$30
8
Angel Ortega
9
Daniel Hall
10
Nathan Nguyen
11
Isziah Zuni
12
Jonah Seawright
13
Joey Balistreri
14
Zach Harvey
$10
15
Bernadette Davis
$25
16
Jacob Marquis
17
Noah Martinez
18
Christian Apolonio
19
Aileen Linares
20
Chris Furdek
Handicap Division
1
John Green
$200
2
Jay Heffer
$100
3
Clifford Robbins
$55
4
Alek Rakov
$30
5
Audrey Campbell
$49
6
Kallista Fritts
7
Eric Gauna
8
Montana Cdebaca
$65
9
Brandon Platero
10
Angela Romero
$15
11
Trevor Dodson
12
James Huebner
13
Josie Herson
14
Alyssa Williams
$29
15
Land Matthies
16
Kloey Kielich
17
Ashton Holladay
18
Toby Cdebaca
19
Yarelis Alvarez
20
Deo Benard
21
Lauren Jaramillo
22
Katie McNeil
23
Taylor Herson
24
William Robbins
25
Gerilynn Delegarito
$50
26
Luis Garcia
Qualifying Leaders
Scratch
Handicap
1
B Harvey +100
C Robbins +204
2
C Ortega +76
Rakov +112
3
Jeffries +66
Green +88
High Games
Scratch
Handicap
1
Sweigart 267
Green 291
2
Sweigart 266
L Jaramillo 278
3
Hall 264
Green 271
4
B Harvey 257
Platero 267
5
Jeffries 257
Heffer 263
Girls Scratch side event
1
Cdebaca -28*
2
Davis -62
3
Fritts -85
4
Linares -115
5
A Williams -115
U-17 scratch side event
1
C Robbins +69
2
Jeffries +66*
3
M Cdebaca -28
4
Green -42
5
Marquis -71
Round Leaders
Scratch
Handicap
1
B Harvey
M Cdebaca
2
Lavery
C Robbins
3
Lavery
C Robbins
4
Lavery
C Robbins
5
B Harvey
C Robbins
6
B Harvey
C Robbins
7
Sweigart
Green
8
Sweigart
Green
TOTAL AWARDED THIS EVENT: $1,328