HOLIDAY BOWL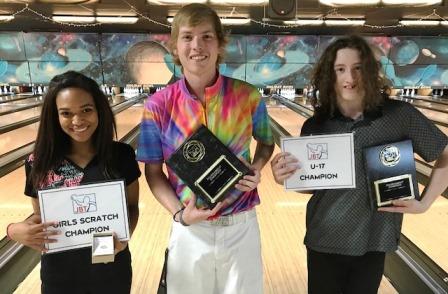 Girls Scratch winner Alyssa Williams, scratch champ Zach Wojciechowski, handicap and U17 winner Deo Benard
Zach Wojciechowski and Deo Benard picked up titles in very different methods, in exciting JBT NM-TX Conference action at Albuquerque's Holiday Bowl.
Wojciechowski rolled to the #1 seed in the scratch division, and then got by Brad Harvey and Kellen Lavery in matchplay to get to the final. He'd face Zach Harvey, who has been oh so close to his first scratch win. It remained elusive for him, though, as Wojo ran the front five to cruise to a 222-192 win, and the 7th title of his JBT career.
Benard rebounded from a bad day yesterday to also claim the #1 seed, then beat Katie McNeil in round one. Needing to strike in the tenth to win the next match, Deo struck out for a 246-229 win over Gerilynn Delegarito to reach the title game. His opponent was newcomer Isaiah Sandoval, who was coming off a win over big brother George III in his semifinal match. Needing to make up 77 pins to win the match, Deo was in control until uncharacteristic opens in the 9th and 10th seemed to seal his fate. However, Sandoval, now needing a spare to win, left a crushing split in his tenth, and the 217-215 result gave the stunned Benard the third title of his JBT career.
Deo didn't need a Houdini act to win the U17 finale, as he beat Will Davis in a good match 213-200 to complete the double play on the day. The Priority Girls Scratch subdivision was won by Alyssa Williams, who also benefitted from an opponent's tenth frame open, winning 165-160 over Montana Cdebaca. Montana was consoled by not only birthday cake, but having earlier won the new '22' game for a quick $100 bonus!
Thanks to the crew at Holiday for another great job hosting our Tour. Want in on the fun? Just check out our schedule and come on down!
Holiday Bowl- final results and scholarship winners
9/10/2017
Scratch Division
rank
bowler
prize
1
Zach Wojciechowski
$320
2
Zach Harvey
$125
3
Kellen Lavery
$75
4
Angel Ortega
$50
5
Blayne Hurst
$25
6
Christian Apolonio
7
Chris Ortega
8
Brad Harvey
9
Will Davis
10
Jacob Marquis
11
Joey Balistreri
12
Donius Jeffries
13
Daniel Hall
$19
14
Harley Sweigart
15
Bernadette Davis
16
Jake Helmick
17
Aileen Linares
18
Jonah Seawright
19
Nathan Nguyen
20
Cole Poswiatowski
21
Isziah Zuni
22
Chris Furdek
Handicap Division
1
Deo Benard
$214
2
Isaiah Sandoval
$172
3
George Sandoval III
$75
4
Gerilynn Delegarito
$40
5
Alek Rakov
$20
6
Luis Garcia
7
Katie McNeil
8
Kloey Kielich
9
Montana Cdebaca
$130
10
Alyssa Williams
$50
11
Angela Romero
$30
12
Morgan Ellis
$14
13
Dale Case
14
Audrey Campbell
15
William Robbins
16
Alex Thompson
17
Clifford Robbins
18
Christina Ward
19
Jay Heffer
20
John Green
21
Taylor Herson
22
Ashton Holladay
23
Kallista Fritts
24
Josie Herson
25
Yarelis Alvarez
26
Damian Jackson
27
Matt Ross
28
Lauren Jaramillo
29
Kara Thompson
Qualifying Leaders
Scratch
Handicap
1
Wojo +111
Benard +175
2
Hurst +73
I Sandoval +141
3
Apolonio +26
G Sandoval +137
High Games
Scratch
Handicap
1
Wojo 257
G Sandoval 284
2
Apolonio 251
Benard 270
3
Hurst 243
Benard 262
4
Wojo 243
A Williams 258
5
Lavery 242
G Sandoval 257
Girls Scratch side event
1
Cdebaca -24
2
A Williams -83*
3
Davis -85
4
Linares -111
5
Delegarito -128
U-17 scratch side event
1
Benard +45*
2
Davis -53
3
Marquis -53
4
Jeffries -65
5
Helmick -95
Round Leaders
Scratch
Handicap
1
Hurst
Rakov
2
Hurst
Rakov
3
Hurst
Rakov
4
Wojo
I Sandoval
5
Wojo
Benard
TOTAL AWARDED THIS EVENT: $1,359