ARIZONA INVITATIONAL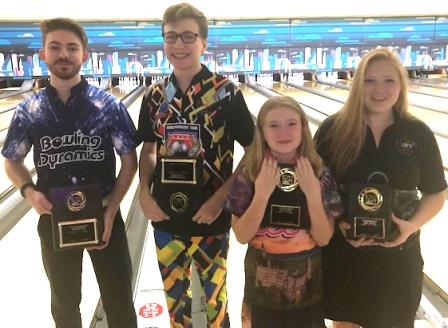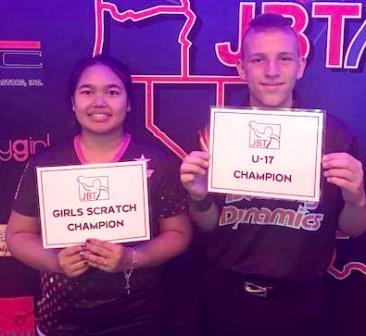 champs Lucas Rabb & Clifford Robbins; Kendall Bollea, Afton Lords, Kaylee Am-Khong, Brock Bivins
Lucas Rabb and Clifford Robbins put exclamation points on Bowler of the Year seasons with wins at the 22nd annual JBT Arizona Conference Invitational tournament, hosted by BZ Mesa.
Sixteen scratch finalists were carved down to six by the seventh round of triple-elimination matchplay. In that round, Rabb gave Joshua Molloy his second loss, top seed Kyle Duster eliminated Matthew Zweig, and Kyle Gilbert eliminated Harley Sweigart. WIth four bowlers now left, Rabb eliminated Gilbert and Duster ousted Molloy, setting up a situation where Kyle would have to beat Lucas twice to win the title.
Game one looked like it was going Duster's way, but a terrific comeback from Rabb gave him the win and the title, $1,000 scholarship, and a perfect finish to his Bowler of the Year season.
After eight rounds of handicap matchplay, just four bowlers remained, and in that round top seed Afton Lords eliminated #8 Hayden Hull, while #9 Clifford Robbins stayed alive with a win over #9 Kendall Bollea. That gave Kendall a bye, while Robbins eliminated Lords, setting up a one-game title match. In that match, Robbins' thumb pretty much turned into hamburger helper, but he was somehow able to recover enough to throw clutch shots late and defeat Bollea for the title. The win was worth $1000 and while not enough points to pass brother William for Bowler of the Year, he consolidated his al-conference points lead, while Kendall earned $500 for her excellent performance.
Brock Bivins captured the simultaneous U17 Invite with a win over a resurgent Cristian Roque, while Kaylee Am-Khong kept her dominant season rolling with a win over Aileen Linares for the Priority Girls Scratch Invite win.
Big thanks to the team at Mesa for hosting our event. Over $5,200 in scholarships were awarded to all ages and all averages- wow! Want in on all the fun? Just check out our schedule and come on down!
Arizona Invitational- final results and scholarship winners
6/16/2018
Scratch Division
rank
bowler
prize
1
Lucas Rabb
$1,000
2
Kyle Duster
$514
3
Kyle Gilbert
$250
4
Josh Molloy
$150
5
Harley Sweigart
$100
6
Matthew Zweig
7
Cortez Schenck
$14
8
Brock Bivins
9
Deo Benard
$42
10
Matthew Garrett
11
Ryan Perry
$50
12
Cristian Roque
$50
13
Jacob Gaddam
14
Aileen Linares
$50
15
Joshua Mabry
$50
16
Keith Fung
$50
17
Kaylee Am-Khong
$200
18
Stefanny Toala
19
Josh Fearing
20
Alex Seng
21
Mathew Adragna
22
Rashaad Jordan
23
Christian Apolonio
24
Jacob Merki
$5
25
Gabriel Huerta
Handicap Division
1
Clifford Robbins
$1,045
2
Kendall Bollea
$505
3
Afton Lords
$265
3
Hayden Hull
$150
5
Ryan Zent
$125
6
Zachary Gonzalez
$100
7
Kyle Perry
$109
8
William Robbins
$50
9
Justin Worthington
10
Leah Zweig
11
Destiny Johnson
12
CJ Todeschi
$50
13
Dawson Reese
14
Darren Fletcher
$50
15
Andrew Thomas
16
Eric Gauna
17
Kristy Mace
18
Alejandro Aragon
19
Abby Franklin
$10
20
Kevin Lu
21
Kevin VanGordon
22
Elijah Melchor
23
Jadeyn Mabry
24
AJ Imperial
25
Katy Mace
26
Silas Phillips
$28
27
Kyle Lawrence
28
Luis Garcia
29
Tyler Hedges
30
Joshua Williams
31
Gavin Holter
32
Breanna Feurstock
33
Cesar Padilla
34
Juan Llamas
35
Raymond Gaiser
36
Keith Ylvisaker
High Games
Scratch
Handicap
1
Duster 280
D Johnson 274
2
Mabry 279
Zent 271
3
Schenck 277
Zent 269
4
Schenck 268
Lords 256
5
Duster 268
K Perry 254
High Female
1
Linares -27
2
Am-Khong -50
3
Toala -53
4
Franklin -56
5
K Mace -81
Qualifying Leaders
Scratch
Handicap
1
Duster +159
Lords +148
2
Schenck +143
Zent +140
3
Sweigart +107
Todeschi +97
U-17
1
Roque +84
2
Bivins +59
3
Reese +47
4
C Robbins +41
5
Benard +33
Round Leaders
Scratch
Handicap
1
Mabry
Zent
2
Mabry
Lords
3
Schecnk
Lords
4
Benard
K Perry
5
Duster
Lords
Total Awarded This Event: $5,212
$20,000 in scholarships
MINIMUM GUARANTEED!
NM-TX: May 20, 9:30 AM, at Silva Lanes
Mojave: June 10, 9:30 AM, at South Point Plaza
Pac NW: June 24, 9:30 AM, at Narrows Plaza
Arizona: June 16, 11 AM, at Brunswick Mesa
So Cal: July 1, 9:30 AM, at Mira Mesa
ENTRY FEE: $50 scratch, $40 handicap
Includes all scholarships except $2 scholarship brackets in both divisions
Eligibility:
Each event is open to anyone making a top-5 finish in that Conference this season, OR the top 10 in the final regular season event in that Conference, OR the top 32 in season-long points in that Conference
Format:
-QUALIFYING: Bowl 5 games across 10 lanes. The top eleven 5-game totals, plus the top 5 season-long point scorers, advance to the triple-elimination finals! (If a top-5 player does not show or chooses to bowl in the opposite division, additional bowlers will be taken to complete a 16-player field)
-FINALS: Bowlers will play TRIPLE elimination match play (keep bowling until you lose 3 times), until a winner is determined
______________________________________________________________________________
GUARANTEED PRIZE FUNDS, each event:
1st-$1,000
2nd- $500
3rd- $250
4th- $150
5th- $100
Additional spots earn scholarships on a 1:6 ratio
PLUS The top 5 point scorers going into each Invite will have Invite winnings augmented to $50 minimum
EACH INVITATIONAL IS WORTH TRIPLE POSITION POINTS. THE TOP 20 IN EACH CONFERENCEíS POINTS AFTER THE INVITATIONAL ADVANCE TO THE 2018 TOURING PLAYERS CHAMPIONSHIP, JULY 26-29 AT STRIKE ZONE NEAR LAS VEGAS, WITH $2,000 FOR FIRST PLACE!
ALL OTHER JBT RULES APPLY. SEE YOU THERE, DONíT MISS IT!!!