PAC NW INVITATIONAL TOURNAMENT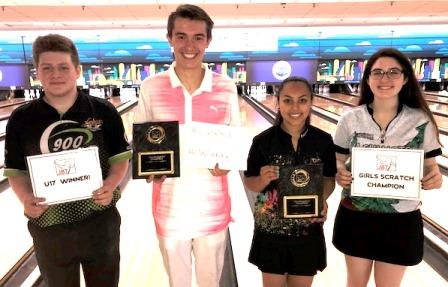 champs Jacob Mullen & Evan Smith with Tyler Coates and Reagan Lorey
Jacob Mullen and Evan Smith earned $1,000 scholarship prizes as champions of the 2018 JBT Pacific Northwest Conference Invitational tournament, held at Narrows Plaza Bowl in Tacoma.
Mullen, on a mission to catch Makana Wong for Bowler of the Year, easily nabbed the top seed after five games on a very challenging pattern for triple elimination matchplay. The matchplay rounds went just as well, going 6-1 in the first seven round, including handing #3 Tyler Coates his first loss. In the bext round Coates earned a bye, while Jeremy Holman was eliminated by AJ Schock, and Mullen gave Hunter Bower loss #2. Now with four left, Coates eliminated Bower and Mullen eliminated Schock, setting up a best of 3 match between Mullen and Coates, the winners of last season's scratch and handicap Invites respectively, for the title.
Jacob coasted to a win in the first game, but things almost literally fell apart for him when his thumb split early in the next game, while Coates got off to a hot start. However, Mullen was able to recover his game, and Coates struggled in the second half of his, allowing Jacob to come back and win the game and the title. It was the 9th of his career, and the points that come with it allowed him to jump over Wong and capture the coveted Bowler of the Year honor.
Cosmo Castellano and Kaylee Wilson bowled great in qualifying to grab the top two seeds for matchplay, but struggled in that round, both bowing out by round four. #3 and #4 got to the final six though, with #4 Evan Smith eliminating Silas Le Blanc, and #3 Dawson Reese falling to #8 Paul Lemay, joining #9 Ryan Smerud in the final three. Smith ousted Smerud in the next round, setting up a best two of three between Smith, the 2016 TPC champ, and Lemay, already enjoying his best ever finish, for the title.
The next two games were all Evan, as she ground out the marks on the tough pattern to comfortably win the match and the title, second major, and another $1,000 windfall.
Smith was in the Priority Girls Invitational title match as well, but Regan Lorey continued her season long dominance with a win there, earning $200 and consolidating a Bowler of the Year season in that subdvision. In an entertaining match that was as much about blowing off steam after the tense scratch final, Coates defeated Isaac Mailkoff to win the U17 Invitational, boosting his winnings to $700 on the day.
Thanks to the team at Narrows Plaza for a great hosting job! The top 20 point scorers now move on to the TPC in Vegas, where they will compete against the JBT's best for over $20,000 in scholarships!
Pac NW Invitational- final results and scholarship winners
6/24/2018
Scratch Division
rank
bowler
prize
1
Jacob Mullen
$1,028
2
Tyler Coates
$700
3
AJ Schock
$255
4
Hunter Bower
$150
5
Jeremy Holman
$100
6
Tyler Boe
$50
7
Ashton Yamasaki
$5
8
Ryan Nikolas
$50
9
Tyger Miller
10
Makana Wong
$78
11
John Malone
12
Jerry Jennings
13
Donovan Grubaugh
14
Jacob Frazier
$14
15
Preston Craig
16
Reagan Lorey
$200
17
Brian DeLuisa-Anderson
18
Bradley Baltazar
19
Kyle Jonson
20
Payton Edwards
21
Simon Dyck
22
Andi Hicks
23
Tyler Hogstrom
24
Isaac Richardson
25
Celeste Johnson
26
Kyle Adams
27
Liam McNamara
Handicap Division
1
Evan Smith
$1,050
2
Paul LeMay
$529
3
Ryan Smerud
$250
4
Dawson Reese
$150
5
Silas LeBlanc
$100
6
Paul Rosales
$50
7
Isaac Mailkoff
$50
8
Alejandro Moser-Hernandez
$50
9
Aiden Wong
10
Andrew Martin
$95
11
Michael Strothman
$50
12
Cosmo Castellano
13
Kailee Wilcox
14
Lailani Wallin
$29
15
Lohrghan Ziegler
16
Colt Jance
$50
17
Anna Gatlin
18
Hannah Johnson
$43
19
Bryan Zeutenhorst
20
Payton Bower
21
Carter Humphries
22
Hilary Zuniga
23
Jonathan Lorey
24
Jessica Holbrook
25
Tyler DeLorm
26
Derek Haight
27
Olivia Kolppa
28
Ruth Magana
29
Ben Heisler
$5
High Games
Scratch
Handicap
1
Schock 278
Reese 284
2
Nikolas 267
Mailkoff 271
3
Bowe 267
LeBlanc 270
4
Coates 254
Castellano 269
5
Boe 245
Martin 259
High Female
1
Lorey -103*
2
Smith -110
3
Schock -111
4
C Johnson -200
5
Holbrook -251
Qualifying Leaders
Scratch
Handicap
1
Mullen -8
Castellano +93
2
Jennings -22
K Wilcox +56
3
Coates -29
Reese +24
U-17
1
Coates -29*
2
Mailkoff -84
3
Craig -91
4
Yamasaki -91
5
Frazier -128
Round Leaders
Scratch
Handicap
1
Coates-Mullen
L Ziegler
2
Mullen
Moser-Hernandez
3
Mullen
Castellano
4
Mullen
Castellano
5
Mullen
Castellano
Total Awarded This Event: $5,131
$20,000 in scholarships
MINIMUM GUARANTEED!
NM-TX: May 20, 9:30 AM, at Silva Lanes
Mojave: June 10, 9:30 AM, at South Point Plaza
Pac NW: June 24, 9:30 AM, at Narrows Plaza
Arizona: June 17, 9:30 AM, at Brunswick Mesa
So Cal: July 1, 9:30 AM, at Mira Mesa
ENTRY FEE: $50 scratch, $40 handicap
Includes all scholarships except $2 scholarship brackets in both divisions
Eligibility:
Each event is open to anyone making a top-5 finish in that Conference this season, OR the top 10 in the final regular season event in that Conference, OR the top 32 in season-long points in that Conference
Format:
-QUALIFYING: Bowl 5 games across 10 lanes. The top eleven 5-game totals, plus the top 5 season-long point scorers, advance to the triple-elimination finals! (If a top-5 player does not show or chooses to bowl in the opposite division, additional bowlers will be taken to complete a 16-player field)
-FINALS: Bowlers will play TRIPLE elimination match play (keep bowling until you lose 3 times), until a winner is determined
______________________________________________________________________________
GUARANTEED PRIZE FUNDS, each event:
1st-$1,000
2nd- $500
3rd- $250
4th- $150
5th- $100
Additional spots earn scholarships on a 1:6 ratio
PLUS The top 5 point scorers going into each Invite will have Invite winnings augmented to $50 minimum
EACH INVITATIONAL IS WORTH TRIPLE POSITION POINTS. THE TOP 20 IN EACH CONFERENCEíS POINTS AFTER THE INVITATIONAL ADVANCE TO THE 2018 TOURING PLAYERS CHAMPIONSHIP, JULY 26-29 AT STRIKE ZONE NEAR LAS VEGAS, WITH $2,000 FOR FIRST PLACE!
ALL OTHER JBT RULES APPLY. SEE YOU THERE, DONíT MISS IT!!!