ISLETA FUN CONNECTION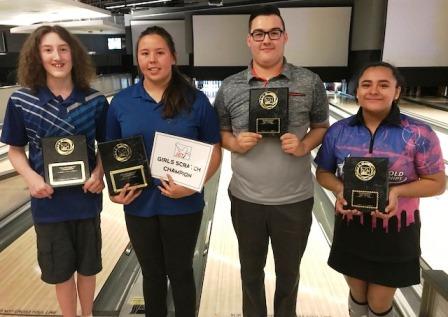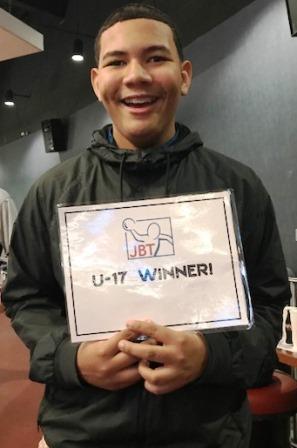 champs Deo Benard with Chris Ortega, Yarelis Alvarez, Donius Jeffries
The 'mix it up' format continued to be a favorite of Deo Benard and Lauren Jaramillo, who teamed up to win JBT titles in exciting NM-TX Conference action at Isleta Fun Connection.
After singles qualifying, scratch and handicap bowlers were paired together and they bowled doubles the rest of the way. The team of Chris Ortega and Yarelis Alvarez began the stepladder finals with a 193-167 win over Donius Jeffries and Jeremy Perlinski. They rolled on in match two, beating Christian Apolonio and Faith Pinter 209-144. They climbed all the way to the title match with a 188-154 win over Harley Sweigart and Kloey Kielich.
The duo of Deo and Lauren was interesting because Deo led this same tournament last season with partner Vanessa Romero, only to be denied the title by Lauren and her partner Angel Ortega. This time they each dominated their divisions in qualifying to get paired up, and showed no signs of slowing down in the title game, They cruised past Chris and Yarelis 244-166 for the championship.
Jeffries got some vengeance with a 172-151 win over Benard for the day's U17 win, while Jaramillo completed her excellent day with a 196-174 win over Aileen Linares for the Priority Girls Scratch win.
Big thanks to the team at Isleta for hosting our Tour- want in on all this fun? Just check out our schedule and come on down!
Isleta Fun Connection- final results and scholarship winners
3/10/2018
Mix-It-Up Finalists
rank
bowler
prize
1
Deo Benard ($274) & Lauren Jaramillo ($308)
$582
2
Chris Ortega ($125) & Yarelis Alvarez ($100)
$225
3
Harley Sweigart ($75) & Kloey Kielich ($193)
$268
4
Christian Apolonio ($50) & Faith Pinter ($50)
$100
5
Donius Jeffries ($66) & Jeremy Perlinski ($30)
$96
6
Gabriel Siegel & Eric Gauna ($20)
$20
7
Jonah Seawright & Dawson Reese
8
Christopher Robles & Alex Thompson
9
Aileen Linares ($25) & Kyle Perry ($5)
$30
10
Zach Wojciechowski ($50) & William Robbins ($14)
$64
11
Jon Walden & Clifford Robbins
12
Noah Martinez & Kaylee Haynes
Scratch Division other finishers
rank
bowler
13
Nathan Nguyen
14
Haley Winn
15
Rashaad Jordan
16
Chris Furdek
Handicap Division other finishers
13
Michael Newlon
14
Josie Herson
15
Luis Garcia
16
Michael Jamael
17
Gerilynn Delegarito
18
Kallista Fritts
19
Reagan Russ
20
Savannah White
21
Angela Romero
22
Jayden Martinez
23
John Green
24
Jay Heffer
25
CJ Todeschi
26
Noah Negrette
27
Lane White
28
Taylor Herson
29
Jordan Womble
$5
High Games
Scratch
Handicap
1
Benard 267
L Jaramillo 260
2
Siegel 265
Pinter 257
3
Benard 246
K Perry 250
4
Sweigart 244
Y Alvarez 243
5
Swigart 242
K Haynes 242
Girls scratch side event
1
L Jaramillo +53*
2
Linares -114
3
Alvarez -115
4
Fritts -149
5
Haynes -193
U-17 scratch side event
1
Benard +38
2
Jeffries +17*
3
Reese -20
4
C Robbins -119
5
Garcia -125
Round Leaders
Scratch
Handicap
1
Sweigart
Y Alvarez
2
Benard
Kielich
3
Benard
Jaramillo
4
Benard
Kielich
5
Benard
Jaramillo
6
Benard
Jaramillo
7
Benard
Jaramillo
8
Benard
Jaramillo
TOTAL AWARDED THIS EVENT: $1,340