KEYSTONE LANES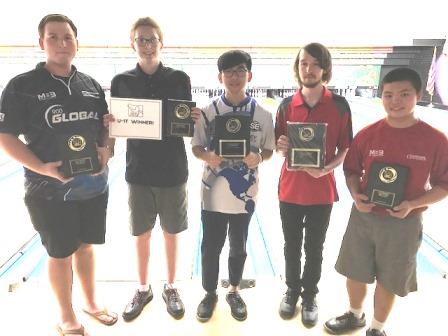 champs Ryan Lee & Dillon O'Neil with Kennison Andrews, Ryan Howieson, and Andrew Chan
Ryan Lee and Dillon O'Neil outscored a packed field to capture JBT titles in the season-opener of the 2017-18 JBT Southern California Conference, held at Keystone Lanes in Norwalk.
Anthony Schanen began the scratch division stepladder finals with a 209-158 win over Las Vegas Open champ Garrett Lee. Kennison Andrews then defeated Schanen 248-146, and followed with a 191-170 win over Ryan Howieson to move on to the title match.
Top seed Ryan Lee squeezed in as the last bowler in the first cut, then put together a big second round to grab the lead. Andrews meanwhile had began the day on fire with 545 for two, then had to regroup to get to the final game. A second half string from Lee put the previously close title game away, and the 229-191 final score was good for the first singles and second overall title of Lee's JBT career.
Caleb Rothstein began the handicap division stepladder with a 227-184 win over Patrick Sablan. O'Neil ten took over, beating Rothstein 233-197 and following with a 228-215 win over Tanner Ferguson to reach the title match.
Top seed Andrew Chan led a very high scoring field in handicap, highlighted by a front-nine performance in game eight. However, he couldn't get the same momentum going in the finale, and O'Neil just kept pouring it on. The 249-216 final score was good for the second title of Dillon's JBT career.
Kaylee Am-Khong suffered a slew of heartbreaking losses in the Priority Girls Scratch subdivision last season, but perhaps a new year means new luck for her, as she squeezed by newcomer Pamela Faller 203-201 for the day's title and $50 bonus prize, while Faller earned $25, courtesy of Priority Girl Magazine. Howieson rebounded to win the U17 subdivision with a 203-181 victory over Garrett Lee.
Thanks to additional great contributions from MSC Inc, and the bonus funds created from our Ebonite ball raffle, $2,283 in scholarships were awarded on the day, with the top 5 finishers headed to the 2018 So Cal Invitational to play for over $5,000 more- maybe one of them will advance to our grand finale, the TPC next July, with over $20,000 on the line! Thanks to Herbert, Dave, and the great team at Keystone for another excellent job hosting us. Want in on all the fun? Just check out our calendar and come on down!
Keystone Lanes- final results and scholarship winners
9/30/2017
Scratch Division
rank
bowler
prize
1
Ryan Lee
$300
2
Kennison Andrews
$250
3
Ryan Howieson
$115
4
Anthony Schanen
$75
5
Garrett Lee
$50
6
Costa Gastouniotis
$25
7
Alberto Bernal
8
Joshua Mabry
9
Kyle Gilbert
$65
10
Gael Egana
11
David Schneider
$15
12
Matthew Carpenter
$15
13
Kaylee Am-Khong
$50
14
Leoj Chin
$45
15
Dustin Yauney
16
Kyle Reed
17
Trevyr Geronimo
18
Kyile Shishima
19
Allex Zieg
20
Tim Hill
$20
21
Kyle Andrews
22
Marquan Rivers
23
Louis Luna
24
Nolan Am-Khong
25
Kevin Banaag
26
Taylor Berry
27
Marc Villalobos
28
Harley Sweigart
29
Jacey Opiana
15
30
Zack Long
31
Clifford Baltazar
Handicap Division
1
Dillon O'Neil
$300
2
Andrew Chan
$175
3
Tanner Ferguson
$242
4
Caleb Rothstein
$100
5
Patrick Sablan
$90
6
Emily Schrider
$50
7
Yairi Lubag
$55
8
Ranelle Ulanday
$30
9
Brian Erickson
$20
10
Renee Gentry
$34
11
Rieley Ulanday
12
Lathan Chin
13
Mondesi Saavedra
14
Pamela Faller
$25
15
William Robbins
16
Elias O'Hollaren
17
Kaitlynn Martin
18
Lindsay Griem
19
Chris Borillo
20
Simon Ortega
21
Connor Steelmon-Hill
$29
22
Zach Greim
23
Brandon Criss
24
Cameron Criss
25
Austin Sugarman
26
Jared Schiada
27
James McGough
28
Adrian Yamanoha
29
Avery Domaguin
$45
30
Manuel Aaron Gonzalez
31
Christian Borillo
32
Dawson Reese
33
Sandra Chacon
$14
34
Chris Hill
35
Clifford Robbins
36
Dewine Moore Jr
$5
37
Secilia Kalvelage
38
Reymar Santos
39
Allison Azvedo
40
Aislinn Lubag
$14
41
Kaitlynn Yukihiro
42
Shane Howard
43
Brandon Lim
44
Katie Kipler
45
Emily Cheesman
46
Alexander Miller
47
Jaclyn Azvedo
48
Erik Hagen
49
Amanda Hanson
$15
High Games
Scratch
Handicap
1
Ken Andrews 279
A Chan 296
2
Howieson 278
A Chan 292
3
Ken Andrews 267
Ferguson 289
4
G Lee 266
Sugarman 287
5
Schneider 266
Rothstein 284
High Female
1
AM-Khong +87*
2
Faller +29
3
Shishima -7
4
Gentry -7
5
Ulanday -20
Qualifying Leaders
Scratch
Handicap
1
Ken Andrews +124
Ferguson +275
2
G Lee +124
Chan +232
3
Howieson +110
O'Neil +176
U-17
1
G Lee +124
2
Howieson +110*
3
Chan +97
4
Gastouniotis +30
5
Schnieder +20
Round Leaders
Scratch
Handicap
1
Ken Andrews
Santos
2
Ken Andrews
Chan
3
Ken Andrews
Chan - Ferguson
4
Ken Andrews
Chan
5
Ken Andrews / G Lee
Ferguson
6
Ken Andrews
Ferguson
7
Ken Andrews
Rothstein
8
R Lee
Chan
Total Awarded This Event: $2,283