KEYSTONE LANES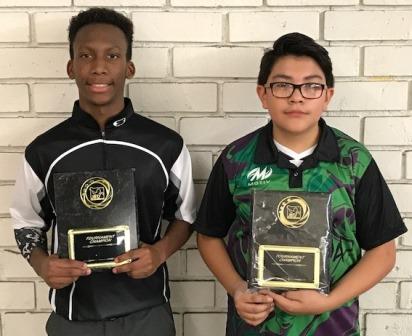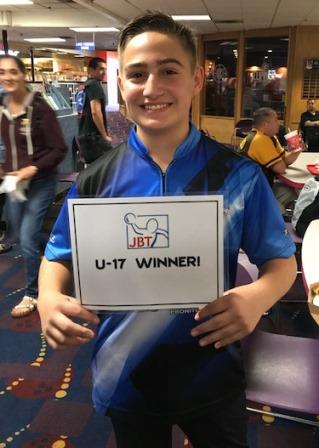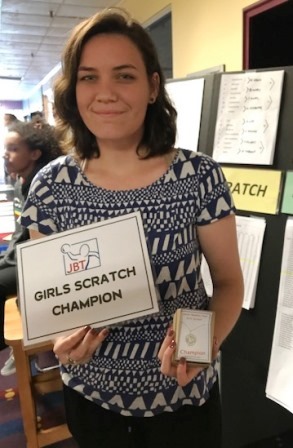 champs Marquan Rivers & Manuel Gonzalez; U17 winner Gael Egana & Girls Scratch winner Renee Gentry4
Two bowlers earned their first career JBT titles in exciting Southern California Conference action at Norwalk's Keystone Lanes.
Bowlers competed in best 2-of-3 matchplay after a 5-game qualifying round. Ryan Howieson earned the top seed in scratch, but fell to newcomer Kyler Orosco in the first round. #2 Kyle Reed also fell, to #15 Matt Chesnut, opening up the bracket greatly. #8 Josh Mabry tool full advantage, blasting his first JBT 300 game en route to a win over Orosco, but then fell to #5 Marquan Rivers in a thrilling 244-241 semifinal match. In the other semi, Chesnut continued to roll, blasting previous day's champ Ryan Lee 242-163 in teh other semi to set up a title match between two non-winners.
Rivers has been paying his dues on Tour, and it all came together for him here. In a very well bowled match by both players, "Q" came up with the 244-229 win, earning the first title of his JBT career.
Manuel Gonzalez was wonderful in qualifying to gain the top seed, and continued the torrid place through matchplay, beating Caleb Rothstein, Shane Howard, and then Connor Steelmon-Hill in the semifinal, to reach the title match. On the other side of the bracket, Jaclyn Azvedo earned the #2 seed, beat Cameron Criss in round one, but fell to the seemingly unstoppable 8 year-old freight train that is Gage Baker in the semifinals to set up the title match.
Both bowlers put on great performances in the final, but this time it was Gonzalez doing what few others have done lately, beating Gage 223-211 for the first title of his JBT career.
Renee Gentry earned a $50 scholarship as the Priority Girls scratch champ with a win over impressive newcomer Pamela Faller. Gael Egana earned the U17 subdivision crown with a win over Howieson in that title match.
Thanks to Priority Girl, MSC (who also awarded a $200 progressive bonus to Mabry for the perfecto), and Ebonite, over $2,200 was awarded on the day, and over $4,500 on the weekend, to bowlers of all ages and averages- wow! Want in on the fun? Just check out our schedule and come on down!
Keystone Lanes- final results and scholarship winners
10/1/2017
Scratch Division
rank
bowler
prize
1
Marquan Rivers
$300
2
Matt Chesnut
$175
3
Ryan Lee
$125
4
Josh Mabry
$300
5
Kevin Banaag
$50
6
Kyle Gilbert
$60
7
Matt Carpenter
$20
8
Kyler Orosco
9
Ryan Howieson
$45
10
Kyle Reed
$28
11
Gael Egana
12
Kennison Andrews
$44
13
Nolan Am-Khong
14
Kyle Andrews
15
Trevor Thompson
$14
16
Alberto Bernal
17
Trevyr Geronimo
18
Jimmy Hunter
19
Devon Valdez
20
Renee Gentry
$50
21
Zack Long
22
Solomon Salama
23
Anthony Schanen
24
Louis luna
25
Harley Sweigart
26
Garrett Lee
27
Jacob Camacho
28
Marc Villalobos
29
Ranelle Ulanday
30
Allison Azvedo
31
Kaylee Am-Khong
32
David Schneider
14
33
Jacey Opiana
34
Reiley Ulanday
35
Clifford Baltazar
36
Costa Gastouniotis
37
Ardani Rodas
38
Dustin Yauney
Handicap Division
1
Manuel Aaron Gonzalez
$300
2
Gage Baker
$200
3
Connor Steelmon-Hill
$155
4
Lawrence Buhain
$115
5
Jaclyn Azvedo
$75
6
Aislinn Lubag
$154
7
Shane Howard
$55
8
Simon Ortega
$30
9
Sandra Chacon
$49
10
Justin Phillips Jr
11
Elias O'Hollaren
12
David Elson
13
Zian Sasaki
14
Ashley Wilcox
15
Cameron Criss
16
Erik Hagen
$14
17
Caleb Rothstein
$10
18
Amanda Hanson
19
Tobie Atanacio
$15
20
Pamela Faller
$25
21
Emily Schrider
22
Lindsay Greim
23
Peter Ruiz
24
Yairi Lubag
25
Justin Redfield
26
Katie Kipler
27
Dawson Reese
$5
28
Ryland Pimentel
$30
29
Zach Greim
30
brandon Lim
31
Patrick Sablan
32
Dante Villa
33
Secilia Kalvelage
34
Megan Ruiz
35
Brandon Criss
$14
36
Jared Schiada
37
William Robbins
38
Emily Cheesman
39
Maikayla Villa
$5
40
Michaela Buhain
41
Clifford Robbins
42
Sterling Lopez
43
Tanner Ferguson
44
Benjamin Byers
45
Brian Erickson
46
Adrian Yamanoha
47
James McGough
High Games
Scratch
Handicap
1
Mabry 300
Baker 303
2
Banaag 267
Gonzalez 295
3
Rivers 258
J Azvedo 266
4
Banaag 254
Baker 264
5
Hunter 248
3 tied at 260
High Female
1
Gentry -72*
2
Faller -76*
3
J Azvedo -77
4
Chacon -110
5
Ulanday -110
Qualifying Leaders
Scratch
Handicap
1
Howieson +99
Gonzalez +151
2
Reed +84
J Azvedo +138
3
R Lee +84
Chacon +105
U-17
1
G Lee +124
2
Howieson +110*
3
Chan +97
4
Gastouniotis +30
5
Schnieder +20
Round Leaders
Scratch
Handicap
1
Banaag
J Phillips
2
Rivers
S Howard
3
Lee
Gonzalez
4
Howieson
Gonzalez
5
Howieson
Gonzalez
Total Awarded This Event: $2,266