KINGPINS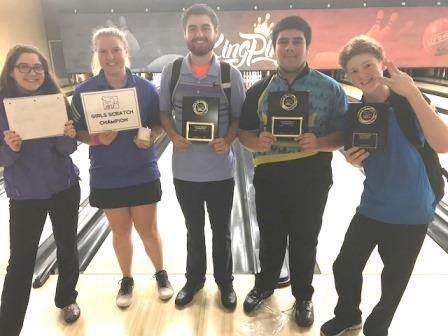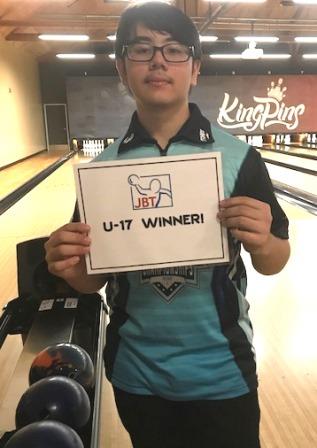 champs Ryan Nikolas & Isaac Mailkoff with Reagan Lorey, Girls winner AJ Schock, and Jonathan Lorey; U17 winner Ashton Yamasaki
Ryan Nikolas and Isaac Mailkoff captured JBT titles in exciting Pacific Northwest Conference action at Kingpins in Portland.
Nikolas stayed on his season-long roll in the scratch division by beating Tyler Bow in one semifinal 221-184, while Jacob Mullen beat Aidghan Ziegler 249-208 in the other semi to set up the title match. Ryan didn't give Jacob a chance in the finale, rolling to a 253-193 win, his third straight to open up the new season, and the 18th overall of his JBT career.
Last month's runner-up Jonathan Lorey reached another title match with a 266-168 win over Tyler DeLorm 266-168. In the other half of the matchplay bracket, Isaac Mailkoff earned a one pin win over Sara Harris 217-216 to advance to the title game. Lorey's loss last month was a heartbreaker, and this one was also a close call that didn't go in his favor. Mailkoff won the final 205-199 for teh second title of his JBT career.
13 year-old Ashton Yamasaki claimed the day's U17 subdivision with a 167-149 win over Hunter Bower, while AJ Schock returned to JBT action with a 189-171 win over Reagan Lorey for the Priority Girls Scratch subdivision title, necklace, and $50 bonus.
Thanks as always to the great team at the beautiful Kingpins for another great job hosting our Tour. Want in on all the fun for all ages and averages? Just check out our schedule and come on down!
Kingpins- final results and scholarship winners
9/23/2017
Scratch Division
rank
bowler
prize
1
Ryan Nikolas
$308
2
Jacob Mullen
$130
3
Aidghan Ziegler
$75
4
Tyler Boe
$197
5
Hunter Bower
$25
6
Ashton Yamasaki
7
Greg Miller
8
Bradley Baltazar
9
Jacob Frazier
10
AJ Schock
$50
11
Jerry Jennings
12
Carlos Serranno
13
Isaac Richardson
14
Tanner Darcy
15
Brian DeLuisa-Anderson
16
Reagan Lorey
$25
17
Makana Wong
18
Brooklyn Boudreau
19
Celeste Johnson
20
Tyler Coates
21
Andi Hicks
Handicap Division
1
Isaac Mailkoff
$200
2
Jonathan Lorey
$100
3
Tyler DeLorm
$50
4
Sara Harris
$40
5
Colin Stoops
$30
6
Alex Perini
7
Joe Brooks
8
Lailani Wallin
$59
9
Vincent Oberto
10
Hilary Zuniga
$43
11
Alejandro Moser-Hernandez
12
Michael Strothman
13
Ben Heisler
14
Aiden Wong
15
Megan Flood
16
Lexi Cassman
17
Derek Haight
18
Daniel Lee
19
Lohrghan Ziegler
20
Roger Nunez
21
Sophia Winklepleck
22
Paul Rosales
23
Andrew Martin
24
Colt Jance
25
Olivia Kolppa
26
Natasha Richardson
27
Silas LeBlanc
28
Caleb Peterson
29
Wesley West
Qualifying Leaders
Scratch
Handicap
1
Nikolas +161
Stoops +71
2
A Ziegler +67
Perini +52
3
Bower +42
Brooks +49
High Games
Scratch
Handicap
1
Mullen 279
Stoops 301
2
Nikolas 279
Brooks 267
3
Boe 267
J Lorey 266
4
Nikolas 253
J Lorey 257
5
A Ziegler 248
DeLorm 255
Girls scratch side event
1
Schock -84*
2
R Lorey -150
3
Harris -182
4
Boudreau -217
5
Johnson -221
U-17 scratch side event
1
Bower +42
2
Yamasaki +17*
3
Frazier -29
4
Baltazar -96
5
A Perini -113
Round Leaders
Scratch
Handicap
1
Serranno
Stoops
2
Boe
Stoops
3
Nikolas
Strothman
4
Nikolas
Brooks
5
Nikolas
Stoops
TOTAL AWARDED THIS EVENT: $1,332