KINGPINS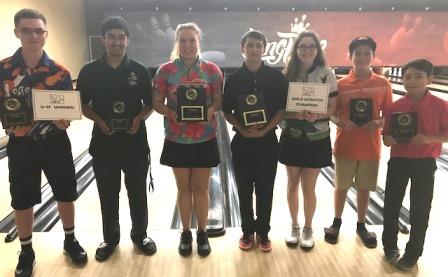 champs AJ Schock & Alex Perini with Brian DeLuisa-Anderson, Makana Wong, Reagan Lorey, Alejandro Moser-Hernandez, & Paul Rosales
AJ Schock stopped an historic run and then went on a run of her own, while Alex Perini proved unstoppable in handicap, in exciting JBT Pacific Northwest Conference action at Portland's Kingpins.
Schock began the scratch division stepladder finals by ending Ryan Nikolas' run at four titles in a row to open up the new season with an exciting 247-236 win. That began a run of her own up the stepladder, next beating Bradley Baltazar 187-183 in a ten-spare, clean game performance. Top seed Makana Wong continues to knock on the door of that elusive first career title, but Schock remained in control in the finals, beating Makana 212-172 for the title. Schock won last year in the mix-it-up format, but this title was the first purely singles open scratch title by a female since Adel Wahner in November of 2015.
Lohrghan Ziegler began the handicap stepladder with a 234-210 win over Paul Rosales. Ziegler then upped the scores with a 254-160 win over Alejandro Moser-Hernandez to reach the title match. Top seed Alex Perini had already wowed the field with two earlier big games, and had one more huge score left in him, starting with the first six strikes en route to a 290-187 win over Ziegler, good for teh second title of his JBT career, the previous one way back in January 2015.
Brian DeLuisa-Anderson won the U17 subdivision with a 196-183 win over Bradley Baltazar. The Priority Girls Scratch finale was an all-time great one, as AJ Schock doubled in her tenth frame, forcing Reagan Lorey to do the same, which she calmly did for a 232-228 win and the victory.
Big thanks as always to the team at Kingpins for a great hosting job at their fantastic facility. Come on down to the next JBT event to get in on the fun!
Kingpins- final results and scholarship winners
9/24/2017
Scratch Division
rank
bowler
prize
1
AJ Schock
$317
2
Makana Wong
$140
3
Bradley Baltazar
$75
4
Ryan Nikolas
$74
5
Brian DeLuisa-Anderson
$30
6
Reagan Lorey
$80
7
Aidghan Ziegler
8
Hunter Bower
9
Jake Mullen
$10
10
Jerry Jennings
11
Tyler Boe
12
Tanner Darcy
13
Tyler Coates
14
Isaac Richardson
15
Celeste Johnson
16
Andi Hicks
17
Jacob Frazier
18
Brooklyn Boudreau
Handicap Division
1
Alex Perini
$200
2
Lohrghan Ziegler
$100
3
Alejandro Moser-Hernandez
$74
4
Paul Rosales
$40
5
Andrew Martin
$30
6
Aiden Wong
7
Derek Haight
$12
8
Elijah Chin
9
Silas LeBlanc
10
Olivia Kolppa
11
Sara Harris
12
Colt Jance
$47
13
Natasha Richardson
14
Jonathan Lorey
15
Sophia Winklepleck
16
Daniel Lee
17
Lexi Cassman
18
Hilary Zuniga
19
Lailani Wallin
20
Ben Heisler
$14
21
Megan Flood
22
Matthew Salinas
23
Vincent Oberto
24
AJ Hooper
25
Michael Strothman
26
Tyler DeLorm
27
Joe Brooks
Qualifying Leaders
Scratch
Handicap
1
Schock +63
Perini +138
2
Wong +50
Rosales +127
3
DeLuisa-And. +4
Moser-Hern. +115
High Games
Scratch
Handicap
1
Wong 278
Perini 304
2
Wong 267
Perini 298
3
Ziegler 256
Perini 290
4
Bower 256
Chin 272
5
Schock 247
Ziegler 260
Girls scratch side event
1
Schock +63
2
Lorey -18*
3
Kolppa -88
4
Harris -99
5
Johnson -112
U-17 scratch side event
1
DeLuisa-And. +4
2
Baltazar -5
3
Bower -24
4
Perini -27
5
Darcy -76
Round Leaders
Scratch
Handicap
1
Nikolas
L Ziegler
2
Nikolas
L Ziegler
3
Wong
Martin
4
Wong
Martin
5
Schock
Perini
6
Wong
Perini
7
Wong
Perini
TOTAL AWARDED THIS EVENT: $1,243