MIRA MESA LANES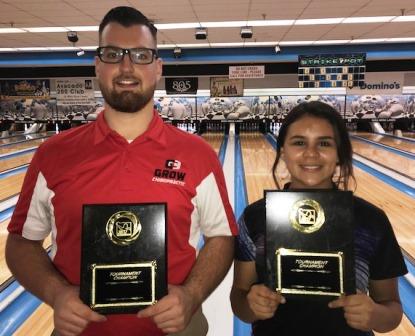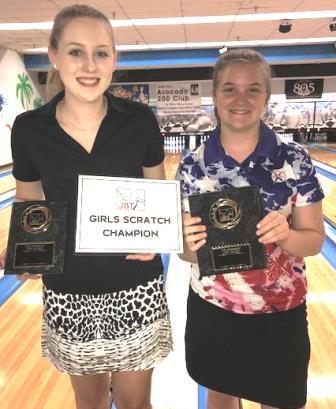 champs Harley Sweigart & Hailey Shepherd; Megan Carpenter, Emily Cheesman
Harley Sweigart and Hailey Shepherd had parallel dream days, capturing JBT titles in terrific Southern California Conference action at Mira Mesa Lanes in San Diego.
Kyle Gilbert began the scratch division stepladder finals with a 216-194 win over Megan Carpenter. Ryan Perry then stopped Gilbert 211-180. Perry then got by Ryan Lee 218-181 to set up the title match.
Top seed Harley Sweigart had been brilliant all day, including a perfect 300 in the last game to consolidate the top spot, but he must have been wary to see Perry, who has won all three of his scratch titles against him. However, Sweigart showed no signs of those past troubles this time, defeating Ryan 226-193. The win is the 37th of his JBT career, moving him past BJ Baker for 5th place, and high lefthander, on the all-time JBT title list!
Dante Villa squeaked by round one of the handicap finals with a 227-223 win over newcomer Angelina Wallin. Villa was good again in round two, beating Braeden Phillips 238-203. Emily Cheesman, who already had a thrilling day with a 298 game in qualifying, then beat Villa 193-184, to set up the title game.
Top seed Hailey Shepherd, just like fellow "H.S." Harley, blasted a 300 game in the final semifinal game, a thrill for hear and the crowd and first female 300 game in JBT competition in a long time. It also jumped her past her friend Emily for the top spot (+471 to +425!!!). Both girls bowler well in the final, but it was Shepherd coming up with the 253-226 win for her first career JBT title.
Sweigart and SHepherd really cashed in with the perfectos, earning $100 each from Priority Girl and splitting the $400 MSC rolling jackpot, in addition to all the usual 300 game goodies, pushing them both past the $500 earnings mark on the day!
Carpenter's excellent day finished with a win over Cheesman for the Priority Girls Scratch subdivision win.
Big thanks as always to the team at Mira Mesa for hosting us- want in on all this fun and action for all ages and averages? Just check out our schedule and come on down!
Mira Mesa- final results and scholarship winners
6/30/2018
Scratch Division
rank
bowler
prize
1
Harley Sweigart
$575
2
Ryan Perry
$130
3
Ryan Lee
$75
4
Kyle Gilbert
$94
5
Megan Carpenter
$163
6
Marquan Rivers
7
Kyle Duster
8
Garrett Lee
$30
9
Anthony Schanen
10
Jordan Bronson
11
Marc Villalobos
12
Carlos Perez
13
Kyle Reed
14
Ricky Pollom
15
Austin Sugarman
16
Noah Dotterman
17
Zack Long
18
Israel Ramirez
19
Trevyr Geronimo
20
Marco Flores
21
Tim Hill
22
Matthew Carpenter
23
Trevor Thompson
24
Solomon Salama
25
Nolan Am-Khong
26
Costa Gastouniotis
27
Josh Mabry
28
Kaylee Am-Khong
Handicap Division
1
Hailey Shepherd
$573
2
Emily Cheesman
$165
3
Dante Villa
$145
4
Braeden Phillips
$80
5
Angelina Wallin
$70
6
Brandon Lim
$90
7
Ramsis Dessouky
$50
8
Kaitlynn Yukihiro
$40
9
Daniel Hong
$30
10
Raeden Pimentel
$5
11
James McGough
12
Ian Fiel
13
Cyruss Tehrani
$15
14
Justin Phillips Jr
$59
15
Zian Sasaki
$15
16
Zach Greim
$15
17
Travis Miller
18
William Robbins
$15
19
Kyle Perry
$45
20
Clifford Robbins
21
Gavin Holter
$15
22
Silas Phillips
23
Hillari Hampton
$15
24
Ahsley Wilcox
25
Dawson Reese
$14
26
Emily Schrider
27
Elias O'Hollaren
28
Lindsay Greim
29
AJ Ancheta III
30
Gage Baker
31
Maria O'Brien
32
Yairi Lubag
33
Cameron Criss
34
Ryland Gregorich
35
Miya Greene
36
Nathan Chambers
37
Brandon Criss
38
Jazmine Wilson
39
Brian Erickson
40
Yael Salama
41
Katelyn Abigania
42
Theresa Miller
43
Destiny Johnson
44
Joshua Abigania
45
Secilia Kalvelage
46
Aislinn Lubag
47
Theo De La Cruz
High Games
Scratch
Handicap
1
Sweigart 300
Shepherd 340
2
Schanen 286
Cheesman 340
3
G Lee 280
Z Greim 304
4
R Perry 279
Shepherd 296
5
Reed, Meg Carp. 269
Cheesman 289
High Female
1
Meg Carpenter +190*
2
Cheesman +121
3
Shepherd +74
4
Am-Khong -17
5
Wilcox -51
Qualifying Leaders
Scratch
Handicap
1
Meg. Carpenter +190
Cheesman +331
2
Gilbert +185
Shepherd +274
3
Sweigart +143
D Villa +238
U-17
1
Bronson +140
2
Z Greim +147
3
Lee +132
4
Rivers +121
5
C Robbins +59
Round Leaders
Scratch
Handicap
1
R Perry
Shepherd
2
Gilbert
Cheesman
3
Meg. Carpenter
Cheesman
4
Meg. Carpenter
D Villa
5
Meg. Carpenter
Cheesman
6
Gilbert
Cheesman
7
Sweigart
Cheesman
8
Sweigart
Shepherd
Total Awarded This Event: $2,525