MOJAVE DOUBLES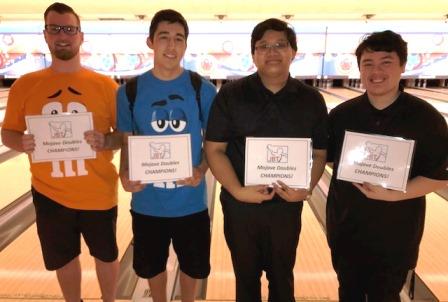 scratch champs Harley Sweigart & Eric Hatchett; handicap champs Jopfel Gafate & Joshua Alcaraz
Three veterans picked up JBT titles, while another won for the first time, in exciting action at the JBT Mojave Doubles, hosted by Texas Station's Texas Star Lanes.
Sergio Torres and Nick Devlin began a star-studded scratch division stepladder finals with a 233-168 win over Skyler McGowan and Brandon Owen. Sergio and Nick then escaped from TJ Rock and Jake Peters when Jake had an unlikely tenth frame open. The Houdini shoe was on the other foot in the next match though, as Kyle Duster (who earlier shot the event's only 300, good for a $100 scholarship bonus from Priority Girl Magazine) and Zack Hattori stopped Torres and Devlin 198-193 to reach the finals.
Top seed Harley Sweigart and Eric Hatchett joined Zack and Kyle for a total of 74 JBT titles on the lanes together in a terrific display of talent. The pair had been stewing over a tenth frame open that cost them a doubles title last year. Vengeance was theirs, as this time Sweigart smashed another strike for a 247-218 win. It's the 29th title for Harley, and Eric ties JD Nance for 14th on the all-time list with his 19th career JBT title.
Clifford Robbins and Kyle Perry were the escape artists in the handicap division finals, as Perry's tenth frame was just enough to edge Cameron and Brandon Criss 204-203. Kyle then doubled in the tenth frame of match two, and it was the difference in a 202-194 win over Crystalene Pineda and Emi Leong. It was happy deja-vu all over again in the semifinals, as Clifford and Kyle squeaked by 10 year-old phenoms Avery Domaguin and Katelyn Abigania 202-198.
Top seeds Jopfel Gafate and Josh Alcaraz had to have figured they'd need a big lead to prevent Perry and Robbins' theatrics from occurring a fourth straight time. They did exactly that, stringing strikes all game long for a 257-213 win over Kyle and Clifford for the win. It was Jopfel's third JBT win, and the first for Alcaraz.
Big thanks to the team at Texas for their usual great job hosting our Tour, and to the adults who took the time to bowl with today's kids. Want in on all the fun? Just come on out to the next JBT event!
Mojave Doubles- final results and scholarship winners
12/2/2017
Scratch Division
rank
bowler
prize
bowler
prize
total
1
Harley Sweigart
$414
Eric Hatchett
$414
2
Kyle Duster
$300
Zack Hattori
$300
3
Sergio Torres
$150
Nick Devlin
$150
4
TJ Rock
$100
Jake Peters
$100
5
Skyler McGowan
$80
Brandon Owen
$80
6
Kyle Reed
Zack Long
7
James Boyce
Talon Hendrickson
8
Samantha Conti
$29
Johnny Petraglia Jr
9
Cerell Cardines
Jeremy Cardines
10
Devyn Patalina
David Galvan
11
Sebastian Huffman
Rob Baer
12
Jerod Walker
Cristian Roque
13
Nolan Am-Khong
Raymond Johnson
14
Joe Gerencser
George Palumbo
15
Kaylee Am-Khong
Kyle Gilbert
$70
$70
16
April McDonnell
Wendy MacPherson
17
Kyle Rendon
Rick Rendon
18
Nolan Sepulveda
Jerry Johnson
19
Josh Harris
Todd Adams
20
Garrett Lee
Mike Lee
Handicap Division
1
Jopfel Gafate
$200
Josh Alcaraz
$200
$400
2
Clifford Robbins
$100
Kyle Perry
$100
$200
3
Avery Domaguin
$80
Katelyn Abigania
$89
$169
4
Crystalene Pineda
$50
Emi Leong
$50
$100
5
Brandon Criss
$40
Cameron Criss
$69
$109
6
William Robbins III
William Robbins II
7
Darren Fletcher
Destiny Johnson
$30
$30
8
Ryland Gregorich
Noel Gregorich
9
Zachary Gonzalez
Silas Phillips
10
Leanna Orlando
Jason Aguon
11
Daryus Alo
Kylie Mogard
12
Caleb Rothstein
Hillari Hampton
$5
$5
13
Jim Ferguson
Tanner Ferguson
$59
$59
14
Connor Steelmon-Hill
Brian Reed
15
Sam Espiritu
Eri Leong
16
Austin Sugarman
Zach Greim
17
Derrick Bollea
Kendall Bollea
18
Ariana Zandi
Vanessa Fuzie
19
Dawson Reese
$29
Alyssa Tucker
$29
20
David Mendoza
Jairo DeAlba
21
Sonny Geronimo
Casey Nagamine
22
Faythe Reid
Hannah Davis
High Games
Scratch
Handicap
1
Duster 300
W Robbins 294
2
McGowan 279
C Robbins 288
3
Reed 279
Emi Leong 282
4
Galvan 278
K Perry 281
5
Sweigart 278
Domaguin 280
Round Leaders
Scratch
Handicap
1
Duster - Hattori
Domaguin - Abigania
2
Duster - Hattori
Gafate - Alcaraz
3
Duster - Hattori
Domaguin - Abigania
4
Sweigart - Hatchett
Domaguin - Abigania
5
Duster - Hattori
Domaguin - Abigania
6
Duster - Hattori
Perry - C Robbins
7
Sweigart - Hatchett
Gafate - Alcaraz
TOTAL AWARDED THIS EVENT: $2,141