NOB HILL BOWL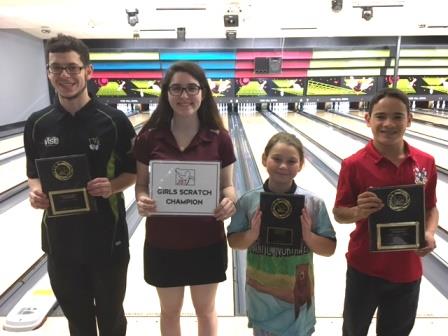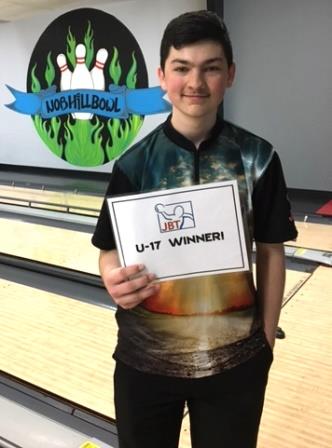 champs Simon Dyck & Justin Herriges with Girls winner Reagan Lorey and runner up Lailani Wallin; U17 winner Hunter Bower
Simon said sweep in the scratch division, while Justin Herriges won his first title, in exciting JBT Pacific Northwest Conference action at Nob Hill Bowl in Yakima.
Dyck, the previous days' champ, was strong again in reaching the title match in the 'super survivor' format, where he faced veteran Jake Mullen. Simon was able to stay in control throughout the finale, winning the match 214-168 for the title. The day before he became the first Canadian to win a JBT title, now he becomes the first Canadian to sweep a weekend!
Ten handicap survivors were carved down to two, where JBT regular Lailani Wallin was looking to join a recent burst of 10-and-under girls to win a JBT title. Another youngster, Justin Herriges, was not in a giving mood however. He had been excellent all day, and he bowled a solid final game to defeat Wallin 219-184, and earn the first JBT title of his career.
Hunter Bower earned the day's U17 win with a 190-178 escape over Alex Perini, while a terrific Priority Girls Scratch title match saw Reagan Lorey edge Olivia Kolppa 228-223 for the win.
Big thanks as always to the team at Nob Hill for hosting us. Want in on all the fun? Just check out our schedule and come on down!
Nob Hill Bowl- final results and scholarship winners
10/29/2017
Scratch Division
rank
bowler
prize
1
Simon Dyck
$250
2
Jake Mullen
$160
3
Jerry Jennings
$90
4
Tyler Boe
$85
5
Aidghan Ziegler
$30
6
Jacob Frazier
7
Hunter Bower
8
Tyler Coates
9
Reagan Lorey
$50
10
Makana Wong
11
Jacob Herriges
12
John Malone
$5
13
Brooklyn Boudreau
14
Brian DeLuisa-Anderson
15
Bradley Baltazar
16
Michael Creel
17
Kyle Adams
Handicap Division
1
Justin Herriges
$200
2
Lailani Wallin
$115
3
Olivia Kolppa
$105
4
Ben Heisler
$60
5
Lohrghan Ziegler
$20
6
Andrew Martin
7
Alex Perini
8
Paul Rosales
$30
9
AJ Hooper
10
Peyton Freund
11
Vincent Oberto
$30
12
Evan Smith
13
Colt Jance
14
Tyler DeLorm
15
Michael Strothman
$25
16
Sara Harris
17
James Herriges
18
Alejandro Moser-Hernandez
19
Hilary Zuniga
20
Bryan Zeutenhorst
21
Aiden Wong
22
Jonathan Lorey
23
Silas LeBlanc
Qualifying Leaders
Scratch
Handicap
1
Jennings +15
Herriges +137
2
Mullen +12
Wallin +99
3
Ziegler -13
Heisler +99
High Games
Scratch
Handicap
1
Ziegler 259
Herriges 307
2
Jennings 256
E Smith 258
3
Dyck 247
Wallin 253
4
Mullen 244
S Harris 253
5
Jennings 236
L Ziegler 250
Girls scratch side event
1
Kolppa -50
2
Lorey -72*
3
Smith -120
4
Boudreau -121
5
Harris -142
U-17 scratch side event
1
Perini -10
2
Bower -37*
3
Frazier -63
4
Coates -63
5
Malone -103
Round Leaders
Scratch
Handicap
1
Mullen
Hooper
2
Ziegler
Hooper
3
Ziegler
Perini
4
Mullen
Herriges
5
Jennings
Herriges
TOTAL AWARDED THIS EVENT: $1,255