PAC NW DOUBLES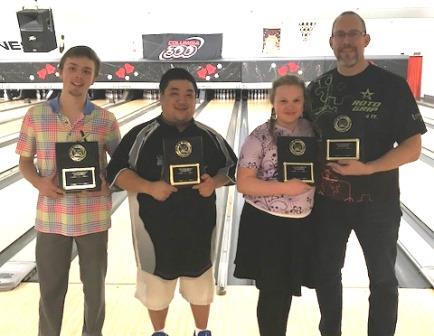 scratch champs Tyler Boe & Kevin Nagasawa; handicap champs Quinn Shaner & Brian Shaner
Persistence paid off for one team, while another won on their first attempt, in exciting action at the JBT Pac NW Doubles Classic, hosted by Hiline Lanes in Burien.
Adult star Scott Halvarson and current points leader Makana Wong opened the scratch division Baker format stepladder finals with a 218-199 win over Jake Mullen an Brian Monnette. Scott and Makana rolled on with a 234-194 win in round two over Brian DeLuisa Anderson and JBT helper and bowling bon vivant Kevin Hong. Tyler Boe and Kevin Nagasawa then beat Halvarson and Wong 243-205 to advance to the title game.
Top seed AJ Schock, one of the great female bowlers in JBT history, teamed with Mike Armstrong Jr, who bowled in JBT's Arizona Conference in its early seasons, teamed up to lead the event. However, Tyler and Kevin, who have partnered in this event for many years, finally put it all together this time. They caught fire for a 279 to beat AJ and Mike (who bowled an excellent 244) and finally capture the doubles title.
The father-son team of Paul and Derek Haight won round one of the handicap finals 171-161 over Ruth Magana and Thomas Favre. Quinn and Brian Shaner then stepped in and beat the Haights 219-178, and followed with a 196-171 win over Alejandro Moser-Hernandez and Barb Demorest to reach the title match.
Paul Rosales teamed up with Nick Bruketta, making a return to JBT, to earn the top seed. In a well bowled title game, Quinn and Brian beat Nick and Paul 206-201, to earn the title in their rookie attempt.
Big thanks to the team at Hiline for hosting us, as well as all the adults who took time out of their day to bowl with today's outstanding kids. Want in on the fun? Just spread the word and bowl the next JBT event!
Pac NW Doubles- final results and scholarship winners
12/2/2017
Scratch Division
rank
bowler

prize

bowler
prize
total
1
Tyler Boe
$612
Kevin Nagasawa
$612
2
AJ Schock
$200
Mike Armsrong Jr
$200
3
Makana Wong
$150
Scott Halvarson
$150
4
Brian DeLuisa-Anderson
$100
Kevin Hong
$100
5
Brian Monnette
$165
Jake Mullen
$50
$215
6
Reagan Lorey
Ryan Nikolas
7
Aidghan Ziegler
Dean Buchannon
8
Simon Dyck
Kyle Adams
9
Carlos Serrano
Greg Miller
10
Tommie McNeal
Bradley Baltazar
11
Brian Yoke
Brooklyn Boudreau
12
Donovan Grubaugh
Isaac Mailkoff
13
Peter Davis
Collins Davis
14
Kenny Burnside
Jayden Burnside
15
Kyle Jonson
Joe Leingang
16
Payton Edwards
Andy Herrmann
17
Andrw Martin
Robert Kelley
18
Jacob Frazier
Hunter Bower
19
Holden Childs
Cindy Farquhar
20
Logan Setera
Lowell Lovgren
21
Andi Valdez-Hicks
Ron Hicks
22
Andrew Robb
Marty Lee
Handicap Division
1
Brian Shaner
Quinn Shaner
$400
$400
2
Paul Rosales
$125
Nick Bruketta
$125
$250
3
Alejandro Moser-Hernandez
$205
Barb Demorest
$205
4
Derek Haight
$150
Paul Haight
$150
5
Thomas Favre
Ruth Magana
$100
$100
6
Todd Strothman
Michael Strothman
$80
$80
7
Evan Smith
Sam Neves
8
Lailani Wallin
Payton Bower
9
Peyton Freund
Tyler Freund
10
Dyana Perkins

$15

Cedrick Scott

$15

11
Dan Fox
Nick Fox
12
Olivia Kolppa
Carl Nichols
13
Alex Anthony
Kellen Anthony
14
Preston Craig
Duncan Whitaker
15
Colt Jance

$99

Gary Carter

$99

16
Isaac Richardson
Lohrghan Ziegler
17
Michael Strothman*
Tyler DeLorm
18
John Malone
Vincent Oberto
19
Kaylie Wilcox
Anna Gatlin
20
Piper Chalmers
$5
Cassandra Chalmers
$5
21
Cosmo Castellano
Mateo Segura
22
Justice Dillman
Alan Dillman
23
Quinton Miller
Bryan Zeutenhorst
24
Danny Chalmers
Chad Chalmers
25
Skip Wong
Aiden Wong
26
Hunter Setera
Mike Monroe
27
Vianne Daniels
$5
Martin Daniels
$5
28
David Johnosn
Lucille Johnson
29
Tanner Spacey
Piper Chalmers*
$5
$5
30
Khalid Hassanein
Robert Melton
31
Sierra Stoner
Lane Hill
32
Jonathan Lorey
Richard Lorey
High Games
Scratch
1
Monnette 269
2
G Miller 268
3
Boe 266
4
A Ziegler 258
5
DeLuisa-Anderson 250
Handicap
1
Fox 265
2
Bruketta 263
3
Fox 255
4
Shaner 253
5
Magana, Jance 252
Qualifying Leaders
Scratch
1
Monnette-Mullen +177
2
Boe-Nagasawa +106
3
DeLuisa-Anderson-Hong +83
Handicap
1
Moser-Hernandez-Demorest +54
2
Shaner-Shaner +54
3
Favre-Morgan +48
Round Leaders
Scratch
1
Monette-Mullen
2
Monette-Mullen
3
Boe-Nagasawa
4
Monette-Mullen
5
Wong-Halvarson
6
Schock-Armstrong
7
Schock-Armstrong
Handicap
1
Wallin-Bower
2
Wallin-Bower
3
Shaner-Shaner
4
Shaner & Moser-Demorest
5
Rosales-Bruketta
6
Rosales-Bruketta
7
Rosales-Bruketta
TOTAL AWARDED THIS EVENT: $2,572