STRIKE GOLD LANES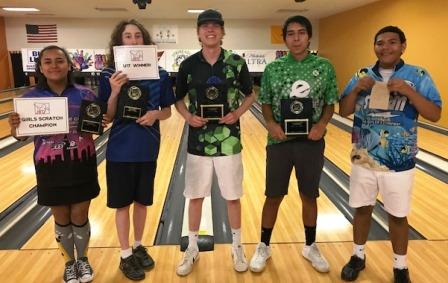 champs Zach Wojciechowski & Eric Gauna with Yarelis Alvarez, Deo Benard, Donius Jeffries
Zach Wojciechowski and Eric Gauna captured JBT titles in terrific NM-TX Conference action at Strike Gold Lanes.
Deo Benard won round one of the scratch division stepladder finals 213-171 over Blayne Hurst. In a back and forth semifinal, Benard struck in the tenth for a 213-195 win over Daniel Hall in the semifinal.
Top seed Zach Wojciechowski completely lapped the scratch field, but you have to 'win the tournament twice' in a stepladder format. He had no issues doing just that, parlaying some good early breaks into a 247-212 win over Benard. With the win he becomes just the 42nd player in JBT history to amass 10 JBT titles- congrats!
Michael Jamael defeated Luis Garcia 205-186 to begin the handicap division stepladder finals. Gauna then stopped Jamael 231-206 to advance to the title game.
Lauren Jaramillo had been brilliant all day in getting the top seed, but struggled to strike in the title game. She stayed clean though, forcing a mark from Eric in the tenth. Gauna struck on his first shot and ended a long search for his first JBT title with a 206-196 win over Lauren.
Jaramillo also appeared in the Priority Girls Scratch title game, but Yarelis Alvarez came up with that win, 181-159, for her first Girls Scratch win. U17 went to Benard, who rolled by Donius Jeffries in that final.
Big thanks to Edward Romero and the team at Strike Gold for another great job hosting our Tour. Want in on all the fun? Just check out our schedule and come on down!
Strike Gold Lanes- final results and scholarship winners
4/28/2018
Scratch Division
rank
bowler
prize
1
Zach Wojciechowski
$292
2
Deo Benard
$185
3
Daniel Hall
$85
4
Blayne Hurst
$64
5
Jonah Seawright
$30
6
Donius Jeffries
7
Will Davis
$14
8
David Jepsen
9
Chris Ortega
10
Nathaniel Duran
11
Noah Martinez
12
Aileen Linares
13
Christian Apolonio
14
Bernadette Davis
15
Brandyn MacPhee
Handicap Division
1
Eric Gauna
$214
2
Lauren Jaramillo
$182
3
Michael Jamael
$60
4
Luis Garcia
$40
5
Yarelis Alvarez
$80
6
Kloey Kielich
7
Kallista Fritts
8
Clifford Robbins
$43
9
Christopher Bennett
$45
10
John Green
11
Jay Heffer
12
Justin Weddige
13
Alex Harmon
$14
14
Faith Pinter
15
Taylor Herson
16
Alex Thompson
17
Jayden Martinez
18
Michael Newlon
$19
19
Gerilynn Delegarito
20
Angela Romero
21
Montana Cdebaca
$28
22
Josie Herson
23
Tylor MacPhee
$14
24
Toby Cdebaca
$30
25
Carlos Estrada
26
William Robbins
$5
Qualifying Leaders
Scratch
Handicap
1
Wojo +207
Jaramillo +107
2
Benard +164
Gauna +95
3
Hall +144
Garcia +92
High Games
Scratch
Handicap
1
Hall 278
Jaramillo 265
2
Wojo 277
Weddige 263
3
Wojo 277
Garcia 257
4
Benard 259
Gauna 254
5
Hall 257
C Robbins 250
Girls Scratch side event
1
Jaramillo +62
2
Alvarez -43*
3
Fritts -46
4
Linares -108
5
Cdebaca -151
U-17 scratch side event
1
Benard +164
2
Jeffries +47
3
Garcia +72
4
C Robbins +11
5
W Davis +9
Round Leaders
Scratch
Handicap
1
Wojo
C Robbins
2
Wojo
Gauna
3
Wojo
Gauna
4
Wojo
Garcia
5
Wojo
Jaramillo
6
Wojo
Jaramillo
7
Wojo
Jaramillo
8
Wojo
Jaramillo
TOTAL AWARDED THIS EVENT: $1,430