RED ROCK LANES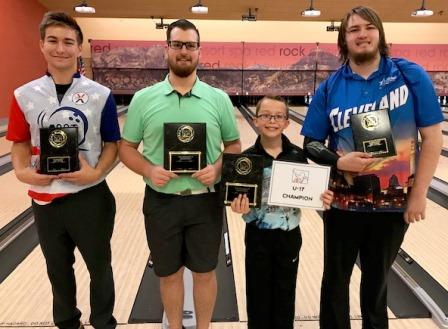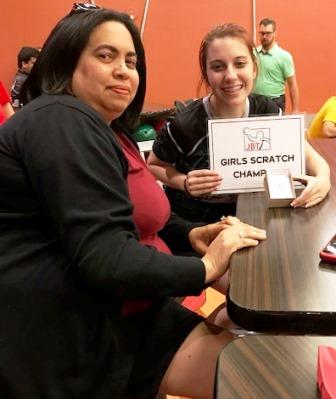 champs Harley Sweigart & Sebastian Huffman with Jarrod Scents and Austin Sugarman; Girls Scratch winner Leanna Orlando with Priority Girl's Corine Hampton
Harley Sweigart and Sebastian Huffman opened up the 2017-18 JBT Mojave Conference season with exciting wins at Red Rock Lanes.
Jarrod Scents began a climb up the scratch division stepladder finals with a 223-191 win over Sergio Torres. Scnets then defeated fellow teammate Andrew Hall to advance to the title game. Top seed Harley Sweigart is off to a fast start in the new season in multiple conferences, and he staked his claim to the Mojave early lead by dominating the event here, including a 227-191 title match win over Jarrod, good for the 26th title of his JBT career.
Tanner Ferguson has been on fire since the new season started, with back to back finals in So Cal, and he kept it up in Vegas, winning round one of the handicap division stepladder 241-214 over Samantha Conti. Ferguson fired another excellent game, a 238, in round two, but was finally halted by somebody even hotter, 10 year-old Sebastian Huffman, who blasted 296 with handicap to move on.
Huffman's numbers would have led most other JBT events by a considerable margin, but 21 year-old Austin Sugarman also picked today to have a career day, firing his first ever 300 game en route to jumping Huffman for the top seed. The title match was up for grabs until the very end, when an unfortunate tenth frame foul from Sugarman gave Sebastian the room he needed for a 231-206 win, and the first of what may be many JBT titles to come for the talented youngster.
Austin's 300 was good for a $300 bonus from Priority Girl Magazine, who also awarded, as they do every event, $50 to girls scratch winner Leanna Orlando, who beat Conti 223-158. Samantha earned a $25 bonus for the runner-up spot. Huffman completed his dream day with a win in the U17 subdivision, beating Kyle Rendon 257-225 (that's scratch!), making him by far the youngest winner in the brief history of the U17 event.
Big thanks to the team at Red Rock for their usual great hosting job. Over $1,900 was awarded to all ages and averages- want in on the fun? Just check out our schedule and come on down!
Red Rock- final results and scholarship winners
10/7/2017
Scratch Division
rank
bowler
prize
1
Harley Sweigart
$279
2
Jarrod Scents
$164
3
Andrew Hall
$75
4
Sergio Torres
$64
5
Sam Espiritu
$30
6
Kyle WIlson
7
Joe Gerencser
8
Tim Hill
9
KJ Martinez
$14
10
Kyle Gilbert
11
Kyle Rendon
12
Skyler McGowan
13
Trevyr Geronimo
14
Garrett Lee
15
Matt Zweig
16
Josh Fearing
17
Kyle Reed
18
Zack Long
19
Devyn Patalina
20
Kaylee Am-Khong
21
Joshua Mabry
22
Nolan Am-Khong
23
Cristian Roque
24
David Galvan
25
Dominic Olivares
26
Daryus Alo
27
Phillip Sauve
Handicap Division
1
Sebastian Huffman
$250
2
Austin Sugarman
$560
3
Tanner Ferguson
$75
3
Samantha Conti
$75
5
Alexiz Bustamante
$40
6
Anthony Prevetti
$30
7
Dylan Mamer
$20
8
Anthonie Pilcher-Zannone
$25
9
Lexi Cassman
10
Gavin Holter
11
David Jepsen
12
Leanna Orlando
$50
13
Josue DeAlba
14
Brandon Criss
$30
15
Mark Sauve
$15
16
Lindsay Greim
17
Ruben Mendoza
18
Tyler Hedges
19
Jopfel Gafate
20
Jason Aguon
21
Katie Kipler
22
Cameron Criss
23
Elijah Melchor'
24
Brett McEachern
25
Zachary Gonzalez
26
Zach Greim
27
Dawson Reese
28
Joshua Harris
29
Chris Hill
30
Clifford Robbins
$100
31
Zkyi Arevalo'
32
Kendall Bollea
$5
33
Ashton Holladay
34
Adrian Yamanoha
35
Gage Baker
36
Bryan Aguon
37
Afton Lords
38
Dillon O'Neil
39
Hillari Hampton
40
William Robbins
41
David Mendoza
High Games
Scratch
Handicap
1
Sweigart 279
Sugarman 324
2
Hall 275
Huffman 298
3
Hall 268
Huffman 296
4
Rendon 267
Prevetti 295
5
Sweigart 260
Sugarman 289
High Female
1
Orlando +22
2
Conti +2
3
Am-Khong -55
4
Bustamante -95
5
Kipler -141
Qualifying Leaders
Scratch
Handicap
1
Sweigart +169
Huffman +252
2
Espiritu +126
Sugarman +207
3
Torres +120
Orlando +177
U-17
1
Huffman +97
2
Rendon +54
3
Jepsen +50
4
Ferguson +39
5
McGowan +17
Round Leaders
Scratch
Handicap
1
Sweigart
Huffman
2
Sweigart
Huffman
3
Torres
Huffman
4
Sweigart
Huffman
5
Sweigart
Huffman
6
Sweigart
Sugarman
7
Sweigart
Sugarman
8
Sweigart
Sugarman
Total Awarded This Event: $1,901