RED ROCK LANES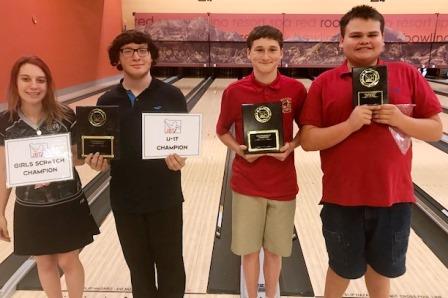 champs Skyler McGowan and Anthony Prevetti with Girls winner Leanna Orlando and handicap finalist Dylan Mamer
Skyler McGowan and Anthony Prevetti won their first career JBT titles in exciting Mojave Conference action at the beautiful Red Rock Lanes.
After five games of surprisingly high scoring qualifying, bowlers moved on to head to head matchplay. That can be a cruel challenge, and it proved so to the top scratch seeds, as #1 Chris Tucker, who led by a wide margin, and #2 Cerell Cardines, both fell in round one. That opened up the top half of the bracket for #9 Andrew Guba, who struck in the tenth to beat Andrew Hall in one semifinal, and #10 McGowan, who got past David Galvan in the other semi, to both reach their first career scratch title matches.
Scores were a bit lower in the title game, which is not unusual for rookie finalists, and in the end McGowan put it together for a 203-186 win and first career JBT victory.
In the handicap bracket, form held exactly in round one with all 8 top seeds advancing, a significant rarity. Form then excused itself for the day, as the second round saw #8 Zach Greim upset top seed Dylan Mamer, #5 Prevetti stop #4 Leanna Orlando, and #6 Jason Aguon beat #3 Peter Ruiz, with #2 Dawson Reese's win over #7 Josh Alcaraz the only higher seed to win.
Reese then beat Aguon and Prevetti rolled past Greim to set up the title match. Dawson was looking to get past the TPC title match loss from a few months ago in Vegas, but newcomer Prevetti would not allow that. Anthony won the final game 224-211 for his first career JBT title.
Orlando swept the Priority Girls Scratch subdivision on the weekend, this time beating Kaylee Am-Khong 227-175 for the day's win. McGowan wrapped up his dream day with a win over Garrett Lee in the U17 subdivision.
The bowlers and parents of JBT were honored to make a $424 contribution to the Las Vegas Victims fund, in solidarity with our Vegas families who have gone through a very difficult week.
Over $3,500 in scholarships were awarded just this weekend alone- want in on the fun? Just check out our schedule and come on down, that's all there is to it!
Red Rock- final results and scholarship winners
10/8/2017
Scratch Division
rank
bowler
prize
1
Skyler McGowan
$250
2
Andrew Guba
$125
3
Andrew Hall
$100
4
David Galvan
$75
5
Josh Mabry
$50
6
Garrett Lee
$40
7
Nolan Am-Khong
$30
8
Devyn Patalina
9
Chris Tucker
$74
10
Cerell Cardines
11
Sergio Torres
$15
12
Zack Long
$15
13
Tim Hill
$30
14
Matt Zweig
15
Harley Sweigart
$15
16
Kyle Wilson
17
Kaylee Am-Khong
$25
18
Kyle Reed
19
Jarrod Scents
20
Tanner Ferguson
21
Trevyr Geronimo
22
David Jepsen
23
Dominic Olivares
24
Caleb Andrews
25
Kyle Gilbert
26
Austin Sugarman
27
KJ Martinez
28
Sam Espiritu
29
Cristian Roque
30
Phillip Sauve
31
Deo Benard
32
Josh Fearing
$15
33
Kyle Rendon
34
Brandon Duffy
35
David Schneider
36
April McDonnell
37
Daryus Alo
Handicap Division
1
Anthony Prevetti
$200
2
Dawson Reese
$125
3
Jason Aguon
$75
3
Zach Greim
$80
5
Dylan Mamer
$40
6
Peter Ruiz
$30
7
Leanna Orlando
$50
8
Josh Alcaraz
9
Gavin Holter
10
Brandon Criss
$30
11
Lexi Cassman
12
Katie Kipler
$15
13
Hillari Hampton
$30
14
Chris Hill
$45
15
Anthonie Pilcher-Zannone
16
Joshua Harris
17
Cameron Criss
$15
18
Gage Baker
19
Sebastian Huffman
20
Zachary Gonzalez
21
Noel Gregorich
22
Silas Phillips
23
Josue DeAlba
24
Ruben Mendoza
25
Adrian Yamanoha
26
Samantha Conti
$10
27
William Robbins
28
Elijah Melchor
29
Mark Sauve
30
Clifford Robbins
31
Kendall Bollea
32
Afton Lords
33
Lindsay Greim
$10
High Games
Scratch
Handicap
1
Guba 279
Alcaraz 286
2
Galvan 278
Alcaraz 280
3
Wilson 276
Mamer 262
4
Mabry 269
Holter 262
5
Lee, Cardines 268
Aguon, Ruiz 260
High Female
1
Am-Khong +55
2
Orlando +2*
3
Vonti -75
4
Cassman -110
5
Kipler -116
Qualifying Leaders
Scratch
Handicap
1
Tucker +212
Mamer +150
2
Cardines +204
Reese +114
3
Mabry +157
Ruiz +111
U-17
1
G Lee +141
2
McGowan +141
3
Guba +113
4
Am-Khong +79
5
Patalina +73
Round Leaders
Scratch
Handicap
1
Mabry
Melchor
2
Tucker
P Ruiz
3
Tucker
Mamer
4
Tucker
Mamer
5
Tucker
Mamer
Total Awarded This Event: $1,614