TOURNAMENT of CHAMPIONS & FUTURE CHAMPS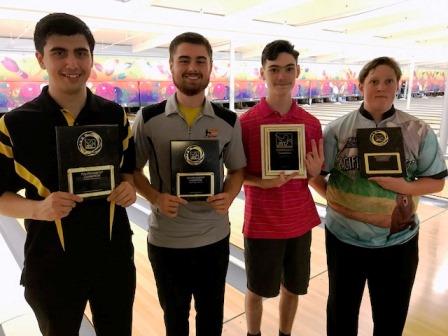 T of C champs Ryan Nikolas & Tyler DeLorm (center); T of Future C champs Donovan Grubaugh & Michael Strothman
Ryan Nikolas and Tyler DeLorm picked up right where they left off last season, while Donovan Grubaugh and Michael Strothman are future-champs-no-more, in exciting action to kick off the 22nd season of the Junior Bowlers Tour, at Secoma Lanes.
Tyler Coates, last season's handicap Bowler of the Year, began the scratch champions stepladder with a 224-199 win over Bradley Baltazar, another bowler making the move from handicap to scratch. Tyler Boe has been bowling scratch for a long time, and the veteran took charge with a 289-226 win over Coates to advance to the title game.
Top seed Ryan Nikolas was dethroned by Andy Herrmann for Bowler of the Year last season, and seems to be on a mission to avenge that early on. Both bowlers were locked in, but it was Nikolas who strung them the most, beating Boe 267-255 for the 16th title of his JBT career.
Isaac Richardson opened the handicap champs' stepladder with a 173-156 win over Aidghan Ziegler. Grubaugh then won a low scoring battle with Richardson 150-116 to move on to the title game. Makana Wong showed he's been working hard over the summer, grabbing the top seed, but he too struggled in the finale, while Grubaugh made a great set of adjustments and caught fire, winning the match 242-156 for the first title of his JBT career.
The handicap future champs' ladder began with Michael Strothman beating Ruth Magana 247-222. Strothman stayed sharp in a 202-179 win over Andrew Martin in the semis to advance to the title game. Top seed Maroun Rouhana led a contingent of British Columbia bowlers by gaining the top seed, but could not get locked in in the last game. Strothman completed his ladder climb with a 238-197 win over Rouhana to win his first career JBT title.
Last season's Rookie of the Year Tyler DeLorm showed veteran form in the handicap champs' stepladder, beating Bryan Zeutenhorst 210-201 in round one, and Alejandro Moser-Hernandez 193-175 in the second round. Facing his buddy Payton Edwards in the final match, neither bowler could get a big lead against the other. DeLorm's tenth frame was just enough to lock out Edwards, and the 186-185 final tally was good for the second JBT title of DeLorm's career.
The road to the 2018 TPC has begun! If you want to be part of all we offer, just come on down!
Tournament of Champions- final results and scholarship winners
8/26/2016
Scratch Division
rank
bowler
prize
1
Ryan Nikolas
$295
2
Tyler Boe
$185
3
Tyler Coates
$75
4
Bradley Baltazar
$50
5
Jerry Jennings
$25
6
Brian DeLuisa-Anderson
$23
7
Jacob Mullen
$23
8
Hunter Bower
9
Michael Creel
10
Reagan Lorey
$50
11
Andy Herrmann
Handicap Division
1
Tyler DeLorm
$300
2
Peyton Edwards
$100
3
Alejandro Moser-Hernandez
$50
4
Bryan Zeutenhorst
$30
5
Evan Smith
$20
6
Tyler DeNune
7
Olivia Kolppa
8
Jonathan Lorey
9
Sara Harris
High Games
Scratch
Handicap
1
Nikolas 299
Zeutenhorst 236
2
Boe 289
DeLorm 231
3
DeLuisa-Anderson 278
Denune 230
4
Nikolas 267
Edwards 230
5
Coates 259
DeLorm 228
Round Leaders
Scratch
Handicap
1
DeLuisa-Anderson
Kolppa
2
DeLuisa-Anderson
DeLorm
3
DeLuisa-Anderson
DeLorm
4
Boe
Zeutenhorst
5
Boe
DeLorm
6
Nikolas
DeLorm
7
Nikolas
Edwards
8
Nikolas
Edwards
Tournament of Non-Champions- final results and scholarship winners
6/14/2017
Scratch Division
rank
bowler
prize
1
Donovan Grubaugh
$250
2
Makana Wong
$125
3
Isaac Richardson
$75
4
Aisghan Ziegler
$50
5
Brooklyn Boudreau
$55
6
Jacob Frazier
$10
7
Collin Young
8
Simon Dyck
9
John Malone
10
Kyle Adams
$5
11
Mark Rouhana
12
Duncan Whitaker
13
Andi Valdez-Hicks
Handicap Division
1
Michael Strothman
$200
2
Maroun Rouhana
$100
3
Andrew Martin
$50
4
Ruth Magana
$30
5
Paul Rosales
$20
6
Lailani Wallin
7
Aiden Wong
8
Silas Le Blanc
9
Mikayla Bumpus
10
Adam Jodoin
High Games
Scratch
Handicap
1
Grubaugh 242
Rouhana 292
2
Richardson 241
Rouhana 250
3
Ziegler 236
Oberto 249
4
Frazier 236
Magana 248
5
Adams 233
Strothman 247
Whitaker 233
Round Leaders
Scratch
Handicap
1
Ziegler
Strothman
2
Whitaker
Strothman
3
Boudreau
Strothman
4
Frazier
Magana
5
Frazier
Magana
6
Ziegler
Martin
7
Ziegler
Rouhana
8
Wong
Rouhana
Girls Scratch side event
1
Boudreau -45
2
Lorey -120*
3
Magana -141
4
E Smith -160
5
Hicks -168
U-17 scratch side event
1
Frazier +16*
2
DeLuisa-Anderson -30
3
Coates -41
4
Baltazar -70
5
A Martin -86
Total Awarded This Event: $2,166