STARLITE LANES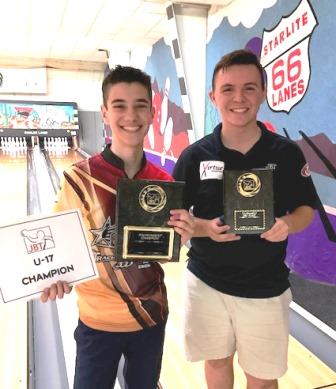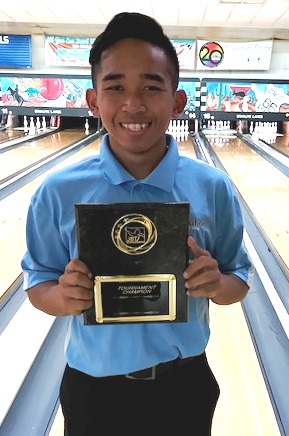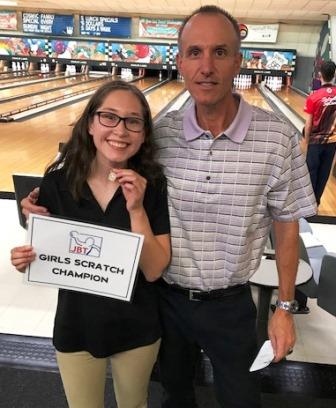 scratch champ Solomon Salama, U17 and handicap runner-up Joshua Molloy, handicap champ Shawn Seng Jr, Girls Scratch winner Stefanny Toala & Starlite GM Dale Schnell
Solomon Salama put an exclamation point on an exemplary weekend, while Shawn Senr Jr survived a high scoring handicap field, in exciting JBT Arizona Conference action at Starlite Lanes in beautiful Flagstaff.
Bowlers in both divisions competed in the super-survivor format, with the low game and the low total(s) eliminated game by game until only the winner stands. Fourteen scratch survivors were carved down to three, and in that round, Lucas Rabb bowed out in third, his high scratch finish, with a 183, while previous day's finalists Salama (268) and Keith Fung (225) made it a rematch for the title. The day before, it was Fung with the better look in the finale, but this time Solomon opened with the big string- and never stopped. Keith could only watch and admire as the diminutive one demolished rack after rack, before, just like on TV this summer, a stubborn 9-count on the final ball denied perfection. The 299-168 final score was good for an ovation from the crowd, as well as his third career JBT title.
Scores were as high as the Flagstaff altitude in handicap, and by the time the survivors were carved down to four, Darren Fletcher found himself in last at +235, but only eleven pins behind leader Abby Franklin at 246. In the resulting penultimate game, Franklin bowed out with a "low" game of 222, while Fletcher couldn't make up the ground and was eliminated with "low" total at +263.
That left Joshua Molloy and Shawn Seng Jr as the remaining survivors, and in the ensuing match, Molloy, who had been brilliant all day, started slowly, and despite a comeback could not catch up to Seng, who remained strong throughout for the win and second career JBT title.
Molloy got another crack at a win on the day in the U17 subdivision, but he suffered the same fate as every single other person who has faced Solomon in that event, as Salama won that game for his 12th straight U17 win against zero losses! The Priority Girls Scratch title game started slowly but turned into a classic, as Abby Franklin threw a clutch double in the tenth to force Stefanny Toala to do the same. Stefanny was up to the challenge, throwing two perfect shots for a 175-170 win and her second consecutive girls' win to open the new season.
Huge thanks to Ron, Dale, and the team at Starlite for a great job hosting one of our favorite weekends. Want in on this fun for all ages and averages? Just check out our schedule and come on down!
Starlite Lanes- final results and scholarship winners
9/17/2017
Scratch Division
rank
bowler
prize
1
Solomon Salama
$305
2
Keith Fung
$125
3
Lucas Rabb
$75
4
Deo Benard
$64
5
Austin Muldoon
$30
6
Marc Villalobos
$20
7
John Newton
8
Alex Seng
9
Rashaad Jordan
10
Andrew Hall
11
Kyle Reed
12
Chris Ortega
13
David Jepsen
14
Matt Zweig
15
Kyle Gilbert
16
Matthew Garrett
17
Jarrod Scents
18
Josh Fearing
19
Dante Rohe
20
Ryan Perry
21
Christian Apolonio
22
Cristian Roque
23
Jacob Merki
24
Angel Ortega
25
Harley Sweigart
$30
26
Stefanny Toala
$50
27
Mathew Adragna
28
KJ Martinez
29
Phillip Sauve
30
Aileen Linares
31
Josh Mabry
Handicap Division
1
Sean Seng Jr
$200
2
Josh Molloy
$100
3
Abby Franklin
$127
4
Darren Fletcher
$40
5
Ryan Zent
$44
6
Hayden Hull
$20
7
Andrew Thomas
8
Tyler Hedges
9
Luis Garcia
10
Dawson Reese
$14
11
Justin Worthington
12
James Wilson
13
Keith Ylvisaker
14
William Robbins
15
Mark Sauve
16
Silas Phillips
17
Joshua Williams
18
Destiny Johnson
19
Kyle Perry
20
melia Mosley
21
Kaleb Hoyum
22
Gavin Holter
$5
23
Baylee now
24
Lexi Cassman
25
CJ Todeschi
26
John Green
27
Kendall Bollea
$5
28
Clifford Robbins
29
Yael Salama
Qualifying Leaders
Scratch
Handicap
1
Salama +206
Molloy +229
2
Fung +127
Zent +171
3
Rabb +102
Fletcher +166
High Games
Scratch
Handicap
1
Salama 299
Franklin 290
2
Salama 279
Thomas 285
3
A Seng 278
Molloy 284
4
Rabb 264
Molloy 283
5
Zweig, Salama 260
Ylvisaker 283
Girls Scratch side event
1
Toala -60*
2
Franklin -78
3
Johnson -113
4
Linares -128
5
Mosley -128
U-17 scratch side event
1
Salama +206
2
Molloy +84
3
Benard +79
4
Jepsen +36
5
A Seng +32
Round Leaders
Scratch
Handicap
1
Salama
Molloy
2
Salama
Molloy
3
Salama
Molloy
4
Salama
Molloy
5
Salama
Molloy
TOTAL AWARDED THIS EVENT: $1,254