SUNCOAST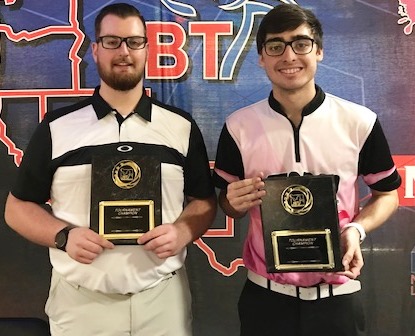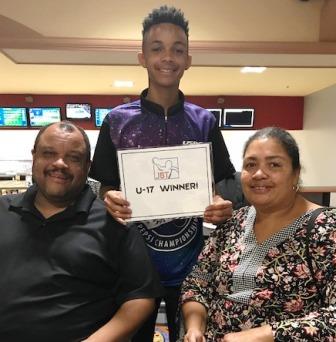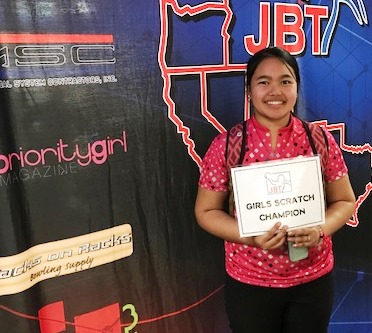 champs Harley Sweigart & Justin Worthington; Cameron Criss; Kaylee Am-Khong
Harley Sweigart and Justin Worthington picked up JBT titles in exciting Mojave Conference action at Suncoast Bowling Center in Las Vegas.
After a fairly high scoring qualifying round, bowlers competed in double elimination matchplay. #3 seed Sweigart tore through the winners bracket to earn the top seed, while everyone else had to fight for their tournament lives with one loss. Solomon Salama, who earlier fired a perfect 300 game to open the day, eliminated Skyler McGowan in round five. Sergio Torres then eliminated Salama to earn the right to once again face Sweigart, who knocked him out of the winner's bracket, for the title.
Sergio had to beat Harley twice for the title, and despite a solid game from Torres, Sweigart found a great look with his A game and left no doubt, shredding racks en route to the win, and the 24th title of his JBT career.
Sixteen matchplay bowlers in handicap were led by top seed Elijah Mechor, who fell in round three of the winner's bracket to Justin Worthington, who went on to win the bracket and earn the top spot. Cameron Criss ended Melchor's day with a win in round five. Cameron then followed with a win over Tyler Hedges to face Worthington, where he'd have to win twice to take the title. It sure looked like the match was going to go to that second game, but late opens from Criss and a late string from Justin turned the first game in an instant, as Worthington eeked out that match and won the title, the second of his JBT career.
Cameron got some consolation with a win over Salama to earn the day's U17 subdivision crown. Priority Girls Scratch went to Kaylee Am-Khong, who is piling up the wins lately, this time beating Crystalene Pineda for the title.
Big thanks to the team at Suncoast for another great job hosting our Tour. Want in on all this fun for all averages and ages? Just check out our schedule and come on down!
Suncoast- final results and scholarship winners
4/14/2018
Scratch Division
rank
bowler
prize
1
Harley Sweigart
$353
2
Sergio Torres
$125
3
Solomon Salama
$75
4
Skyler McGowan
$50
5
Kyle Reed
$30
6
Joe Gerencser
7
Kaylee Am-Khong
$50
8
Ruben Mendoza
9
Deo Benard
10
Jopfel Gafate
11
Tim HIll
12
Kyle Gilbert
13
Devyn Patalina
14
Dominic Olivares
15
Jazelle Lampkin
16
April McDonnell
17
David Galvan
18
Kyle Rendon
19
Clifford Baltazar
20
Trevyrn Geronimo
21
Olivia Lampkin
Handicap Division
1
Justin Worthington
$200
2
Cameron Criss
$130
3
Tyler Hedges
$90
3
Elijah Melchor
$60
5
Darren Fletcher
$50
6
AJ Imperial
$40
7
Savanna Orlando
$30
8
Josh Williams
$20
9
Zachary Gerstenkorn
$20
10
Crystalene Pineda
$25
11
Clifford Robbins
$45
12
Simon Ortega
$15
13
Brandon Criss
14
Faythe Reid
15
Alayna Purdy
16
Dylan Mamer
17
Emily Cheesman
$14
18
Josh Alcaraz
19
Silas Phillips
20
Yael Salama
21
William Robbins
$30
22
Justin Phillips
$15
23
Brett McEachern
24
Kendall Bollea
25
Connor Steelmon-Hill
26
Zach Greim
27
Dawson Reese
$30
28
Zachary Gonzalez
29
Lindsay Greim
30
Payton Workman
31
Sebastuan Huffman
32
Samantha Conti
33
Anthony Prevetti
34
Tanner Ferguson
$10
35
Gavin Holter
36
Leanna Orlando
37
Kyle Perry
High Games
Scratch
Handicap
1
Salama 300
Melchor 297
2
Sweigart 279
Reid 295
3
Sweigart 267
Fletcher 286
4
Reed 262
Worthington 285
5
Salama 258
Ortega 270
High Female
1
Am-Khong +102
2
Pineda -15
3
J Lamkpin -100
4
Purdy -123
5
McDonnell -129
Qualifying Leaders
Scratch
Handicap
1
Reed +220
Melchor +193
2
Salama +170
C Criss +140
3
Sweigart +166
Gerstenkorn +136
U-17
1
Salama +170
2
Criss +25
3
R Mendoza +25
4
Benard +14
5
C Robbins -14
Round Leaders
Scratch
Handicap
1
Salama
C Robbins
2
Reed
Pineda
3
Reed
Pineda
4
Reed
Melchor
5
Reed
Melchor
Total Awarded This Event: $1,487