SUNCOAST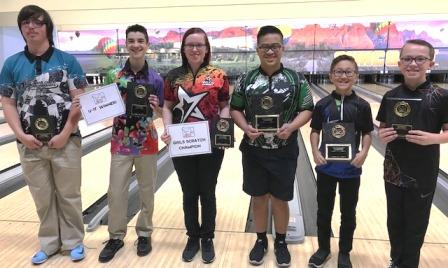 champs Cerell Cardines & Tyler Hedges with Caleb Andrews, Solomon Salama, April McDonnell, Sebastian Huffman
Cerell Cardines joined an elite club, while Tyler Hedges rejoined the winners circle, in terrific JBT Mojave Conference action at Las Vegas' Suncoast Bowling Center.
Caleb Andrews began the scratch division stepladder finals with a 184-169 win over April McDonnell. Joe Gerencser then snuck by Andrews 199-190. Solomon Salama then strung the strikes in a 247-187 win over Gerencser to advance to the title match.
Top seed Cardines and Solomon, two of the younger scratch powerhouse stars Tour-wide, have faced each other a lot lately, with Salama often getting the better of it. This time, though, Cerell would not be denied. His devastating strike ball did the damage in a 247-187 win for the title. With the win he becomes just the 41st bowler in JBT history to earn 10 career titles- awesome!
Tyler Hedges took some time off Tour to regroup, and came back with a vengeance here, and impressive climb up the handicap stepladder, beginning with a tenth frame double to edge Lindsay Greim 223-219. He kept rolling with a 223-181 win over Silas Phillips, and then won another thriller against William Robbins 235-219 to advance to the title game.
Top seed Sebastian Huffman put on a resurgent performance of his own, as the youngster had cooled down a bit since a red-hot start to the season. That wasn't the case here as he was brilliant all day, striking his way to the top spot. In another well bowled and exciting match, Hedges pulled out a 231-221 win, good for the fifth title of his JBT career.
McDonnell's excellent day concluded with a win over Kaylee Am-Khong to earn the Priority Girls Scratch subdivision win. U17 went to Salama, who regrouped for a win over Andrews for that crown.
Big thanks as always to Becky, Chad, and the team at Suncoast for a top notch hosting job. Want in on all the fun and action for all ages and averages? Just come on out to our next JBT event, that's all you have to do!
Suncoast- final results and scholarship winners
4/14/2018
Scratch Division
rank
bowler
prize
1
Cerell Cardines
$250
2
Solomon Salama
$167
3
Joe Gerencser
$75
4
Caleb Andrews
$50
5
April McDonnell
$80
6
Kyle Rendon
7
David Galvan
8
Kyle Reed
$10
9
Jopfel Gafate
10
Devyn Patalina
11
Skyler McGowan
12
Harley Sweigart
13
Kyle Gilbert
$28
14
Daryus Alo
15
Kaylee Am-Khong
$25
16
Tim Hill
17
Andrew Guba
18
Deo Benard
$14
19
Trevyr Geronimo
20
Nolan Am-Khong
21
Clifford Baltazar
22
Sam Espiritu
Handicap Division
1
Tyler Hedges
$200
2
Sebastian Huffman
$100
3
William Robbins
$75
4
Silas Phillips
$60
5
Lindsay Griem
$50
6
Leanna Orlando
$40
7
Vanessa Fuzie
$30
8
Darren Fletcher
9
Zachary Gonzalez
10
Clifford Robbins
$45
11
Gavin Holter
$30
12
AJ Imperial
13
Faythe Reid
14
Cameron Criss
$60
15
Fatima Thoma
16
Hannah Davis
17
Kendall Bollea
18
Yael Salama
19
Payton Workman
20
Kyle Perry
21
Brandon Criss
22
David Mendoza
23
Joshua Alcaraz
24
Emily Cheesman
25
Layla Thoma
26
Zach Greim
27
Ryland Gregorich
28
Samantha Conti
$10
29
Josh Williams
30
Tanner Ferguson
$30
31
Alayna Purdy
32
Crystalene Pineda
33
Brett McEachern
34
Anthony Prevetti
35
Noel Gregorich
36
Elijah Melchor
37
Connor Steelmon-Hill
$5
38
Dawson Reese
39
Justin Worthington
Dylan Mamer
High Games
Scratch
Handicap
1
Salama 256
C Robbins 281
2
C Andrews 254
Holter 271
3
Cardines 249
Fixie 262
4
Cardines 245
Fletcher 262
5
Gilbert 244
Huffman 259
High Female
1
McDonnell +14*
2
Am-Khong +79
3
Conti -110
4
L Orlando -116
5
Fuzie -124
Qualifying Leaders
Scratch
Handicap
1
Salama +71
S Phillips +130
2
Cardines +67
Huffman +106
3
C Andrews +36
L Greim +94
U-17
1
Salama +71*
2
C Andrews +36
3
Huffman +31
4
C Robbins -26
5
Holter/Rendon -27
Round Leaders
Scratch
Handicap
1
C Andrews
Huffman
2
C Andrews
H Davis
3
C Andrews
Huffman
4
Salama
Huffman
5
Salama
S Phillips
6
Salama
Huffman
7
Cardines
Huffman
8
Cardines
Huffman
Total Awarded This Event: $1,434