TOURNAMENT OF ALL-TIME CHAMPS & FUTURE CHAMPS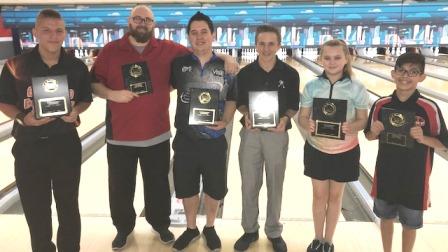 champs Jakob Butturff, Hayden Hull, Brock Brivins, Mackenzie Hammer, with Robbie Patterson & Juan Llamas
Jakob Butturff and Hayden Hull claimed titles in the JBT's Tournament of All-Time Champions, while Brock Bivins and Mackenzie Hammer are non-champs no more, wininng the Future Champs event, held simultaneously at Brunswick Zone Mesa.
For the first time ever, the alumni shut the current JBT youth out of the scratch stepladder finals. 13-time winner Mike Ramsey opened the finals with a 236-210 win over Correen Lieber, one of our all-time female greats. 32-time champ Jakob Butturff- whatever happened to him?- then stopped Ramsey to move on to the title match.
Top seed Robbie Patterson, an 8-time champ from our first decade of events, bowled great all day and has no fear of Jakob, as they compete locally when Butturff is not out at Tour events. As often happens, a missed makeable made the difference, as Patterson's missed 10-pin gave Butturff the edge he needed for a 228-215 win, crawling a bit closer to Harley Sweigart for our winningest lefty ever (Harley has a few more chances than Jakob to extend that record). Kyle Gilbert was the highest finishing under-21 bowler, followed by Kyle ilbert and Matthew Garrett.
Hayden Hull was perhaps the story of the day. In a tight handicap division matchplay round, it turned out that he would need a 299 game just to jump into the stepladder- so he came up with the high scoring event's only 300 game to leap into the #4 spot. He remained magical in the stepladder, starting off with a tenth frame double to beat William Robbins 233-231. A tenth frame double this time edged William's brother Clifford Robbins 208-204 in the semifinals.
Top seed Justin Worthington was brilliant all day, but he had his hands full in Hull, who beat him for Hayden's only previous title. Both bowlers were great in the final, but it was Hayden completing his dream day by getting yet another tenth frame strike, beating Justin 237-224, earning his second career JBT title.
Kaitlyn Hammer began the non-champs handicap final with a 240-231 thriller over Kevin Lu. Juan Llamas then beat Kaitlyn 227-213 to move on to the title game. Juan prevented a sibling match with top seed Mackenzie Hammer, Kaitlyn's little sister, and like Hull was looking for the sibling sweep. Mackenzie would not allow that however, and her terrific tenth frame strike sealed the victory and her first career JBT title.
For the second consecutive year, Chris Tucker attempted a climb up the scratch non-champs ladder, beginning with a 226-177 win over Josh Fearing. Brock Bivins then put an emphatic end to Tucker's run with a 280-236 win. Top seed Jacob Gaddam had been steady all day to grab the #1 spot, but the rapidly improving Bivins was on a mission, and a big game in the title match locked up his first career JBT title.
Huge thanks to the team at Zone Mesa for hosting us, as well as to all the adult alumni for coming out and competing with todays's JBT stars!
Tournament of Champions- final results and scholarship winners
6/17/2018
Scratch Division
rank
bowler
prize
1
Jakob Butturff
$480*
2
Robbie Patterson
$150*
3
Mike Ramsey
$125*
4
Correen Lieber
$60*
5
Russ Oviatt
$75*
6
Kyle Gilbert
$200
7
Kyle Duster
$157
8
Brian Coleman
9
Kyle King
$280*
10
David Sevier
$45*
11
Matthew Garrett
$50
12
Adel Wahner
$49
13
Deo Benard
14
Joey Burke
15
Mark Myers
16
Lucas Rabb
17
Chris Weyrauch
18
Harley Sweigart
19
Cameron Smith
$95*
20
Nolan Am-Khong
21
Alex Pellegrino
$25*
22
Alex Seng
23
Matt Zweig
24
Ryan Gose
25
Chris Varholdt
26
Rachel Weyrauch
27
Derek Acuff
28
Ryan Perry
$14
29
Mathew Adragna
30
Dawson Reese
31
Joshua Mabry
32
Christian Apolonio
33
Rashaad Jordan
Handicap Division
1
Hayden Hull
$300
2
Justin Worthington
$150
3
Clifford Robbins
$114
4
William Robbins
$119
5
Keith Ylvisaker
$50
6
Kyle Perry
$73
7
Elijah Melchor
8
Gavin Holter
9
Andrew Thomas
10
Jadeyn Mabry
$20
11
CJ Todeschi
12
Kristy Mace
13
Leah Zweig
14
Darren Fletcher
15
Stacey Lamb
16
Ryan Zent
17
Kendall Bollea
18
Alejandro Aragon
19
Ashley Lamb
20
Luke Gartner
21
Luis Garcia
22
Eric Demo
23
Abby Franklin
24
Tyler Hedges
25
Secilia Kalvelage
26
Kyle Lawrence
$15
27
Michael Newlon
28
Eric Gauna
Tournament of Non-Champions- final results and scholarship winners
6/17/2018
Scratch Division
rank
bowler
prize
1
Brock Bivins
$200
2
Jacob Gaddam
$100
3
Chris Tucker
$60
4
Josh Fearing
$40
5
Kaylee Am-Khong
6
Joshua Molloy
7
Ethan Strait
Handicap Division
1
Mackenzie Hammer
$200
2
Juan Llamas
$100
3
Kaitlyn Hammer
$60
4
Kevin Lu
$40
5
Zachary Gonzalez
$50
6
AJ Imperial
7
Jacob Soulierre
8
Afton Lords
$15
9
Jack Haines
10
Caden Meliska
$15
11
Kevin Van Gordon
12
Josh Williams
13
Sarah Halligan
14
Katy Mace
15
Cesar Padilla
Total Awarded This Event: $3,540
Ever won? NEVER won? Doesn't matter! Bowl in the JBT's:
2018 TOURNAMENT OF ALL-TIME CHAMPIONS
AND
2018 TOURNAMENT OF NON-CHAMPIONS
Sunday June 17, 2018, 10 AM at
Brunswick Mesa, 1754 W Southern Ave, Mesa AZ, (480) 834-0588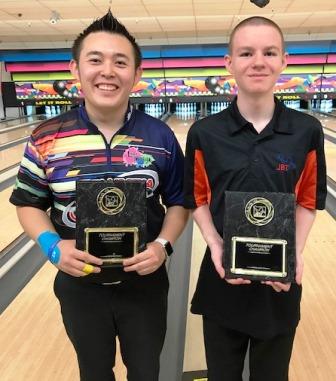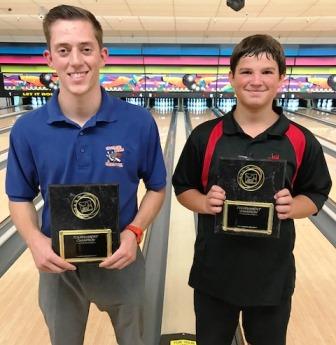 2017 T of C winners Dallas Leong & Mark Sauve; Non-champs winners Brandon Rouse & Keith Ylvisaker

<![if !mso]><![endif]>

* The T of C is open to anyone of any age who EVER won a JBT event

* The T of Non-C is open to anyone JBT eligible who hasn't yet won a JBT event

* $300 minimum for first, each division in the T of C!

* $200 minimum for first, each division, in the T of non-C!

* Scratch and Handicap, adult and 'junior' unlimited brackets!

(scholarships to juniors, cash to adults)

ENTRY FEE: $40 FORMAT:

-SCRATCH AND HANDICAP DIVISIONS! - 5 games across 10 lanes

-Scratch and handicap, adult and junior brackets - top 50% (max 24) bowl 3 games of matchplay

-EBONITE BALL RAFFLE AT THIS AND ALL - top 4 bowl stepladder finals

2017-18 JBT EVENTS! - plaques to top 4

To reserve spots, email director@bowljbt.com. Complete info at www.bowljbt.com

Limited to 148 bowlers. JBT bowlers use 17-18 JBT average, all others use highest 17-18 15+ game average, verification required for handicap. All other JBT rules apply. Walk-ins OK. Please help us spread the word to our JBT alumni. We'll see you there, don't miss it!