Click here for consolation event results Click here or scroll down for the Celebration Dinner list
Click here for Top Dawg results Click here for the TPC Guidebook
Click here for sweeper results click here for some great TPC pictures
TOURING PLAYERS CHAMPIONSHIP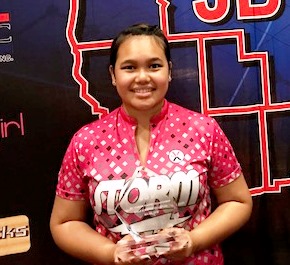 champs Andrew Guba, Kyle Duster, Yael Salama, & Kaylee Am-Khong
Kyle Duster and Yael Salama earned the most prestigious titles of the JBT season, capturing the scratch and handicap divisions of the 2018 JBT Touring Players Championship, hosted by Strike Zone in Henderson, NV.
Orgeon's Ryan Nikolas began his third consecutive TPC stepladder finals with a 255-237 win over Yael's big brother Solomon Salama. Scores remained blistering in the semifinal on the previously brutal lane pattern, as Nikolas poured on the strikes in a 269-239 win over Junior Gold runner-up Jacob Mullen to advance to the title game.
Top seed Kyle Duster used a 300 game on the third of the event's four lane patterns to vault into contention, then held off Mullen for the tournament lead in the final matchplay game. In yet another well bowled game, Duster capitalized on a great look for a 247-222 win. Duster already won the So Cal Invitational this season, and caps off the dream summer with his 19th career JBT title and $2,141 in scholarships on the weekend. There will not be a 4th straight TPC finals for Nikolas, as he ages out after this bittersweet finish, but what an incredible run for the 19-time JBT champ and all-time Pac NW great.
Scores were also tremendous in the handicap stepladder, beginning with another Oregonian, Isaac Mailkoff, defeating New Mexico's Kara Thompson 234-229. Washington's Colt Jance then came out of nowhere with the back four strikes to edge Mailkoff 222-215 and advance to the title game.
Yael has already had one of the great moments this season with her win back in November in San Diego. After leading the early rounds on tough patterns, some thought she might be caught on the more scoreable patterns, but she instead extended her lead during those rounds in the performance of her life. Unfazed by the tension of a major title match, she defeated Jance 241-212 in the finale for the win, second career JBT title, and $2,200 in total earnings after bonuses.
The U17 finalists also put on a high scoring show, with Dawson Reese out-striking Deo Benard in the semifinal match, and rapidly improving Andrew Guba turning the tables on Reese 258-218 to win the U17 subdivision and $400 bonus. Scores were a bit tamer in Priority Girls Scratch, with Aileen Linares beating Reagan Lorey in the semifinal, and then falling to Kaylee-Am Khong in the final. Kaylee needed an 18 fill in the tenth and went strike-spare to add the Girls Scratch TPC to her three Girls Invitational wins this season to cap off an incredible performance in this subdivision.
An amazing Celebration Dinner Saturday night was a highlight of the weekend, as were the 300 games by Duster and Evan Smith, who adds her first career perfecto to her already stellar TPC resume as the 2016 champ.
Huge thanks to Jerry, Brian, and the team at Strike Zone for hosting, our incredible sponsors Ebonite, Priority Girl, MSC, Logo Infusion, and others for a big prize fund boost, and everyone for attending this very special event featuring the best of the best really showing their skills. Make sure you bowl plenty of JBT events next season to qualify for the 2019 TPC!
2018 JBT TPC- FINAL STANDINGS & EARNINGS
7/29/2018
SCRATCH DIVISION
RANK
BOWLER
TOTAL
finish
sweep 1
sweep 2
Top Dog
raffles
300
consol.
U17
Girls
brax
elite
1
Duster, Kyle
$2,141
2000
101
40
2
Nikolas, Ryan
1425
1000
250
75
100
3
Mullen, Jacob
968
500
200
68
200
4
Salama, Solomon
545
400
100
15
30
5
Guba, Andrew
700
300
400
6
Cardines, Cerell
460
200
75
125
60
7
Torres, Sergio
269
175
20
20
54
8
Dyck, Simon
240
150
30
60
9
Boe, Tyler
153
125
28
10
Harvey, Brad
160
100
60
11
Sweigart, Harley
141
100
41
12
Reed, Kyle
175
100
75
13
Mabry, Joshua
100
100
14
Gerencser, Joe
100
100
15
Fung, Keith
140
100
40
16
Gilbert, Kyle
76
40
36
17
Baltazar, Bradley
18
Olivares, Dominic
19
Davis, Will
75
75
20
Perry, Ryan
50
50
21
Jepsen, David
155
125
30
22
Ziegler, Aidghan
50
50
23
DeLuisa-Anderson, Brian
24
Gafate, Jopfel
25
Long, Zack
35
20
15
26
Benard, Deo
140
25
100
15
27
Jennings, Jerry
125
125
28
Luna, Louis
29
Bower, Hunter
30
Lee, Garrett
31
Schanen, Anthony
75
75
32
Wojciechowski, Zach
220
220
33
Coates, Tyler
34
Richardson, Isaac
35
Hill, Tim
36
Rabb, Lucas
37
Muldoon, Austin
38
Lorey, Reagan
100
39
Wong, Makana
50
50
40
Am-Khong, Kaylee
430
30
400
41
Linares, Aileen
200
42
Villalobs, Marc
43
Bivins, Brock
100
100
44
Toala, Stefanny
20
20
45
Adragna, Mathew
20
20
46
Am-Khong, Nolan
47
McDonnell, April
48
Rivers, Marquan
49
Chesnut, Matt
50
Rendon, Kyle
30
30
51
McGowan, Skyler
50
50
52
Seawright, Jonah
53
Jordan, Rashaad
20
20
54
Frazier, Jacob
260
60
200
55
Zweig, Matt
56
Fearing, Josh
57
Sauve, Phillip
58
Groves, Benjamin
59
Valdez-Hicks, Andi
60
Nguyen, Nathan
61
Apolonio, Christian
x
Rock, TJ
100
100
x
Koff, Donovan
40
40
HANDICAP DIVISION
rank
BOWLER
TOTAL
finish
Thu sweep
Fri sweep
Top Dog
raffles
300
consol.
U17
Girls
brackets
elite
1
Salama, Yael
$2,200
2000
200
2
Jance, Colt
1200
1000
3
Mailkoff, Isaac
780
500
280
4
Thompson, Kara
598
400
125
73
5
Hampton, Hillari
461
300
15
146
6
Zeutenhorst, Bryan
200
200
7
Imperial, AJ
175
175
100
8
Martin, Andrew
505
150
225
30
9
Gregorich, Ryland
140
125
15
10
Castellano, Cosmo
140
100
40
60
11
Perry, Kyle
170
100
10
40
12
Fritts, Kallista
140
100
13
Smith, Evan
200
100
100
14
Mabry, Jadeyn
160
100
60
15
Haight, Derek
150
100
50
30
16
Strothman, Michael
35
5
17
Kielich, Kloey
56
56
18
Greim, Zach
280
250
30
19
Bollea, Kendall
153
80
73
20
Williams, Joshua
100
100
21
Pineda, Crystalene
22
Gauna, Eric
150
150
23
Franklin, Abby
5
5
24
Gregorich, Noel
15
15
25
Phillips, Silas
26
Smerud, Ryan
90
60
30
27
Lawrence, Kyle
28
Kalvelage, Secilia
15
15
29
LeBlanc, Silas
30
Lorey, Jonathan
31
Orlando, Leanna
32
Delegarito, Gerilynn
56
56
33
Erickson, Brian
100
100
34
Thompson, Alex
35
McEachern, Brett
36
Hull, Hayden
37
Greim, Lindsay
38
Cheesman, Emily
100
35
65
39
Gonzalez, Zachary
40
Criss, Cameron
41
Sauve, Mark
83
25
58
42
Romero, Angela
15
15
43
Hagen, Erik
44
Lubag, Aislinn
75
75
45
Herson, Josie
46
Reese, Dawson
493
263
200
30
47
Garcia, Luis
48
Robbins, Clifford
49
Fletcher, Darren
30
30
50
Rosales, Paul
51
Todeschi, CJ
52
Robbins, William
55
40
15
53
Jaramillo, Lauren
90
75
15
54
Hedges, Tyler
55
Heisler, Ben
50
50
56
Conti, Samantha
57
Moser-Hernandez, Alejandro
10
10
58
Rothstein, Caleb
59
Huffman, Sebastian
200
200
60
Zent, Ryan
15
15
61
Heffer, Jay
62
Lubag, Yairi
13
13
63
Ziegler, Lohrghan
50
50
64
Thomas, Andrew
20
20
65
Herson, Taylor
66
Holter, Gavin
5
5
67
Melchor, Elijah
68
Worthington, Justin
69
Purdy, Alayna
70
Weddige, Justin
263
163
60
40
71
Criss, Brandon
72
Jamael, Michael
73
O'Neil, Dillon
30
30
74
Martinez, Jayden
75
Padilla, Cesar
120
20
100
x
LeCount, Timothy
25
25
x
Zweig, Leah
30
30
19884
SCRATCH TPC QUARTERFINALS
| | | | | | | | | | | |
| --- | --- | --- | --- | --- | --- | --- | --- | --- | --- | --- |
| RANK | BOWLER | TOTAL | gm 11 | gm 12 | gm 13 | gm 14 | gm 15 | rd 3 tot | TOTAL | + / - |
| 1 | Nikolas, Ryan | 2242 | 246 | 269 | 243 | 288 | 257 | 1303 | 3545 | 545 |
| 2 | Mullen, Jacob | 2315 | 308 | 244 | 213 | 194 | 229 | 1188 | 3503 | 503 |
| 3 | Duster, Kyle | 1982 | 257 | 239 | 330 | 267 | 268 | 1361 | 3343 | 343 |
| 4 | Cardines, Cerell | 2292 | 183 | 178 | 297 | 189 | 159 | 1006 | 3298 | 298 |
| 5 | Salama, Solomon | 2033 | 285 | 266 | 267 | 224 | 206 | 1248 | 3281 | 281 |
| 6 | Torres, Sergio | 2129 | 243 | 197 | 299 | 215 | 194 | 1148 | 3277 | 277 |
| 7 | Boe, Tyler | 2045 | 243 | 244 | 284 | 182 | 259 | 1212 | 3257 | 257 |
| 8 | Sweigart, Harley | 1972 | 165 | 320 | 274 | 267 | 253 | 1279 | 3251 | 251 |
| 9 | Guba, Andrew | 2078 | 161 | 226 | 298 | 265 | 211 | 1161 | 3239 | 239 |
| 10 | Harvey, Brad | 1969 | 182 | 255 | 248 | 263 | 296 | 1244 | 3213 | 213 |
| 11 | Reed, Kyle | 2045 | 207 | 196 | 288 | 222 | 245 | 1158 | 3203 | 203 |
| 12 | Dyck, Simon | 2080 | 193 | 309 | 184 | 201 | 232 | 1119 | 3199 | 199 |
| 13 | Mabry, Joshua | 1998 | 203 | 264 | 206 | 273 | 250 | 1196 | 3194 | 194 |
| 14 | Gerencser, Joe | 1976 | 287 | 174 | 178 | 265 | 289 | 1193 | 3169 | 169 |
| 15 | Fung, Keith | 1957 | 265 | 263 | 259 | 241 | 182 | 1210 | 3167 | 167 |
| 16 | Gilbert, Kyle | 1963 | 268 | 256 | 187 | 215 | 267 | 1193 | 3156 | 156 |
| 17 | Baltazar, Bradley | 1991 | 220 | 240 | 255 | 213 | 212 | 1140 | 3131 | 131 |
| 18 | Olivares, Dominic | 1960 | 244 | 210 | 198 | 232 | 275 | 1159 | 3119 | 119 |
| 19 | Davis, Will | 2030 | 239 | 169 | 258 | 235 | 180 | 1081 | 3111 | 111 |
| 20 | Perry, Ryan | 1993 | 254 | 234 | 182 | 223 | 172 | 1065 | 3058 | 58 |
| 21 | Jepsen, David | 1892 | 232 | 245 | 255 | 203 | 229 | 1164 | 3056 | 56 |
| 22 | Ziegler, Aidghan | 1904 | 196 | 198 | 259 | 233 | 264 | 1150 | 3054 | 54 |
| 23 | DeLuisa-Anderson, Brian | 1930 | 222 | 214 | 197 | 266 | 202 | 1101 | 3031 | 31 |
| 24 | Gafate, Jopfel | 1987 | 245 | 186 | 213 | 178 | 221 | 1043 | 3030 | 30 |
| 25 | Long, Zack | 1912 | 199 | 196 | 231 | 277 | 192 | 1095 | 3007 | 7 |
| 26 | Benard, Deo | 2063 | 212 | 150 | 210 | 181 | 189 | 942 | 3005 | 5 |
| 27 | Jennings, Jerry | 1936 | 181 | 260 | 218 | 156 | 236 | 1051 | 2987 | -13 |
| 28 | Luna, Louis | 1869 | 184 | 234 | 234 | 288 | 176 | 1116 | 2985 | -15 |
| 29 | Bower, Hunter | 1867 | 229 | 232 | 174 | 224 | 243 | 1102 | 2969 | -31 |
| 30 | Lee, Garrett | 2003 | 220 | 204 | 177 | 185 | 180 | 966 | 2969 | -31 |
| 31 | Schanen, Anthony | 1898 | 239 | 190 | 176 | 245 | 221 | 1071 | 2969 | -31 |
| 32 | Wojciechowski, Zach | 1938 | 235 | 172 | 237 | 210 | 171 | 1025 | 2963 | -37 |
| 33 | Coates, Tyler | 1917 | 273 | 242 | 211 | 143 | 162 | 1031 | 2948 | -52 |
| 34 | Richardson, Isaac | 1984 | 174 | 210 | 182 | 193 | 179 | 938 | 2922 | -78 |
| 35 | Hill, Tim | 1910 | 189 | 163 | 247 | 145 | 265 | 1009 | 2919 | -81 |
| 36 | Rabb, Lucas | 1863 | 186 | 170 | 177 | 254 | 265 | 1052 | 2915 | -85 |
| 37 | Muldoon, Austin | 1886 | 205 | 212 | 242 | 232 | 137 | 1028 | 2914 | -86 |
| 38 | Lorey, Reagan | 1854 | 258 | 189 | 263 | 163 | 181 | 1054 | 2908 | -92 |
| 39 | Wong, Makana | 1840 | 209 | 204 | 199 | 171 | 248 | 1031 | 2871 | -129 |
| 40 | Am-Khong, Kaylee | 1876 | 199 | 176 | 182 | 177 | 245 | 979 | 2855 | -145 |
| 41 | Linares, Aileen | 1846 | 162 | 233 | 153 | 214 | 192 | 954 | 2800 | -200 |
| 42 | Villalobs, Marc | 1840 | 177 | 150 | 179 | 171 | 221 | 898 | 2738 | -262 |
HANDICAP TPC QUARTERFINALS
| | | | | | | | | | | |
| --- | --- | --- | --- | --- | --- | --- | --- | --- | --- | --- |
| RANK | BOWLER | TOTAL | gm 11 | gm 12 | gm 13 | gm 14 | gm 15 | rd 3 tot | TOTAL | + / - |
| 1 | Salama, Yael | 2212 | 262 | 204 | 262 | 236 | 251 | 1215 | 3427 | 427 |
| 2 | Mailkoff, Isaac | 2063 | 248 | 249 | 290 | 248 | 324 | 1359 | 3422 | 422 |
| 3 | Hampton, Hillari | 2176 | 286 | 250 | 181 | 183 | 245 | 1145 | 3321 | 321 |
| 4 | Thompson, Kara | 2116 | 176 | 284 | 222 | 267 | 241 | 1190 | 3306 | 306 |
| 5 | Castellano, Cosmo | 2046 | 246 | 196 | 245 | 239 | 278 | 1204 | 3250 | 250 |
| 6 | Martin, Andrew | 2058 | 207 | 223 | 257 | 227 | 266 | 1180 | 3238 | 238 |
| 7 | Fritts, Kallista | 1963 | 189 | 280 | 273 | 253 | 279 | 1274 | 3237 | 237 |
| 8 | Zeutenhorst, Bryan | 2072 | 205 | 245 | 257 | 214 | 242 | 1163 | 3235 | 235 |
| 9 | Jance, Colt | 1930 | 268 | 286 | 260 | 256 | 225 | 1295 | 3225 | 225 |
| 10 | Perry, Kyle | 2103 | 238 | 253 | 261 | 173 | 194 | 1119 | 3222 | 222 |
| 11 | Imperial, AJ | 1936 | 249 | 298 | 260 | 203 | 275 | 1285 | 3221 | 221 |
| 12 | Gregorich, Ryland | 2033 | 207 | 241 | 237 | 279 | 217 | 1181 | 3214 | 214 |
| 13 | Smith, Evan | 2005 | 242 | 352 | 180 | 200 | 230 | 1204 | 3209 | 209 |
| 14 | Mabry, Jadeyn | 1925 | 275 | 212 | 248 | 249 | 280 | 1264 | 3189 | 189 |
| 15 | Haight, Derek | 2169 | 160 | 173 | 237 | 206 | 241 | 1017 | 3186 | 186 |
| 16 | Strothman, Michael | 2039 | 180 | 241 | 246 | 212 | 258 | 1137 | 3176 | 176 |
| 17 | Kielich, Kloey | 2057 | 253 | 229 | 250 | 184 | 193 | 1109 | 3166 | 166 |
| 18 | Greim, Zach | 2051 | 163 | 280 | 227 | 254 | 190 | 1114 | 3165 | 165 |
| 19 | Bollea, Kendall | 2086 | 231 | 192 | 233 | 246 | 176 | 1078 | 3164 | 164 |
| 20 | Williams, Joshua | 2018 | 255 | 187 | 189 | 247 | 267 | 1145 | 3163 | 163 |
| 21 | Pineda, Crystalene | 1989 | 222 | 189 | 264 | 241 | 246 | 1162 | 3151 | 151 |
| 22 | Gauna, Eric | 1991 | 239 | 189 | 195 | 259 | 275 | 1157 | 3148 | 148 |
| 23 | Franklin, Abby | 1947 | 247 | 235 | 249 | 295 | 152 | 1178 | 3125 | 125 |
| 24 | Gregorich, Noel | 1972 | 272 | 217 | 200 | 241 | 221 | 1151 | 3123 | 123 |
| 25 | Phillips, Silas | 1926 | 210 | 255 | 276 | 233 | 218 | 1192 | 3118 | 118 |
| 26 | Smerud, Ryan | 1984 | 313 | 238 | 216 | 207 | 159 | 1133 | 3117 | 117 |
| 27 | Lawrence, Kyle | 2000 | 204 | 238 | 191 | 216 | 259 | 1108 | 3108 | 108 |
| 28 | Kalvelage, Secilia | 1932 | 227 | 245 | 245 | 213 | 245 | 1175 | 3107 | 107 |
| 29 | LeBlanc, Silas | 1908 | 207 | 162 | 283 | 248 | 282 | 1182 | 3090 | 90 |
| 30 | Lorey, Jonathan | 1971 | 194 | 221 | 289 | 172 | 243 | 1119 | 3090 | 90 |
| 31 | Orlando, Leanna | 1967 | 170 | 200 | 257 | 241 | 247 | 1115 | 3082 | 82 |
| 32 | Delegarito, Gerilynn | 2049 | 171 | 183 | 260 | 158 | 260 | 1032 | 3081 | 81 |
| 33 | Erickson, Brian | 2000 | 170 | 207 | 228 | 264 | 193 | 1062 | 3062 | 62 |
| 34 | Thompson, Alex | 1946 | 254 | 193 | 210 | 258 | 200 | 1115 | 3061 | 61 |
| 35 | McEachern, Brett | 1933 | 251 | 212 | 167 | 305 | 192 | 1127 | 3060 | 60 |
| 36 | Hull, Hayden | 1916 | 231 | 227 | 246 | 224 | 213 | 1141 | 3057 | 57 |
| 37 | Greim, Lindsay | 1993 | 251 | 201 | 203 | 190 | 205 | 1050 | 3043 | 43 |
| 38 | Cheesman, Emily | 1949 | 205 | 291 | 204 | 181 | 207 | 1088 | 3037 | 37 |
| 39 | Gonzalez, Zachary | 1949 | 196 | 243 | 196 | 257 | 196 | 1088 | 3037 | 37 |
| 40 | Criss, Cameron | 1963 | 212 | 202 | 209 | 266 | 184 | 1073 | 3036 | 36 |
| 41 | Sauve, Mark | 2044 | 185 | 204 | 189 | 225 | 187 | 990 | 3034 | 34 |
| 42 | Romero, Angela | 2050 | 180 | 204 | 204 | 208 | 187 | 983 | 3033 | 33 |
| 43 | Hagen, Erik | 1928 | 207 | 203 | 287 | 199 | 198 | 1094 | 3022 | 22 |
| 44 | Lubag, Aislinn | 1988 | 214 | 235 | 193 | 191 | 186 | 1019 | 3007 | 7 |
| 45 | Herson, Josie | 1935 | 200 | 218 | 210 | 206 | 230 | 1064 | 2999 | -1 |
| 46 | Reese, Dawson | 2120 | 196 | 156 | 176 | 166 | 170 | 864 | 2984 | -16 |
| 47 | Garcia, Luis | 1971 | 279 | 203 | 173 | 179 | 171 | 1005 | 2976 | -24 |
| 48 | Robbins, Clifford | 1908 | 230 | 200 | 184 | 177 | 253 | 1044 | 2952 | -48 |
| 49 | Fletcher, Darren | 1908 | 180 | 183 | 308 | 163 | 199 | 1033 | 2941 | -59 |
| 50 | Rosales, Paul | 1908 | 166 | 280 | 193 | 233 | 156 | 1028 | 2936 | -64 |
| 51 | Todeschi, CJ | 1910 | 188 | 174 | 157 | 196 | 287 | 1002 | 2912 | -88 |
| 52 | Robbins, William | 2017 | 185 | 156 | 194 | 176 | 174 | 885 | 2902 | -98 |
| 53 | Jaramillo, Lauren | 1912 | 162 | 198 | 194 | 244 | 186 | 984 | 2896 | -104 |
| 54 | Hedges, Tyler | 1925 | 198 | 216 | 195 | 186 | 160 | 955 | 2880 | -120 |
SCRATCH TPC QUALIFYING
RANK
BOWLER
rd 1 tot
gm 6
gm 7
gm 8
gm 9
gm 10
rd 2 tot
TOTAL
+ / -
1
Mullen, Jacob (ex)
1255
225
170
253
204
208
1060
2315
315
2
Cardines, Cerell
1118
201
231
267
258
217
1174
2292
292
3
Nikolas, Ryan
1209
177
187
203
227
239
1033
2242
242
4
Torres, Sergio
1051
158
223
249
267
181
1078
2129
129
5
Dyck, Simon
979
198
215
217
253
218
1101
2080
80
6
Guba, Andrew
937
233
197
226