AMF UNION HILLS LANES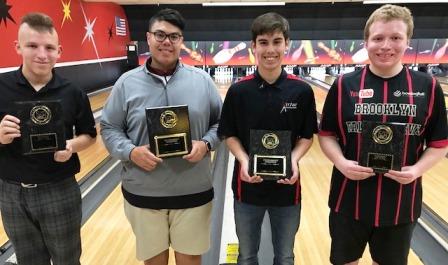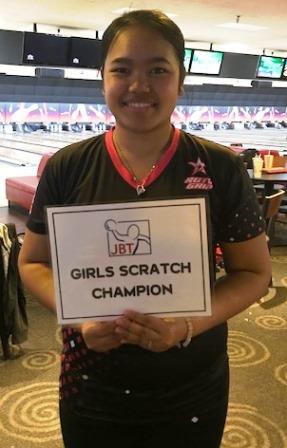 champs Keith Fung & Alejandro Aragon with Brock Bivins, William Robbins, Kaylee Am-Khong
Keith Fung and Alejandro Aragon claimed JBT titles in exciting Arizona Conference action at AMF Union Hills.
Josh Mabry defeated Matt Zweig 244-217 to open the scratch division stepladder. Mabry them poured on the strikes in a 259-223 win over previous day's champ Lucas Rabb. In a terrific semifinal, Fung rallied past Rabb 236-225 to advance to the final.
Top seed Brock Bivins is a rapidly improving younger bowler who may be destined for big things, and he put on his best perfomance yet to grab the #1 seed. However, he was slow in getting comfortable in the title match, and Keith built up a big early lead then held on for a 219-212 win and his 9th career JBT title.
Silas Phillips made back to back finals on the weekend, and began this stepladder with a 217-198 win over Darren Fletcher. He turned it up in round two, beating up on Ryan Zent 256-18. William Robbins then turned the tables on Phillips with a big 272-247 win to move on to yet another title match.
Aragon had grabbed the lead at the start of round two and hat not let go. He found himself in a dogfight with the tenacious Robbins in the finale. In the end Alejandro had just enough for a 245-238 win, good for his first career JBT title.
Matthew Garrett won the day's U17 subdivision with a 227-192 win over Bivins. Kaylee Am-Khong swept the Priority Girls Scratch events by sweeping Stefanny Toala, this time with a 193-179 win.
Thanks to the crew at Union Hills for hosting our Tour! All this fun and excitement is waiting for you if you check out our schedule and come on down!
Union Hills- final results and scholarship winners
3/18/2018
Scratch Division
rank
bowler
prize
1
Keith Fung
$265
2
Brock Bivins
$125
3
Josh Mabry
$85
4
Lucas Rabb
$103
5
Matt Zweig
$50
6
Matthew Garrett
7
Kyle Gilbert
$57
8
Mathew Adragna
9
Austin Muldoon
10
Ryan Perry
11
Kaylee Am-Khong
$50
12
Justin Song
13
Josh Fearing
14
Jacob Merki
15
Dante Rohe
16
Harley Sweigart
17
Stefanny Toala
$25
18
Alex Seng
19
Rashaad Jordan
20
Joshua Molloy
21
Marc Villalobos
22
Phillip Sauve
Handicap Division
1
Alejandro Aragon
$200
2
William Robbins
$100
3
Silas Phillips
$60
4
Ryan Zent
$78
5
Darren Fletcher
$40
6
Kyle Perry
$15
7
Leah Zweig
8
Mark Sauve
$14
9
Clifford Robbins
$44
10
Raymond Gaiser
11
Payton Workman
$5
12
Thane Holtorf
13
Jadeyn Mabry
14
Kevin Lu
$14
15
AJ Imperial
16
Hayden Hull
17
Avery Domaguin
18
Josh Williams
$14
19
Cesar Padilla
20
Kendall Bollea
$28
21
Keith Ylvisaker
22
Jason Gootzeit
23
Emily Rohrbacker
24
Kyle Lawrence
25
Gavin Holter
26
Justin Worthington
$5
27
CJ Todeschi
28
Destiny Johnson
$14
29
Victoria Potter
30
Abby Franklin
Round Leaders
Scratch
Handicap
1
Adragna
Holtorf
2
Adragna
Holtorf
3
Bivins
Workman
4
Bivins
Fletcher
5
Rabb
Fletcher
6
Bivins
Aragon
7
Bivins
Aragon
8
Bivins
Aragon
High Games
Scratch
Handicap
1
Perry 280
Holtorf 302
2
Fung 279
Fletcher 283
3
Mabry 275
W Robbins 273
4
Gilbert 268
W Robbins 272
5
Bivins 267
Aragon 268
K Perry 268
U-17
Girls Scratch
1
Bivins +177
Am-Khong +72*
2
Garrett +92*
Toala +4
3
C Robbins +30
Zweig -26
4
Workman +18
Domaguin -65
5
Gaiser +16
Franklin -179
Total Awarded This Event: $1,418