VICTOR BOWL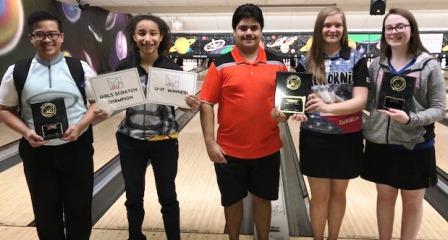 champs Kyle Reed & Emily Cheesman with Cerell Cardines, Allison Azvedo, and Katie Kipler
Kyle Reed and Emily Cheesman picked up JBT titles in exciting dual So Cal - Mojave Conference action at Victorville's Victor Bowl.
After qualifying, bowlers moved into 'pick your survivor', where higher seeds chose their pair and who they bowled against, needing to beat just one bowler on each pair to survive. In scratch, fourteen survivors were carved down to just three, and in that semifinal match Kyle Reed (258) and Cerell Cardines (259) gave Josh Mabry (209) no chance, and they moved on to the title match.
The finale, on the same pair, produced opposite results, as suddenly neither bowler could buy a strike. The problem was that Cardines' spare game let him down as well, as three missed 10 pins proved costly in a 212-183 win for Reed, good for the third title of his JBT career.
Twenty handicap survivors were whittled down to four, and in those matches, Katie Kipler beat Aislinn Lubag 225-210, and Cheesman slid past Connor Steelmon-Hill 193-164, to set up an all-ladies title game.
Emily has been knocking on the door of a win for a while, and was finally able to break through with a 210-104 win over the veteran Kipler for her first career JBT title.
Allison Avedo also had a heck of a day, blasting 240-250 scratch to begin the event and take a big lead. Though she bowed out in fifth in the handicap division, she swept the subdivisions, winning Prioirity Girls Scratch 213-139 over Kaylee Am-Khong, and beating Solmon Salama 221-184 to take the U17 crown as well.
Andrew Guba had the individual highlight of the day when he fired a 300 in matchplay, the first of his career and good for a $500 scholarship windfall courtesy of MSC and their rolling So Cal 300 jackpot!
Big thanks to the team at Victor for hosting us! Want in on all this fun? Just check out our schedule and come on down!
Victor Bowl- final results and scholarship winners
3/4/2018
Scratch Division
rank
bowler
prize
1
Kyle Reed
$250
2
Cerell Cardines
$125
3
Josh Mabry
$75
4
Harley Sweigart
$152
5
Ryan Lee
$40
6
Zack Long
$30
7
Matt Chesnut
8
Clifford Baltazar
9
Andrew Guba
$500
10
Solomon Salama
$14
11
Trevyr Geronimo
12
Gael Egana
13
Kyle Gilbert
$29
14
Sam Espiritu
15
Louis Luna
16
Tim Hill
$50
17
Cristian Roque
18
Kaylee Am-Khong
$25
19
April McDonnell
20
Skyler McGowan
21
Ricky Pollom
22
Alberto Bernal
23
Joe Gerencser
24
Phillip Sauve
25
Kyle Wilson
26
JR Mehlum
27
Shane Howard
28
Deelynn Berrie
29
Austin Sugarman
30
Marco Lerma
31
Nolan Am-Khong
32
Dominic Olivares
33
Jacey Opiana
34
Renee Genty
Handicap Division
1
Emily Cheesman
$295
2
Katie Kipler
$154
3
Connor Steelmon-Hill
$205
4
Aislinn Lubag
$90
5
Allison Azvedo
$110
6
Preston Carrasco
$50
7
Jaclyn Azvedo
$40
8
Gage Baker
$30
9
Lindsay Greim
$30
10
Dawson Reese
$30
11
Leanna Orlando
12
Secilia Kalvelage
13
Braeden Phillips
14
Dillon O'Neil
$14
15
Zach Greim
$14
16
Simon Ortega
17
William Robbins
$45
18
Clifford Robbins
19
Avery Domaguin
$5
20
Cameron Criss
21
Adrian Yamanoha
22
Kendall Bollea
23
Zachary Gonzalez
24
Elias Luna
25
Ryland Gregorich
26
Brian Erickson
27
Justin Philips Jr
$15
28
Tyler Schriebman
29
Yairi Lubag
$15
30
Brandon Lim
31
Brett McEachern
32
Trenton Gibbs
33
Silas Phillips
34
Michaela Buhain
35
Brandon Criss
36
Yael Salama
37
Jason Aguon
38
Sebastian Huffman
$15
39
Alayna Purdy
40
Manuel Gonzalez
41
Noel Gregorich
42
Lawrence Buhain
43
Caleb Rothstein
44
Amanda Hanson
45
Crystalene Pineda
46
Jake Foster
47
Bryce Robinson
48
Samantha Conti
49
Tanner Ferguson
High Games
Scratch
Handicap
1
Guba 300
A Azvedo 281
2
Geronimo 276
O'Neil 280
3
Cardines 268
J Azvedo 276
4
Cardines 259
A Azvedo 272
5
Reed 258
Steelmon 270
High Female
1
A Azvedo +60*
2
AM-Khong -39
3
McDonnell -46
4
Orlando -54
5
Cheesman -93
Qualifying Leaders
Scratch
Handicap
1
Sweigart +129
A Azvedo +195
2
Salama +127
Cheesman +137
3
Mabry +105
Carrasco +132
U-17
1
Salama +127
2
A Azvedo +60*
3
Reese +56
4
Egana +40
5
Guba -11
Round Leaders
Scratch
Handicap
1
Sweigart
J Azvedo
2
Sweigart
A Azvedo
3
Sweigart
A Azvedo
4
Sweigart
A Azvedo
5
Sweigart
A Azvedo
Total Awarded This Event: $2,449