WHITEWOOD LANES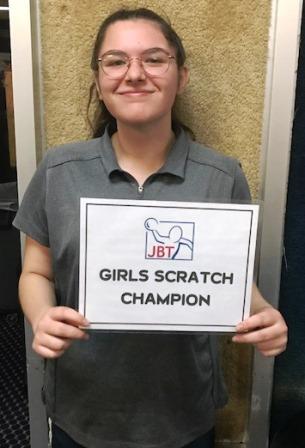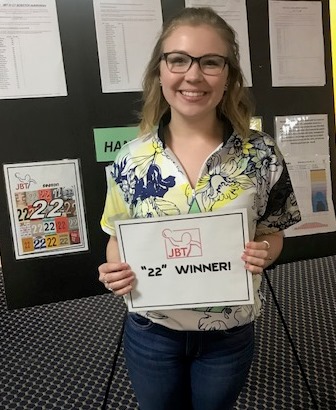 champs Zach Wojciechowski & Taylan McCleery; Chritsian Apolonio, David Jepsen, Toby Cdebaca, Kallista Fritss, Alyssa McCleery
Zach Wojciechowski and Taylan McCleery earned JBT titles at Lubbock's Whitewood Lanes in exciting JBT Texas-New Mexico Conference action.
After qualifying, bowlers competed in 'pick your poison', where higher seeded bowlers chose who they wanted to face in matchplay. In the scratch division semifinals, Wojciechowski got by Harley Sweigart 204-190, while Christian Apolonio strung the strikes in a 258-224 win over Kellen Lavery to set up the finale.
'Wojo' stayed in control the entire title game, and the 215-191 final was good for the solid veteran's ninth career JBT title.
The handicap division was carved down to four un-poisoned bowlers, and in those matches, Toby Cdebaca got past Kaitlun Meiers 222-193, and Taylan McCleery ousted Eric Gauna 213-196. Both Toby and Taylan were trying for their first JBT titles, but it's been a much longer hunt for Toby, a long-time vet, than Taylan, bowling his second ever event. The match proved to be a classic, as Cdebaca's short fill ball allowed McCeery to get spare-9 for the win. After calmly converting the 4-7, twelve year-old Taylan stepped up and got exactly the 9 he needed for a 193-192 win and his jubilant family celebrated his first JBT win.
David Jespen swept the U17 subdivision on the weekend with a 191-153 win over Donius Jeffries. The Priority Girls Scratch event was another thriller, providing the third one-pin title match of the weekend, as Kallista Fritts edged Kara Thompson 171-170 for the win in that event.
Big thanks to Bill and Monica Wood and the team at Whitewood for hosting our Tour. Want in on all this fun for all ages? Just check out our schedule and come on down to the next JBT event!
Whitewood Lanes- final results and scholarship winners
2/19/2018
Scratch Division
rank
bowler
prize
1
Zach Wojciechowski
$250
2
Christian Apolonio
$125
3
Kellen Lavery
$75
4
Harley Sweigart
$79
5
Daniel Hall
$30
6
Donius Jeffries II
7
Stefan Wood
$30
8
Levi Fintel
9
Jordi Gonzalez
10
David Jepsen
$50
11
Mateo Gonzalez
$15
12
Deo Benard
$15
13
Matteo Bergonzi
14
Elijah Sledge
15
Blayne Hurst
16
Ben Stedman
17
Jonah Seawright
$15
18
Matt Duran
19
Stephen Lassig
20
Cristian Ochoa
21
Colton Midgett
22
Nathan Nguyen
23
Bradley Edwards
24
Taylor Stevens
25
Chris Furdek
Handicap Division
1
Taylan McCleery
$300
2
Toby Cdebaca
$221
3
Eric Guana
$155
4
Kaitlyn Meiers
$100
5
Kara Thompson
$115
6
Clifford Robbins
$50
7
Josie Herson
$40
8
Justin Weddige
$30
9
Michael Jamael
10
AJ Reyna
11
Alex Thompson
12
Luis Garcia
13
Holly Redfearn
14
Jayden Martinez
15
Jay Heffer
16
Jordan Womble
17
Taylor Herson
18
Alek Rakov
$5
19
Stevanie Sisson
20
Gerilynn Delegarito
21
John Green
22
Tomas Huerta
23
Kallista Fritts
$50
24
Kaylee Haynes
25
Kloey Kielich
26
Shaylee Pectol-Buzbee
27
Angela Romero
28
Raydon Buzbee
29
Kaylee McCleery
30
Zoe Woodruff
$14
31
Alissa Buzbee
32
Montana Cdebaca
$15
33
Becca Fintel
34
Carlos Estrada
35
William Robbins
36
Alyssa McCleery
$100
37
Lara Wood
38
Kambree Rogers
39
Taylor Ziegler
40
Angela Lykens
41
Dalton Buzbee
42
Desiree Knott
High Games
Scratch
Handicap
1
Apolonio 268
T Cdebaca 281
2
Bergonzi 265
Weddige 264
3
Seawright 259
Jamael 254
4
Apolonio 258
T Cdebaca 249
5
Wojo 258
Fritts, K Thompson 249
Girls Scratch side event
1
K Thompson -118
2
Fritts -123*
3
T Herson -133
4
M Cdebaca -156
5
Delegarito -162
U-17 scratch side event
1
Jeffries +62
2
Jepsen +27*
3
M Gonzalez +4
4
Benard +3
5
E Sledge -15
Round Leaders
Scratch
Handicap
1
Fintel
Heffer
2
Fintel
Heffer
3
Fintel
A Thompson
4
Apolonio
K Thompson
5
Apolonio
K Thompson
TOTAL AWARDED THIS EVENT: $1,879