WILDFIRE LANES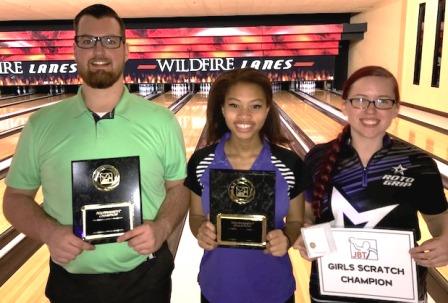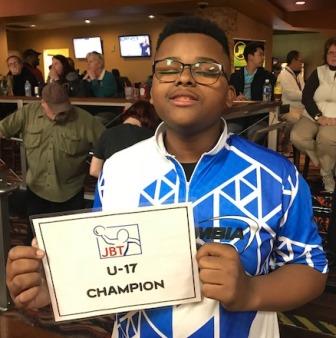 champs Harley Sweigart & Alayna Purdy; April McDonnell & TJ Rock
Harley Sweigart put on a dominant performance but had to hang on at the end, while Alyana Purdy doubled her title total, in exciting JBT Mojave Conference action at Henderson's Wildfire Lanes.
Dominic Olivares opened the scratch division stepladder finals with a win over TJ Rock. Sergio Torres then stopped Olivares, before Cardines turned teh tables on Torres to move on to the title match.
Cerell had started the event with a big 279, but was trailing by 21 after that game as Harley blasted 300 to begin things. Sweigart went on to lap the field, but anything can happen in the one game title match. Harley's chances were even better as he had all four mulligans at his disposal, but he had to burn through them all as he was very uncomfortable on the title pair. Both bowlers had mulligan-aided front sevens before Sweigart split in the eighth, and it appeared his brilliant tournament would go up in smoke. However, Cardines suddenly lost his look, opening in two of his final three frames. Meanwhile, Harley never missed again, striking out for a 266-244 final score- a 266 game has never been such a shaky escape! The victory is the 32nd of his JBT career, tying Jakob Buttruff for 6th on our all-time list- wow!
Tyler Hedges made a return to the finals with a 234-190 win over Dillon O'Neil. Faythe Reid then won a nailbiter over Hedges 201-196. Reid then blasted a huge game in a 269-156 win over Dylan Mamer to move on to the title game.
Top seed Alayna Purdy hadn't had many big results since her last win at The Orleans three seasons ago, but she put it all together here. A solid game of good spare shooting was plenty to defeat Reid and earn her second career JBT title.
April McDonnell broke through for her first Priority Girls Scratch victory with a win over Leanna Orlando. TJ Rock took down the U17 crown with a high scoring win over Skyler McGowan.
Thanks to the team at Wildfire for hosting our Tour. Want in on all the fun? Just check out our schedule and come on down!
Wildfire- final results and scholarship winners
1/27/2018
Scratch Division
rank
bowler
prize
1
Harley Sweigart
$406
2
Cerell Cardines
$125
3
Sergio Torres
$75
4
Domonic Olivares
$50
5
TJ Rock
$44
6
Zack Long
7
Skyler McGowan
8
Daryus Alo
9
Chris Tucker
10
Joe Gerencser
11
Ryan Perry
12
Kyle Rendon
13
Caleb Andrews
14
Tim Hill
15
Nolan Am-Khong
16
April McDonnell
$50
17
Kaylee Am-Khong
18
Devyn Patalina
19
David Galvan
Handicap Division
1
Alayna Purdy
$200
2
Faythe Reid
$100
3
Dylan Mamer
$50
4
Tyler Hedges
$59
5
Dillon O'Neil
$20
6
Clifford Robbins
7
Cameron Criss
$29
8
Silas Phillips
9
Ryland Gregorich
$14
10
Kyle Perry
11
Anthony Prevetti
12
Leanna Orlando
$25
13
Zach Greim
14
Jason Aguon
15
Vanessa Fuzie
16
Sebastian Huffman
17
Dawson Reese
$58
18
Noel Gregorich
19
Crystalene Pineda
20
Skylur Pinkus
21
Alexiz Bustamante
22
Tanner Ferguson
23
Samantha Conti
24
William Robbins
25
Caleb Rothstein
26
Connor Steelmon-Hill
27
Zachary Gonzalez
High Games
Scratch
Handicap
1
Sweigart 300
Reid 269
2
Cardines 279
K Perry 256
3
Sweigart 279
Purdy 252
4
Olivares 277
Purdy 251
5
Torres 268
O'Neil 248
High Female
1
Orlando -126
2
McDonnell -127*
3
AM-Khong -142
4
Reid -162
5
Purdy -163
Qualifying Leaders
Scratch
Handicap
1
Sweigart +278
Purdy +67
2
Olivares +166
Reid +58
3
Cardines +120
Mamer +44
U-17
1
Rock +72*
2
McGowan +49
3
Alo +20
4
Rendon -61
5
Andrews -101
Round Leaders
Scratch
Handicap
1
Sweigart
Phillips
2
Sweigart
Phillips
3
Sweigart
Phillips
4
Sweigart
Reid
5
Sweigart
Purdy
6
Sweigart
Purdy
7
Sweigart
Purdy
8
Sweigart
Purdy
Total Awarded This Event: $1,305