WILDFIRE LANES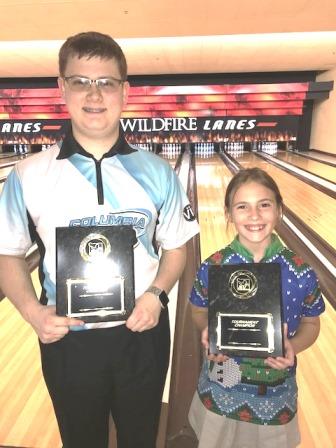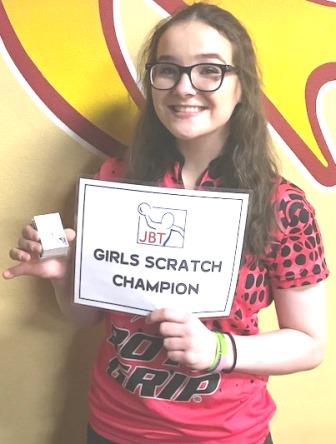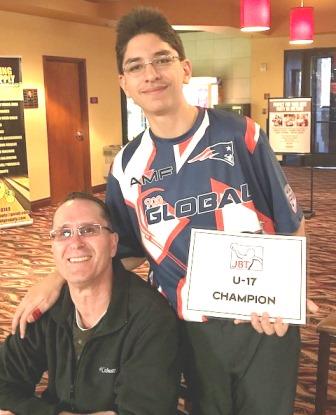 champs Zack Long & Noel Gregorich; Samantha Conti & Andrew Guba
Zack Long and Noel Gregorich picked up JBT titles in exciting JBT Mojave Conference action at Wildfire Lanes in Henderson.
Cerell Cardines dominated the scratch division qualifying round, but Dominic Olivares outstruck him in matchplay to eliminate him in fifth. Dominic then beat Sergio Torres to advance to his first career title match. On the other side of the bracket, Long got by TJ Rock by one pin in the third and final game of their match, then ousted a frustrated Harley Sweigart to reach his first title match in a while.
Long showed his veteran skills in the finale, as Olivares struggled a bit and Zack took advantage for a 224-180 win and his third career JBT victory.
Any age and any average does well in JBT events every week, and the latest proof is Noel Gregorich. She squeezed into matchplay, then upset top seed Caleb Rothstein and all-conference Bowler of the Year candidate William Robbins to reach the finals. It would be an all-girls final in handicap for the second straight day, as Alayna Purdy made a bid to sweep the weekend with wins over Tyler Hedges and always-tough Dawson Reese to reach the title game again.
Alayna was not as sharp in this title match as she was yesterday, but it wouldn't have mattered much, as Gregorich was brilliant, firing off a mid game turkey to pull way ahead and never look back, threatening 200 scratch until the last frames. The win was the first of Noel's JBT career.
Samantha Conti became officially eligible for the Priority Girls Scratch TOC with her third win of the season. Andrew Guba won his second consecutive U17 event he's entered with a win over Skyler McGowan in that subdivision's final.
Thanks again to the team at Wildfire for hosting our Tour. Want in on all the fun? Just check out our schedule and come on down!
WIldfire- final results and scholarship winners
1/28/2018
Scratch Division
rank
bowler
prize
1
Zack Long
$250
2
Dominic Olivares
$125
3
Sergio Torres
$75
4
Harley Sweigart
$106
5
Cerell Cardines
$30
6
Skyler McGowan
7
Andrew Guba
8
TJ Rock
$14
9
Tim Hill
10
Nolan Am-Khong
11
Joe Gerencser
12
Daryus Alo
13
Kyle Rendon
14
Elijah Lomotan
15
Kaylee Am-Khong
$25
16
April McDonnell
17
David Galvan
18
Nolan Sepulveda
Handicap Division
1
Noel Gregorich
$200
2
Alayna Purdy
$100
3
William Robbins
$50
4
Dawson Reese
$30
5
Caleb Rothstein
$78
6
Clifford Robbins
7
Cameron Criss
8
Tyler Hedges
$15
9
Zachary Gonzalez
10
Samantha Conti
$79
11
Tanner Ferguson
$10
12
Crystalene Pineda
13
Ryland Gregorich
14
Jason Aguon
15
Sebastian Huffman
16
Josue DeAlba
17
Leanna Orlando
18
Zach Greim
19
Brett McEachern
20
Connor Steelmon-Hill
$10
High Games
Scratch
Handicap
1
Sweigart 290
W Robbins 253
2
Long 278
N Gregorich 252
3
Guba 268
Purdy 247
4
Long 268
C Robbins 244
5
Torres 267
Purdy 243
High Female
1
Conti -76*
2
Am-Khong -81
3
McDonnell -98
4
Pineda -136
5
Purdy -170
Qualifying Leaders
Scratch
Handicap
1
Cardines +200
Rothstein +46
2
Long +183
C Robbins +32
3
McGowan +158
Purdy +25
U-17
1
McGowan +158
2
Guba +127*
3
Rock +79
4
N Am-Khong +6
5
Alo -45
Round Leaders
Scratch
Handicap
1
Cardines
Hedges
2
Long
C Robbins
3
Long
Purdy
4
Cardines
Rothstein
5
Cardines
Rothstein
Total Awarded This Event: $1,197