WINNETKA BOWL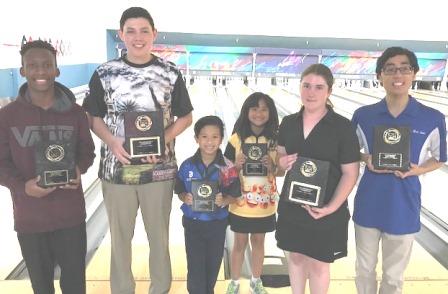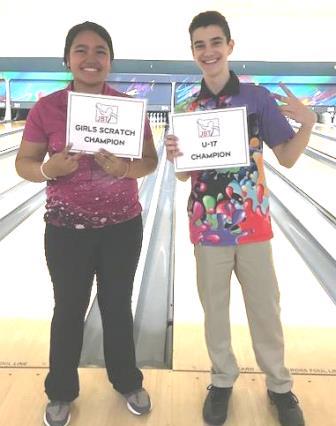 champs Louis Luna & Emma Shaner with Marquan Rivers, Lathan Chin, Aislinn Lubag, Brandon Lim; Kaylee Am-Khong & Solomon Salama
Louis Luna and Emma Shaner claimed JBT titles in exciting Southern California Conference action at venerable Winnetka Bowl.
Bowlers competed in head to head matchplay after the five game qualifying round. Twelve scratch qualifiers were carved down to four, and in those semifinal matches, Marquan Rivers got by Tim Hill 241-167, while Luna edged Gael Egana 219-204 to set up the title game.
Rivers did not suffer the bad cramping he had in his last title game at Victor, but nonetheless could not get the right look on the championship pair. Meanwhile, Luna, who has been rapidly improving but hadn't been able to get the breakthrough win in the finals, finally did just that, defeating Rivers 204-171 for the first scratch title of his JBT career.
In the handicap division, newcomer Shaner beat small but powerful Lathan Chin 227-196 in one semifinals, while two familiar finalists faced off in the other, with Brandon Lim beating Aislinn Lubag in a 209-204 squeaker to set up the title tilt.
Like Luna, Lim has been knocking on the door of that elusive first title, but unlike Louis, he was not able to break through here. He rolled a good game, but the rookie Shaner came up big with a 215-197 win over Lim for her first career JBT victory.
Two bowlers dominating their subdivisions continued to do so, with Kaylee Am-Khong beating Julia Frias for the Priority Girls Scratch win, while Solomon Salama came up with the high game of the tournament in a front-10, 288-161 win over Luna for the U17 crown.
Thanks as always to the team at Winnetka for a great job hosting our event, Want in on all the fun for all ages and averages? Just come on out to the next JBT event on our schedule, that's all you have to do!
Winnetka- final results and scholarship winners
4/21/2018
Scratch Division
rank
bowler
prize
1
Louis Luna
$250
2
Marquan Rivers
$125
3
Tim Hill
$75
4
Gael Egana
$50
5
Solomon Salama
$88
6
Costa Gastouniotis
7
Julia Frias
$25
8
Garrett Lee
9
Harley Sweigart
$95
10
Gannon Takayesu
11
Leoj Chin
$5
12
Austin Sugarman
13
Kevin Banaag
14
Kaylee Am-Khong
$50
15
Kyler Orosco
16
Ricky Pollom
17
Jacey Opiana
18
Marc Villalobos
19
Trevyr Geronimo
20
Kyle Gilbert
21
Anthony Schanen
22
Renee Gentry
23
Blake Jozwiakowski
24
Kyle Reed
$5
25
Nolan Am-Khong
26
Bing Lau
27
Ardani Rodas
Handicap Division
1
Emma Shaner
$200
2
Brandon Lim
$160
3
Lathan Chin
$130
4
Aislinn Lubag
$90
5
Emily Cheesman
$118
6
Erik Hagen
$40
7
Ryland Pimentel
$45
8
Benaiah McElroy
$20
9
Wlliam Robbins
$15
10
Kyle Perry
11
Nathan Chambers
12
Zach Greim
13
Yael Salama
14
Akayla Orosco
15
Silas Philips
16
Caleb Rothstein
$30
17
James McGough
$13
18
Brandon Criss
19
Clifford Robbins
20
Cameron Criss
21
Ben Dinenberg
22
Braeden Phillips
23
Avery Domaguin
24
Simon Ortega
$15
25
Secilia Kalvelage
26
Lindsay Greim
27
Yairi Lubag
28
Philip Hall
29
Josh Luevano
30
Miranda Emery
31
Louis DePero
32
Hillari Hampton
33
Dawson Reese
34
Ethan Chambers
35
Brian Erickson
36
Justin Phillips
37
Elias Luna
38
Matthew Hall
39
Jonathan Hall
High Games
Scratch
Handicap
1
Salama 288
McElroy 257
2
G Lee 269
Chin 255
3
Egana 256
S Phillips 252
4
Salama 251
Cheesman 249
5
Luna 249
Dinenberg 247
High Female
1
Frias +11
2
Am-Khong -75*
3
Opiana -94
4
Gentry -132
5
Cheesman -160
Qualifying Leaders
Scratch
Handicap
1
Salama +75
Lim +75
2
Luna +26
Shaner +66
3
Gastouniotis +20
Chin +63
U-17
1
Salama +75*
2
Luna +26
3
Gastouniotis +20
4
Chin -14
5
Takayesu -19
Round Leaders
Scratch
Handicap
1
Hill
Dinenberg
2
Hill
L Chin
3
Hill
L Chin
4
Salama
Cheeseman
5
Salama
B Lim
Total Awarded This Event: $1,651